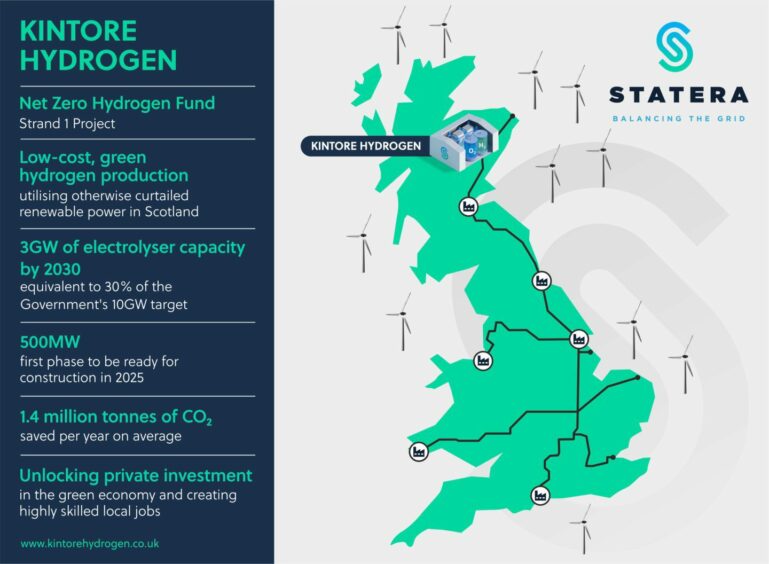 Projects to cement the north and north-east of Scotland as a green hydrogen powerhouse have been handed funding as part of the UK Government energy security day.
Kintore Hydrogen
A large three-gigawatt electrolyser project has been unveiled by London-based Statera Energy for Kintore in Aberdeenshire.
Kintore Hydrogen is, through the £240m "Net Zero Hydrogen Fund", receiving 50% of costs for its initial Front-End Engineering Design work (FEED).
The development will use surplus wind power to produce hydrogen through electrolysis, and supply it to the UK's industrial clusters through existing pipelines.
The FEED study is due to complete in 2024, with an investment decision in 2025, followed by production in 2030.
Tom Vernon, managing director, Statera Energy said: "Kintore Hydrogen is another demonstration of Statera's commitment to balancing the grid and meeting the challenge of decarbonising the UK's energy system.
"The project will produce green hydrogen at scale in an optimal location, offering low-cost, secure and storable energy to the UK system. Kintore will be a flagship project for Statera.
"Today we welcome  Government's support for this nationally significant project, which will provide a meaningful contribution to the UK's clean energy ambitions."
H2 Green / Inverness hydrogen
A green hydrogen hub in Inverness, designed to decarbonise transport in the Highlands, has been awarded a £500,000 grant from the UK Government fund.
Edinburgh-based H2 Green, a subsidiary of Getech, will construct the production storage and fuelling facility for green hydrogen.
The grant will support FEED work and post-FEED studies.
The hub is targeting first production in 2025 and will be powered by an array of wind and solar PV devices.
Over time it will scale from six megawatts to 24 megawatts, eventually peaking at up to 10 tonnes of green hydrogen per day.
Graham Cooley, H2 Green Chairman, said: "This grant award is a fantastic step by the UK Government to accelerate H2 Green's progress in Inverness and in its network of sites across the Scottish Highlands.
"It is testimony to the hard work of the H2 Green team who have created a bold, exciting and practical project to decarbonise transport and industry in and around Inverness and deliver economic impact across the region."
ERM Dolphyn and Storegga
Funding has also been allocated to the ERM Dolphyn floating hydrogen demonstrator project.
ERM has previously said it intends to situate the 10MW demonstrator unit 15km off Aberdeen, using a similar design to the existing Kincardine floating offshore wind farm -aimed to be a world first.
Project director Stephen Matthews said: "Dolphyn Hydrogen is delighted to find out that the Department for Energy Security and Net Zero has shortlisted us for the Hydrogen Business Model and Net Zero Hydrogen Fund (HBM/NZHF) Electrolytic Allocation Round. This provides CAPEX and revenue support for the deployment of our Commercial Scale Dolphyn Demonstrator in Aberdeen.
"Net zero and energy security are two of the biggest issues facing society today, and hydrogen has a key role to play in resolving both. The UK Government support has enabled us to advance the Dolphyn concept over the last five years and this latest funding allocation brings us one major step closer to our vision of producing affordable green hydrogen from floating wind at a scale.
"This will support our society's transition to a net zero future, enhance our energy security and importantly, it will help to generate skilled green economy jobs. This is a critical time for the global hydrogen economy as interest and investment in hydrogen surges, and we are keen to see and support the UK at the forefront of the energy transition."
Also successful was Storegga's Cromarty Firth hydrogen project, designed to provide green fuel for heating processes in whisky distilleries using hydrogen via a nearby windfarm.
The first plant, expected to be operational in 2024, will be capable of producing 20 tonnes of hydrogen a day.
Sarah Potts, head of hydrogen at Storegga, said: "This is a really significant day for us, for one of the UK's most important exports – Single Malt and Scotch whisky – and the North of Scotland's fledgling hydrogen economy.
"New employment opportunities created by the development can help reverse the trend of young people leaving the Highlands in search of economic opportunities elsewhere – supporting a just transition for the region as fossil fuels are phased out.
"We are now focussed on driving the project forward, with hydrogen production expected to begin in Q4 2025. In its first phase, we'll use the full 29MW capacity of the Beinn Tharsuinn wind farm to produce an average 11,000kg of hydrogen each day."
Recommended for you

Kellas Midstream secures first hydrogen customer for H2NorthEast