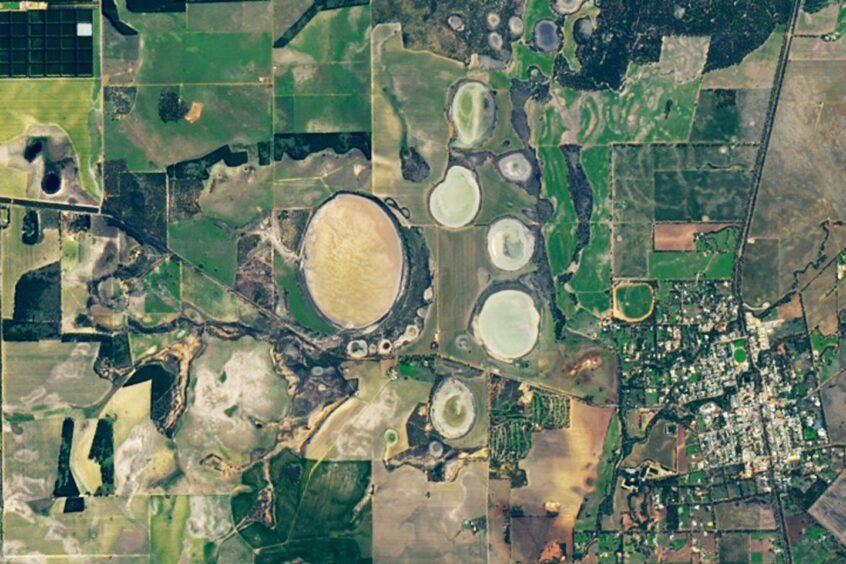 Hydrogen has gained huge interest as an emissions-free fuel and is expected to play an important role in decarbonizing the UK economy on the way to net zero 2050 targets.
The majority of this hydrogen is produced from fossil fuels, which is why it's called "grey hydrogen", contributing to 2% of global greenhouse gas emissions, as mentioned in a UK Parliament report.
Hydrogen generation involves the electrolysis of water, which requires a power source that has tended to be fossil fuels, or in the case of "green hydrogen", from renewables.
Interest now grows in the fuel potential of a natural form of hydrogen, found within the Earth. Available in molecular form, it is also called "geologic", "white" or "gold" hydrogen, and is projected to have vast reserves found in geological layers in the subsurface.
From myth to reality
Natural hydrogen was previously considered non-existent, or at least inaccessible. Being light, and with a small molecular size, it was presumed it could not be trapped below "cap rocks" in the subsurface. However, helium, which has a smaller molecular size, and similar diffusive properties, has been found sealed below cap rocks, and may be used as an analogue.
Natural hydrogen has been identified in the subsurface, sometimes accidentally by drillers, but there is arguably no real "geologic hydrogen market" at present. There are multiple challenges deterring big companies from pursuing it, but one major concern is that the large projected abundances of hydrogen on Earth do not necessarily equate to what can be reasonable extracted, practically or commercially.
However, if it reaches the stage of being produced commercially at scale, it could trump other forms of hydrogen, by cutting out the need for fossil fuels and renewable energy reserves for its generation.
Natural hydrogen exploration remains in its infancy, but natural hydrogen advocates think it could be the primary fuel source of the future, while companies search for it in countries across the globe. But what is behind their optimism?
Geological understanding
The US Geological Survey (USGS) explained there are many natural processes on Earth that generate hydrogen. There also multiple, debated ideas on how natural hydrogen was created.
Some think its origin relates to water interactions with certain minerals, particularly iron-rich minerals, uranium and thorium. One theory is based on interactions of iron rich minerals like olivine with groundwater, in a process called serpentinisation. This process has been demonstrated through numerous some laboratory tests.
However, behavior at scale, in a geological context can vary. Other concepts have been discussed and debated, including the Primordially Hydridic Earth theory, coined by Vladimir Larin decades ago, which describes deep-seated prominence and migration paths of primordial hydrogen.
As a resource, large enough quantities need to be found. The problem-solving skills of petroleum geologists can be well utilised to develop an understanding of the gas, such as identifying trapping structures or potential loss pathways. Some uncertainty remains over its formation, migration patterns and how best to extract it, but this has not stopped companies searching for it across the world and making drilling plans.
Discovered deposits
In 2018, NH2E drilled the world's first well, stretching 3.5-kilometres deep, to search for natural hydrogen, in Nebraska, USA. It was previously presumed accessing natural hydrogen would require drilling several kilometres, but a deposit found in France is thought to yield very high quantities of hydrogen at only 3000 metres. There, in the Lorraine region, it could turn out to be one of the world's biggest hydrogen deposits discovered to date.
Much of the excitement around natural hydrogen also comes from the progress made by its only current producing field, at Bourakebougou in Mali, which produces electricity for its local village. In the region, twenty-four other exploratory boreholes have identified geologic hydrogen.
Across the world, traces of natural hydrogen have been identified from surface features called "fairy circles" in Mali, Russia, Brazil, United States and Australia. Reservoirs have also been found in Finland, Oman, and Turkey. These finds have all spurred new ventures, usually startups, to search for more hidden reserves.
Has this "gas gold" been overlooked?
Data estimates an estimated 23 million tonnes of hydrogen could be extracted a year from the ground, according to a comprehensive review published by Viacheslav Zgonnik of Natural Hydrogen LLC in 2020. This is likely an underestimation, Zgonnik notes, while challenging the idea that it is rare to find.
"If no one expects to find free hydrogen, no one samples for it. This prejudice influences the way gas samples are analysed and sampled, but also the way detection systems are designed," he writes, elaborating that the approach for gas chromatography often used hydrogen as a carrier gas, making hydrogen in a gas sample not detectable.
Because of a lack of suitable detection methods to measure hydrogen concentrations, with many surveys in the 1990s not equipped to analyse hydrogen, it is difficult to guess how often hydrogen could have been overlooked.
While other researchers agree that the importance of natural hydrogen has been overlooked, there have been developments in recent years that guide the search for natural hydrogen, such as newly identified well logging techniques that could help pin-point it.
Estimations and obstacles
Even if hydrogen were to be found, there would have to be large enough quantities to be easily extracted and produced commercially. USGS research geologist Geoffrey Ellis joined Sarah Gelman to utilise their natural gas knowledge and build a global resource model of natural hydrogen, predicting geologic hydrogen could supply projected global hydrogen demand for thousands of years.
Most of this hydrogen is probably inaccessible, being too deep, far offshore or in too small quantities as trapped accumulation, Ellis cautions, before explaining: "Even (if) a small fraction of this estimated volume could be recovered, there would likely be enough hydrogen across all the global deposits to last for hundreds of years."
The real challenge is in finding big enough quantities that are accessible and economic to produce. If the concept becomes proven, it may eventually compete with the costs of electrolysis-powered hydrogen, but this remains to be seen.
Advanced Science News states that the purchase of a kilogram of natural hydrogen could be $0.5, which is much less than the cost of producing hydrogen from fossil fuels or renewables. Startup Hyterra mention on their website that "a successful natural hydrogen well could produce for decades at a significantly lower cost than other forms of manufactured hydrogen."
Commercialisation of natural hydrogen
Natural hydrogen pioneers may see it as the energy resource of the future, if it becomes proven as a commercial, viable resource, but larger, established energy companies have showed limited interest.
Oil companies such as TotalEnergies in France, and Repsol in Spain, have taken only small steps towards this potential resource, The Guardian reports.
However, in response to increased interest in natural hydrogen, Getech in Leeds, usually providing services for oil and gas companies, has adapted its software to look for natural hydrogen stored in the Earth's crust, using AI machine learning and subsurface models.
Exploration activity is mostly seen from new startups, and if they succeed in commercialization, they could influence big industry players to follow suit.
Startups on the search for the hidden reserves
Many startups are searching the planet for these "gold" hydrogen deposits. Helios Aragon is exploring for geologic hydrogen in Europe. Having acquired acreage in Spain, the company plans to drill Europe's first natural hydrogen well in 2024, The Monzon-2 appraisal well, at a cost of €12 million. The company plans to bring Europe's first natural hydrogen production project to northern Spain, while working with the European Union, European Parliament and the European Council to put in place suitable legislation for accelerating the commercialisation of natural hydrogen across the continent.
In the USA, HyTerra Ltd shared through their Investor Presentation, a portfolio of leases in Kansas, in the Nemaha Ridge area, said to support over 10 natural hydrogen occurrences, including as much as 92% hydrogen gas (H2) at Duroche-2.
Their exploration program has been unfolding to develop their portfolio to permitted well sites by the end of this year. In their latest update, they have expanded lease holdings to over 9,500 acres in Kansas, having identified a variety of geological plays for exploration and appraisal. HyTerra now moves closer to drilling its first well on Nemaha Ridge, with well drilling plans nearly complete.
Meanwhile, Koloma has been exploring for geologic hydrogen in efforts to support the USA's decarbonization efforts, and they have been backed through investment from the Bill Gates-founded Breakthrough Energy Ventures.
Exploration in Australia
A hive of exploration activity can also be seen in Australia, where numerous startups are searching for natural hydrogen. Vitaly Vidavskiy is a natural hydrogen consultant serving customers in western Australia.
After developing an early interest in it while at university in 1985, for 27 years he mostly focused on oil and gas, with natural hydrogen being a part-time job. In the mid 2000's, he worked for the group of scientists lead by Dr. Larin, who developed the Primordially Hydridic Earth concept several decades earlier.
He later decided to pivot and founded the consultancy Avalio in late 2021. Among others, he now works with Macallum New Energy, who are supporting his natural hydrogen research in the Perth Basin.
"We are quite optimistic about the natural hydrogen industry future, although this journey is far from being easy," Vidavskiy comments.
As developments take place across the world, time will tell whether natural hydrogen proves itself as a viable competitor for other energy sources. More research and exploration will be required to understand it and its potential, and along the way, even more challenges can be expected.
Recommended for you

Repsol renewables ad banned over 'large-scale' oil and gas interests omission