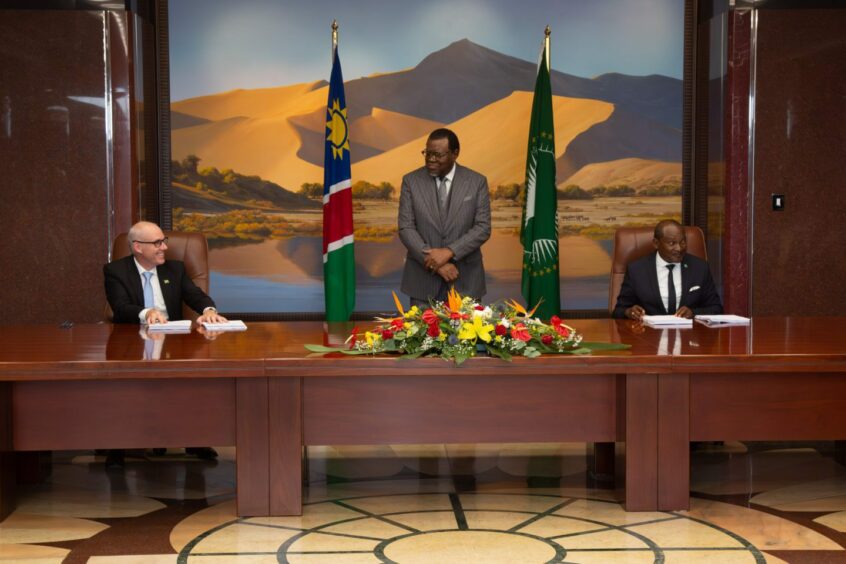 Namibia's agreement with Hyphen Hydrogen Energy is important for the company, but also in providing a framework for other projects to follow suit, CEO Marco Raffinetti has said.
"It represents global best practice, of sustainable development of large-scale green hydrogen projects in a way that is ethical, socially responsible, just energy transition and environmentally sensitive," the executive said.
"It's a first project but it also has an impact on scaling the green hydrogen industry – we're an anchor tenant, it's an enormous responsibility. It's precedent setting."
The aim for the project in Namibia is to be one of the three cheapest projects in the world. The $10 billion project will cover around 4,000 square km in the Tsau //Khaeb National Park.
At full development, it will produce 350,000 tonnes per year of green hydrogen, from 7 GW of renewable power generation and 3 GW of electrolysers.
The next step for Hyphen and its plans is simple.
"Engineering, engineering, engineering", Raffinetti said. This covers detailed work and system optimisation. "We can't control markets and policy, but we can control our own project and energy systems."
The government, meanwhile, has its own "big task" of ensuring the regulatory and legal framework to support the industry is in place.
This will take place over the next 18 months, the CEO said. Once that has been completed, the company will shift into financing the plan.
Hyphen aims to reach first supply by the end of 2027. In order to accomplish that, construction will need to start by late 2025.
Framework agreement
In late May, Hyphen agreed the feasibility and implementation agreement (FIA) with the government of Namibia.
This agreement sets out the way in which the two sides aim to deliver the major hydrogen investment. Namibia has set its sights on green hydrogen as a major growth industry for the country, putting heavyweight support into the sector.
There was a need to "craft a road map" for hydrogen, the Hyphen CEO said.
While the Namibian population is relatively small, unemployment was around 21% in 2022.
Construction of the Hyphen plant will create around 15,000 jobs, with 3,00 permanent jobs during operations. The company has said it is aiming to reach 90% Namibian content, with a particular focus on youth. It also aims to reach 30% local procurement for goods, services and materials.
"Our interests are aligned," Raffinetti said. For the project to be successful, it requires local and government support. "It needs to be inclusive. Namibia has to get value from its resources," he continued. The country will benefit from both taxes and local employment.
The two sides are working on deeper alignment. Under the FIA, Namibia has an option to take a 24% stake in the project.
Namibia has plans to invest in a number of hydrogen projects. Speaking earlier this year, Hydrogen Commissioner James Mnyupe said the country was building a $1bn fund "investing in all the different pieces of hydrogen infrastructure: pipelines, transmission lines, plants and of course electrolyser stacks. The just energy transition creates an opportunity for Namibia like no other."
Jobs
"There's a need to maximise those [local jobs] as much as we can," the CEO said. "It's a challenging task but Namibia is hungry for jobs."
One challenge around local support is around land. The government owns the land – but communities still have links and claims to areas.
"Hearts and minds are won by engaging and delivering on promises. There will be a stakeholder road show in the coming weeks to engage with various constituents and get the whole country behind this."
Hyphen, and consultants, are working on a baseline study to determine the skills and talents needed to make the project happen, in addition to supplies and services.
Raffinetti noted the high calibre of local workers, who often have local and international experience. The company is actively recruiting people to develop training, he said.
Financing
The FIA with the government, and local commitments around jobs, will go some way to reassuring financiers of the project's viability.
Raffinetti noted the green hydrogen council, which cuts across ministries, as a point of strength for Namibia.
"It's a little understood point about green hydrogen that the cost of financing has a disproportionate impact on the cost of the final product," he said. "Policy and stability will drive the cost of capital."
There is a lack of market understanding of green hydrogen, with no clear price indicator. There is also uncertainty over how hydrogen qualifies as green. Furthermore, as the market advances, the cost of technology will fall.
"We need to accelerate down that cost curve," Raffinetti said. With global efforts under way to increase hydrogen availability, such as the US' Inflation Reduction Act (IRA), the sector will change.
Market finding
Raffinetti predicted the US would likely be its own discrete market, producing and consuming its own low-carbon hydrogen, although it may export some volumes.
For Hyphen, the opportunity is in Europe and Asia, specifically Japan and South Korea. These markets have set targets to shift to hydrogen, but have limited domestic capacity to produce their own supplies.
"We've signed offtake agreements with Europe and Asia. There's no one size fits all. What we do see is that demand is driven by carbon emitters in the north, while the resources are in the south."
Current importers of energy are likely to be the major importers of hydrogen. They must make choices about where they want to receive such supplies from, "and Namibia plays well. It's ideologically aligned with Europe, Korea and Japan."
Hyphen will access these markets via ammonia exports, the CEO noted. "The market use case for ammonia is sufficient to support all early mover projects such as our own."
Demand may well evolve, he allowed. Importers may make choices around cracking ammonia, using LOHCs, or liquefying hydrogen, "but we've not yet got enough information."
Clearly there is work to be done. But if Namibia seems serious about seizing its hydrogen opportunity and all eyes will be on Hyphen to show the work can be done.
Recommended for you

Kellas kicks off FEED work on Teesside blue hydrogen project