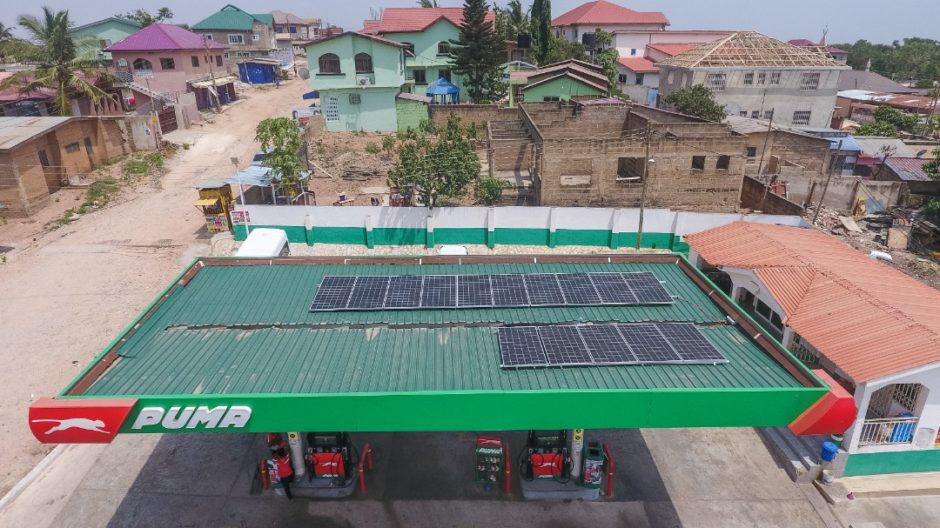 Puma Energy has equipped 14 of its sites in Ghana with solar power, with total capacity of 422 kWp.
The company has installed solar panels at 11 of its retail sites and three of its terminals in the West African site.
It has also provided battery storage at 11 sites, to support the solar power. There are 224 kWh of battery storage.
Puma Energy's general manager in Ghana, Henry Osei, said installing the solar panels was in line with its commitment to "energising communities". The work also "reinforces our commitment to clean energy solutions and meeting our ESG goals".
Osei went on to say Africa, and Ghana, had substantial potential for solar power. This is a "more sustainable and energy efficient system" that will power its sites and depots. "Ghana is pleased to be the first country to show the first footprints of our energy transition drive in Africa."
Transition plans
Puma Energy said this was part of its Future Energies business. The company aims to cut its own carbon footprint and also help its commercial customers.
"By combining our expertise and local knowledge with the right sites and access to finance, we hope to accelerate the renewable energy transition in Ghana not just for Puma but for our customers too," said the global head of Future Energies Mitchell Board.
Puma Energy intends to provide solar – with or without battery storage – to at least 75% of its retail, depot and terminal sites by 2023. The company believes this would reduce emissions by up to 12,000 tonnes per year of CO2.
The company's shift into solar has been relatively slow moving. It invested $5 million in 2020, although identifying this as one way to generate value in future. Ghana is the only African country on Puma Energies' list solar investments.
Puma Energy sees scope for expansion in Africa, though. In its annual report the company said its solar investments had been limited thus far.
The company's "deep local presence, knowledge and relationships" puts Puma Energy in an ideal position to "push for, implement and ultimately champion the transition in Africa".
Recommended for you

Flotation Energy: 'We're a team of experienced innovators'