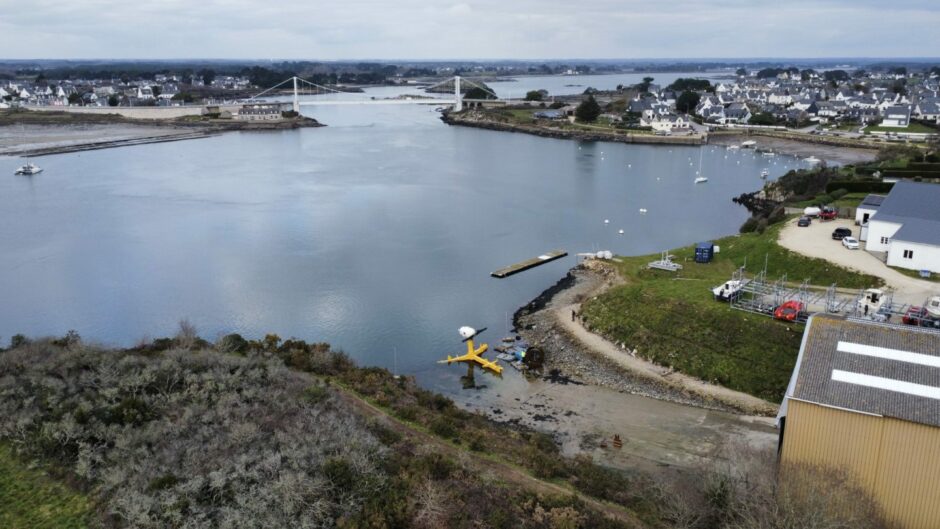 Nova Innovation has successfully installed a tidal turbine in Brittany, marking the first deployment of its technology outside the UK.
Edinburgh-based Nova deployed one turbine unit at the Étel Estuary in Brittany – a move it said would help open "a whole new global market" for the technology.
Nova said the successful proof shows that tidal turbines can be deployed in rivers and estuaries as well as seas and oceans, potentially opening a route to supply clean power for millions of towns and cities.
Rated at 50kW, the seabed-mounted unit creates no visual impact or navigational hazard meaning the community using the Étel, ranging from oyster fishermen to kayakers, are unaffected.
The deployment is the company's first outside of Scotland and follows the successful installation of the world-first Shetland Tidal Array in 2016. Further deployments are also planned for Canada this summer.
Delivered as part of the EU-led ELEMENT project in partnership with CINEA (European Climate, Infrastructure and Environment Executive Agency), Nova also worked with partners Chantier Bretagne-Sud, ABB and Innosea on the manufacturing and build of the subsea systems, and France Energies Marine for environmental monitoring and IDETA for community engagement.
The partnership with the European Commission would help keep Europe "at the forefront" of the emerging tidal sector, the firm said.
Nova CEO Simon Forest added: "We are delighted to have successfully delivered this project in collaboration with our French partners and the European Commission. The potential for tidal energy in France is huge and this pan-European collaboration has demonstrated a continued path of cost reduction alongside enhanced reliability.
"The demonstration of our technology in estuaries and rivers significantly increases the global market for our turbines. Having now successfully deployed in both the UK and France, which share the majority of the tidal resource within Europe, Nova is perfectly placed to help deliver the EU's tidal energy ambitions and play its part in Europe's energy security."
Last year the firm secured an option agreement from Crown Estate Scotland that would enable it to develop a 15-MW tidal array at Yell Sound, between the islands of Yell and Bigga.
When complete, the array could meet the equivalent of one-third of household electricity demand in Shetland.
Recommended for you

Homemade hydrogen and oxygen may mean greener space flights from Shetland