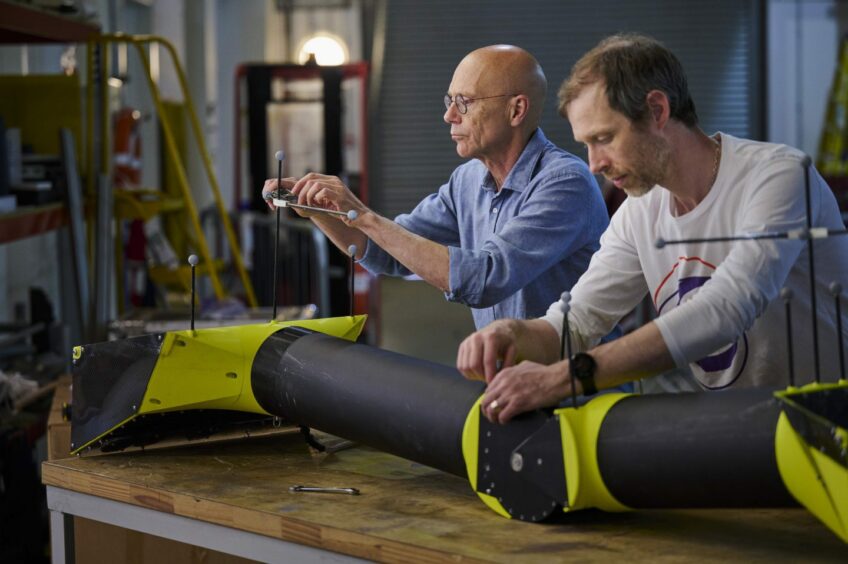 Mocean Energy has won more than £3 million in funding for its wave machine plans in Orkney. The European Union provided the support, via EuropeWave.
The plan calls to build the Blue Horizon 250 in Scotland and deploy it at the European Marine Energy Centre (EMEC) in Orkney, perhaps as early as 2025. The device will be at a grid-connected berth.
By 2030, this project could pay the way for a small wave farm delivering 1-2 MW of power.
"This is a major milestone for Mocean Energy," said company co-founder and managing director Cameron McNatt. "We have already demonstrated our technology successfully at small scale and this programme will allow us to build a significantly larger machine based on our proven hinged raft design, and incorporate our novel direct drive generator."
The company also participates in the Renewables for Subsea Power (RSP) programme, with its 10 kW Blue Wave X prototype. The device is already offshore Orkney, providing power to Baker Hughes and an underwater autonomous vehicle, from Transmark Subsea.
Mocean designed Blue Horizon 250, which will have 250 kW of capacity, to support islands and remote communities.
EuropeWave, a pre-commercial procurement programme, awarded Edinburgh-based Mocean £3.2 million. The funds come in collaboration with Wave Energy Scotland, the Basque Energy Agency and Ocean Energy Europe.
"Innovation funding is crucial for early-stage technologies, and I am grateful to EuropeWave for this support which will help leverage the additional private investment this project will require," he continued.
Local content
Local Scottish content in Blue X was around 80% local Scottish content. Mocean aims to achieve similar levels with Blue Horizon.
The company chose Texo Engineering and Fabrication, in March, to act as preferred fabrication, assembly and load-out contractor.
McNatt said the company had "the right suppliers on board to bring this ambitious project to fruition".
"Looking further ahead, our goal is to deliver a small array in UK waters this decade, and I am confident that with appropriate innovation funding in place we can realise our ambition to build commercial wave energy arrays and generate home-grown green energy from our seas, both in the UK and around the world," McNatt says.
Recommended for you

Wave-powered subsea equipment trial extended into 2024