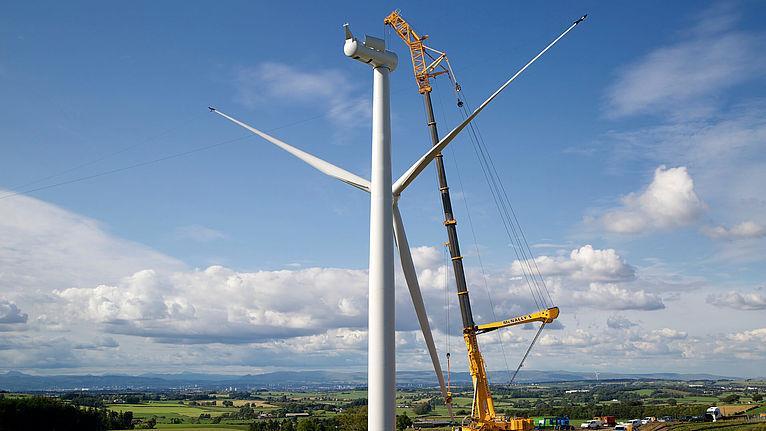 International renewable service company BayWa r.e. has completed the sale of the UK's first subsidy-free wind farm.
The Inverclyde development south of Greenock consists of eight wind turbines and has a total installed capacity of 24 megawatts (MW), enough to displace more than 18,000 tonnes of CO2 emissions annually.
It has been sold to Larbert-headquartered timber processor James Jones & Sons and London-based Gresham House Asset Management.
Inverclyde also marks BayWa r.e.'s first subsidy-free corporate power purchase agreement (PPA) for a UK development.
Earlier this year, Tesco signed a 15-year PPA as the off-taker, contributing to the retailer's commitment to use 100 percent renewable electricity across the Tesco Group by 2030.
The Munich-headquartered company previously developed Europe's first subsidy-free utility-scale solar plant, Don Rodrigo in Seville, Spain, in 2018.
John Milligan, managing director at BayWa r.e. UK, said: "What is so significant about this windfarm is that it will generate green electricity at market prices without any government subsidies.
"With renewable energy becoming the cheapest source of any form of new generation, we will see many more projects coming forward.
"We are also seeing more businesses sourcing electricity from renewables, which is good for them, society and our planet.
"This sale continues our successful relationship with Gresham House Asset Management, who we are pleased to be working with again.
"As the first subsidy-free windfarm in the UK, this is a significant milestone in the energy transition."
Wayne Cranstone, investment director at Gresham House Asset Management, said: "Acquiring our first subsidy free wind farm with a long-term corporate PPA in place is a great achievement and hopefully will be the first of many if we are to help the country meet its net zero carbon emissions target."
Tom Bruce-Jones, James Jones & Sons chairman, said: "James Jones & Sons is delighted to have funded this acquisition. Enhancing our environmental impact has always been a fundamental part of our Group ethos and strategy.
"We have been at the forefront of innovation with regards to all environmental matters for a number of years and have pioneered a number of innovative processes and systems to enhance our carbon negative credentials.
"This transaction strengthens our trading and investment relations with Gresham House and we will be the initial Limited Partner in the new fund."
As part of the project, BayWa r.e. has also committed ongoing support for local communities in Inverclyde.
Alasdair Macleod, Head of Renewable Development at BayWa r.e. UK, explained: "The renewable transition is about more than generating green power. There is also a whole green socio-economic transition that is taking place.
"For this project, we are delighted to have entered into a long-term Community Benefit Agreement with 'Inverclyde Community Fund' (ICF). ICF is a charitable trust that makes grants to support Inverclyde's voluntary and community sector. We see this as an excellent model for delivering Community Benefit across a wide area, such as Inverclyde."