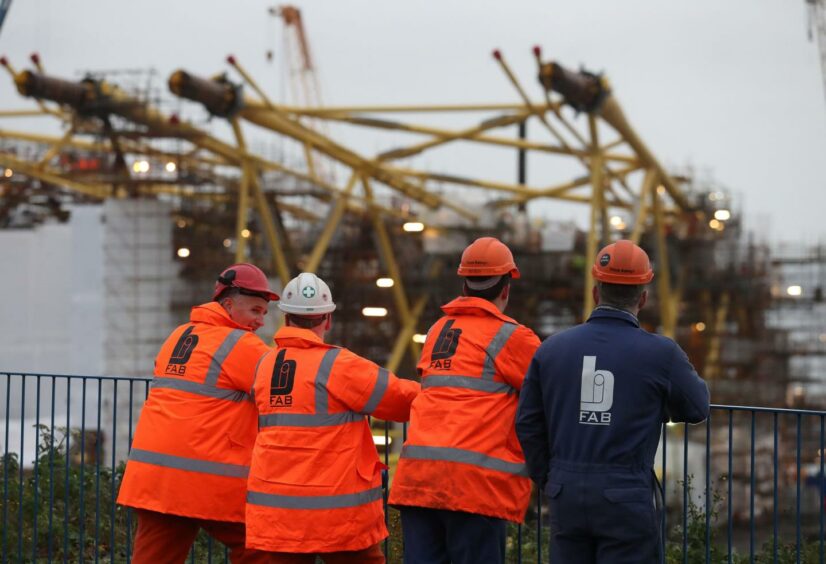 Excitement in the supply chain for the ScotWind offshore leasing round is tinged with tough lessons from Scotland's recent past on offshore wind.
"It's a very powerful illustration of the political failure," says Peter Welsh of the GMB union, "that you could stand from the viewing point in Leven, catch sight of some of the offshore wind projects that are in Scottish waters knowing that could have been built locally and sustained thousands of jobs for that area.
"We're now at critical mass in the grip of a climate crisis. It's real, it's happening but the green jobs that have often been promised have largely been delivered by the rest of the world. I don't think anybody can dispute that."
Cynicism around offshore wind jobs is possibly best captured by reflecting on predictions made over a decade ago versus what came to reality.
In 2010, the Scottish Government Low Carbon Economic Strategy for Scotland report predicted 28,000 direct jobs in offshore wind for Scotland.
Instead, what had manifested within that time frame was less than 2,000 direct jobs in Scotland.
According to policy expert and Scottish Offshore Wind Energy Council advisor Maf Smith, the reason why promises made in 2010 did not come to pass was because "the pipeline didn't materialise", citing issues with the project strength and consenting processes.
As ScotWind awards await this month, a key focus right is ensuring Scotland's ability to deliver the supply chain and port capacity to service this new global floating wind industry for projects domestically and to export expertise overseas.
However, for GMB, Mr Welsh looks back at the last decade as having started "with the promise of 28,000 jobs as part of the Saudi Arabia of renewables" in a not dissimilar fashion.
"We ended it with mothballed fabrication yards", he added.
Methil, near Leven if Fife, was one such site, along with Arnish on the isle of Lewis, both owned by Burntisland Fabrication (Bi-Fab).
GMB spearheaded the "Action for Arnish" campaign in 2020 after Scottish yards missed out on work for Seagreen, Scotland's largest offshore wind farm 27miles off the Angus coast.
Awards went to Fluor to manufacture 84 of the 114 turbine jackets at its yard in China, with the remaining 30 going to Lamprell in the UAE.
Bi-Fab collapsed a few short months later after a lifeline deal to supply jackets for the NNG project, 10miles off the Fife coast, fell through.
Mr Welsh said: "Working class communities have been left without opportunity and the majority of the work for these billion pound projects is being delivered anywhere but Scotland.
"This was meant to be the golden goose, the renaissance for manufacturing."
Mr Welsh pointed to positive developments recently, such as Bi-Fab yards at Methil and Arnish being built back up by Harland and Wolff, and the recent announcement of a £110m wind tower manufacturing plant at Nigg, with potential for 1,100 direct jobs in Scotland.
Still, he believes it "very difficult to see how it's not going to be anything other that business as usual" with the bulk of jobs going overseas as Scotland is not starting from a position of strength.
DeepWind 'palpable excitement'
However, despite understandable levels of cynicism based on recent history, there is hope in the supply chain that the next 10 years will have a different story to tell.
Paul O'Brien is head of the DeepWind supply chain cluster, comprised of more than 600 members drawn from industry, academia and the public sector aimed at gaining greater benefits from current and future offshore wind projects.
He said: "There is a palpable excitement in the supply chain and a recognition that ScotWind One could be a game changer for them especially the floating wind side of the equation.
"There is no existing supply chain for commercial floating wind and we will have the opportunity to create one in Scotland. For many of our members from the oil and gas sector this is the real energy transition opportunity to deliver projects utilising their existing floating structure, mooring and systems expertise."
He refers to ScotWind One as a nod to future rounds, which will also include areas near to oil and gas platforms in order to power them with green electricity, known as The Innovation and Targeted Oil and Gas (INTOG) round.
Coupled with ambitions to link offshore wind to hydrogen production, this "gives the country a "unique opportunity to also build on its international reputation in the oil and gas sector and for our supply chain to offer decarbonisation and electrification solutions to the world market".
Much, too, has been made of the public bids made by oil giants and consortia hoping to win acreage, with many identifying multi-billion pound investment opportunities in the Scottish supply chain.
"The Scottish supply chain are more interested in the commitments to support them with sums in the £100-300m range rather than talk of the billions in capex investment," Mr O'Brien said, but he still expects they will put their "money where their mouth is".
"The public announcements from many of the developers and consortia involved in the ScotWind bid represent a significant comment to the Scottish supply chain but not all of them will be successful in obtaining leases and we have to recognise that. Why do we think these pledges will be met by successful applicants? It will be very difficult for these companies to go back on what has been very public statements of intent.
"The relatively low cost to compete in the ScotWind rounds compared to the huge sums involved in the UK Round 4 projects means that developers in Scotland can afford to investment these sums being discussed in the supply chain and still be better off than those who were successful in Round 4."
And as investment is being made in oil and gas ports of old, such as Nigg, Kishorn and Ardersier, it's hard to avoid the comparison to the boom seen in the North Sea in the 1970s.
"Think what these yards produced in the past for the oil and gas industry. We now have a new opportunity of scale in offshore wind that could duplicate the hey day of the North Sea oil and gas industry, perhaps not in the total number of jobs (due to advanced manufacturing), but certainly in the number of substructures.
"Our estimate of the number of floating substructures alone from the ScotWind One and INTOG rounds is in the order of 600-650 substructures.
"We will need a mix of developer, port, supply chain and government coordinated action along with significant inward investment from companies of scale to capture the lion's share of this market. DeepWind will be working with all elements of the supply chain to achieve this ambition."
Recommended for you

Safety concerns for offshore wind as HSE has only four inspectors on-hand