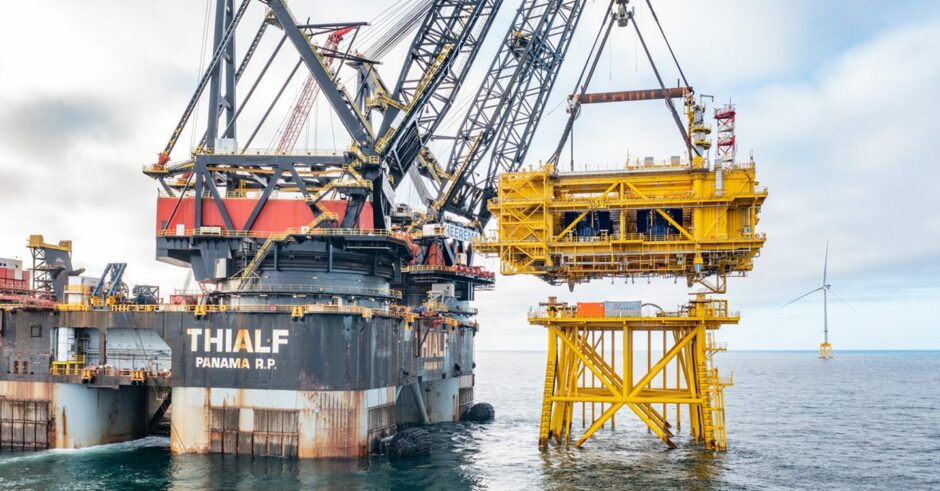 Workers were forced to evacuate from a transformer platform in the giant £3billion Seagreen wind farm 27 miles off Scotland's Angus coastline, following an escape of "the most potent greenhouse gas" in the world.
The sulphur hexafluoride (SF6) escape – the most damaging gas to the planet, according to the US Environmental Protection Agency – happened five months ago, with industry workers blowing the whistle on the incident to North Sea trade unionist Jake Molloy of RMT.
The 1 gigawatt (GW) wind farm is owned by SSE (49%) and TotalEnergies (51%) with the substation managed by works contractor Petrofac.
SF6, a synthetic gas, is almost 24,000 times more dangerous as a greenhouse gas than carbon dioxide, according to the UK's Health and Safety Executive.
It is frighteningly persistent, with an atmospheric lifetime of 3,200 years.
Mr Molloy said he raised the incident with SSE and subsequently with the HSE (Health & Safety Executive) and, angered by the lack of workforce engagement in the sector he brought the incident to our attention.
HSE told Energy Voice that the incident was raised at the time, though it did not conduct an investigation. A spokesperson added that "the information has been used to inform future intervention activities".
On June 13, during commissioning of the massive transformers and switchgear aboard the platform, called Montrose, there was a serious gas release, in turn triggering an urgent evacuation of the platform.
All 84 workers were shifted from the Montrose substation platform to the Borr Ran bridge-linked support jack-up rig.
Though there were no casualties, EV has discovered that SSE/Petrofac failed to report the evacuation to the Coastguard as a safety precaution, though it said HSE and Marine Scotland were notified.
Mr Molloy of RMT said: "The Seagreen incident is one event that did get reported to the trade unions by worried offshore workers.
"But how many go unreported, how is this policed and regulated, what are the reporting procedures? We need to know. It has to be properly managed."
SF6 gas at Scottish wind farm
Clearly aware of SF6's destructiveness, on December 1 last year the HSE granted a "legal exemption that will enable the use of more environmentally friendly gases in the electricity distribution network".
In 2019, it was estimated that, across the entire UK network of power lines and substations, there were around one million kilograms of SF6 in use.
Although not deemed toxic to humans, the gas can cause respiratory issues in high concentrations and be harmful to skin and eyes on contact.
SF6 is banned in Europe except for power generation. SSE has been searching for a safer substitute since at least 2015 due to problems with SF6 use in power stations and substations in the south of England and Scotland, according to consultancy Oxifree UK.
Petrofac insisted that the emergency had been handled correctly and that just 11kg of the harmful greenhouse gas was lost to the atmosphere.
A Petrofac spokesperson said: "Standard systems and procedures were immediately activated and site access restricted as a precautionary measure.
"Although the volume of C02 equivalent did not meet the threshold for reporting,
"Petrofac documented and shared all lessons with relevant stakeholders including the HSE and Marine Scotland."
A spokesman for SSE, which is in overarching control during the construction phase, told EV: "At the time of contract signing for the procurement of the transformer switchgear destined for the Seagreen project, which is currently under construction, there were no viable SF6-free alternatives available, capable of operating at all voltage levels needed, that could be considered for deployment to the project."
'Abandon Rig'
A report from workers to RMT, seen by Energy Voice, outlines how two people on board the platform shouted 'gas leak" and "abandon rig".
We are advised that two workers were checking equipment when suddenly there was a loud noise – like an air hose had been disconnected. They turned to see what was happening.
Workers claimed a radio call was made, though there was was no public address or alarms – that latter point was refuted by Petrofac who said alarms did sound via the PA system.
The contractor confirmed that one affected area on board was shut for two days to ensure the removal of SF6, while access to all other areas was reinstated after 12 hours.
Workers claimed that an argument broke later that week out over returning to work – with engineers saying they would not as there was no permit for it.
They said: "We asked various guys if there has ever been a leak of SF6 gas before anywhere (seeing as it's the worst greenhouse gas on the planet!)
"Most said na (no), but if there was a leak there would be hell on as it's a major ****-up!
"So the attitude was, it's never happened before so it won't happen here, and when it did happen they clearly were not ready for it."
However, Petrofac said: "As standard we suspend and reissue permits following any incident in order to ensure the safety of our people" and that all personnel at site are trained in emergency response procedures, this includes detailed briefings on SF6".
Recommended for you

Total weighs selling stake in giant Scottish wind farm