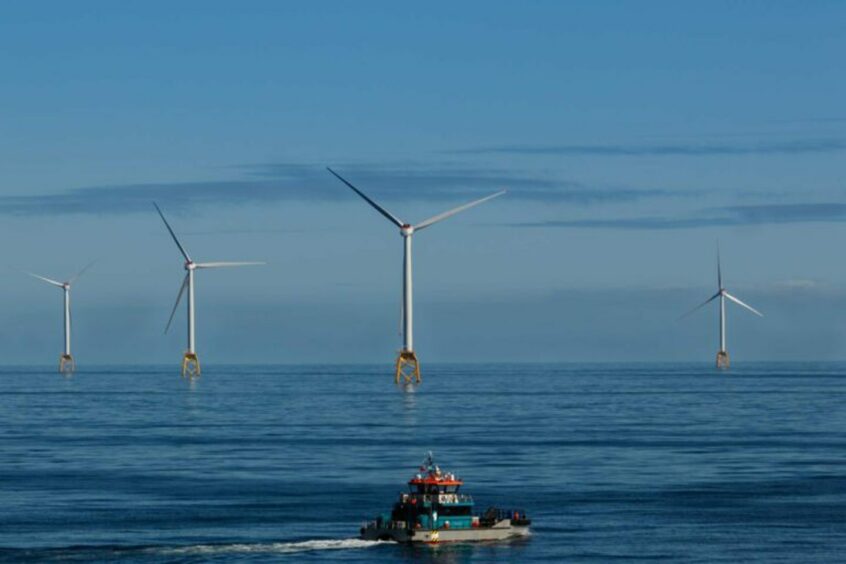 Damage to cables and turbine failure are the main causes of offshore wind insurance claims which risk hampering growth in the sector, a top firm has warned.
Munich-headquartered Allianz, which insures major UK projects including the UK's Dogger Bank and East Anglia Three and smaller developments like Hywind Scotland off Peterhead, said cable failure accounted for 53% of offshore wind claims across its global portfolio from 2014-2020.
From loss of entire cables during transport, to the bending of them in installation, cables have led to "multi-million-dollar losses" as cable failure can put an entire network of offshore wind turbines out of commission.
It's followed by turbine failure at 20% as the second-largest cause of  offshore wind insurance claims, with the most common causes relating to rotor blades, main bearings, gearboxes and generators.
"Cable risk is critical and therefore the quality of service is vital," said Adam Reed, global leader offshore renewables and upstream energy at Allianz Commercial.
"Contractors need to provide assurance they have the required expertise to remedy incidents and that they can source replacement components quickly in order to contain losses incurred during downtime.
"From an underwriting perspective, with subsea cabling work insurers pay close attention to the type of cabling used, the kind of vessels involved, the communication between client and contractor, and how often qualified risk engineers will make site visits to oversee proceedings."
Offshore wind insurance
It follows similar warnings from subsea trade group Global Underwater Hub (GUH) this week, who said most insurers are losing money underwriting cables with the average settlement claim being £9m.
CEO Neil Gordon warned the issue risks derailing global offshore wind ambitions.
Allianz also notes that bigger turbines and new technology drive bigger exposure for insurers, which need to be understood in partnership with developers.
Next on Allianz' list of claims are foundations (8%), substations (7%), converter stations (5%) and other (7%).
As offshore wind expands globally, particularly in the US and Asia, it warned that new risks from harsh environments and extreme weather will likely affect support vessels and other activities – reducing activity windows for installation and repairs.
This in turn could create supply chain bottlenecks and infrastructure pressures, with potential consequences for quality and workmanship.
"A bigger fleet of specialist vessels will be required to support global deployment as most specialist vessels currently operate out of Europe. There is an urgent need to expand port facilities to accommodate the required increase in vessel numbers.
"Research indicates that $20bn of investment is needed globally to build 200 new ships if the renewables sector is to meet its 2030 targets for offshore wind."
China overtakes UK
The report, 'a turning point for offshore wind' also notes that China hjas overtaken Europe – which is driven by the UK -as the world's largest market.
China's operating offshore wind capacity has already reached 31.4GW – more than the whole of Europe's.
Huge growth rates have to be weighed against "spiraling costs" impacted by inflation, capital expenses, rising interest rares and geopolitical uncertainty.
IT comes as around 380GW of offshore wind is expected to be added globally over the next 10 years, compared to today's total capacity of 64.3GW.
Mr Reed added: "The scale and scope of the global offshore wind roll-out is epic. It requires the expansion of manufacturing footprint, port facilities, and infrastructure. And it needs to be fast-tracked by all stakeholders in a joint effort – financial institutions, corporates, and governments."
Recommended for you

Cairn Risk signs MoU to support Japan's offshore wind sector