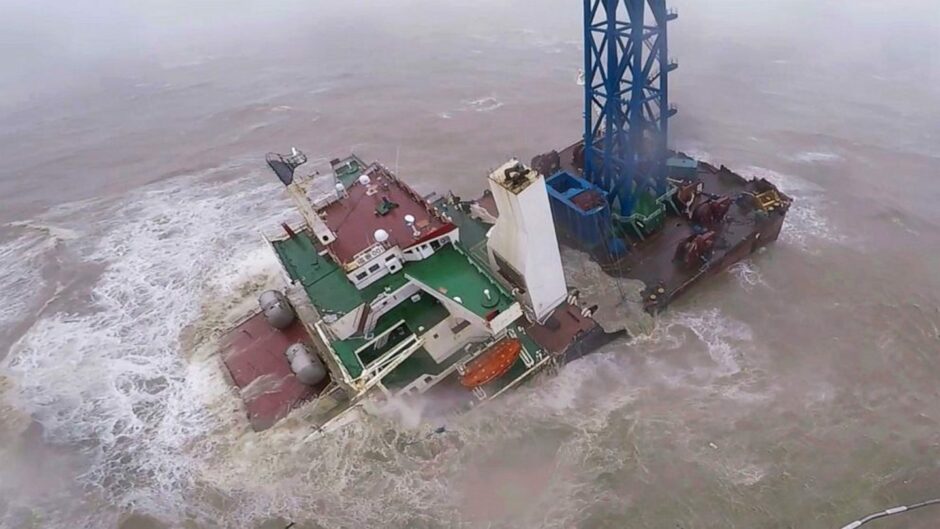 Rescuers are searching for 26 crew members after an offshore wind installation ship split in two and sank off Hong Kong.
Four people have been rescued so far, according to Chinese state broadcaster CCTV, following the sinking of the Fujing 001 some 186 miles south of the city in the South China Sea.
The vessel, a China-registered floating crane, snapped in two on Saturday after being struck by tropical storm Chaba, which had sustained wind speeds of 68 miles per hour.
After three crew members were found, Hong Kong authorities said on Sunday the chances of finding further survivors was "slim".
But the following morning it was confirmed a fourth had been rescued.
A search had been suspended overnight on Saturday as weather conditions had made it too difficult for rescue teams, Hong Kong's Marine Department said.
According to CNN, the Hong Kong Flying Service said: "We would like to give our hearts to those families of the missing sailors and workers, and I do wish that we could find some survivors, it will be a miracle to do that."
The fourth crew member was then saved on Monday morning.
Chaba was upgraded to a typhoon before making landfall in Guangdong province and Hong Kong on Saturday.
The Hong Kong Government Flying Service said in a statement on Saturday that crew members had been negotiating difficulties brought on by the storm.
It also released photos of a crew member being winched to safety.
Guangdong Marine Rescue Centre joined the operation, with more than 30 vessels sent in search of the missing crew.
The Fujing 001 is a crane vessel with lifting capacity of 2,000 tonnes.
It is owned by Shanghai Huajing Zhiyun Engineering.