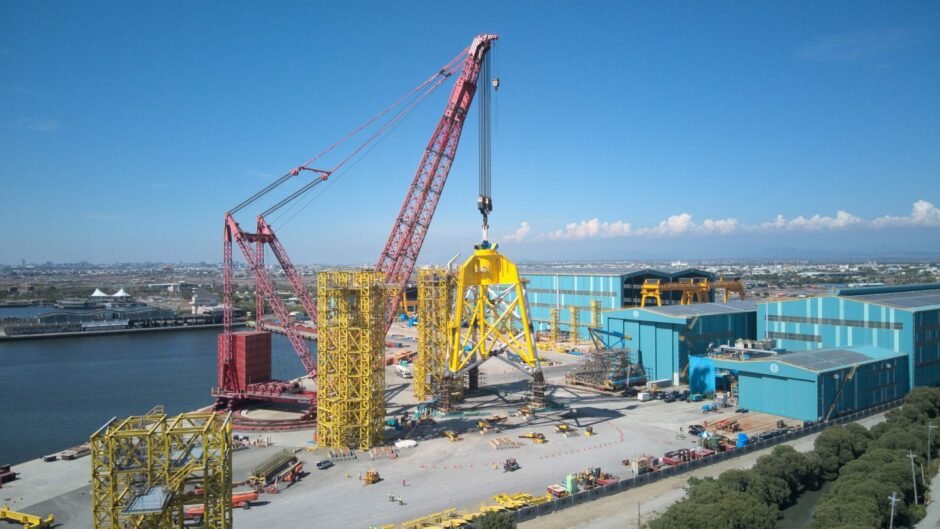 Ørsted has picked a local venture of heavy lift specialist Mammoet to support development of its major Greater Changhua wind projects off Taiwan.
Mammoet-Giant Taiwan – a joint venture between Mammoet and Taiwanese Giant Heavy Machinery Services – will provide support across marshalling and construction for the Greater Changhua 2b and 4 offshore wind farms.
Located approximately 35-60 km off the Changhua coast, the developer secured 920 MW of grid capacity for Greater Changhua 2b and 4 in June 2018 as part of Taiwan's first competitive auction with no mandatory local content requirements.
Ørsted (CPH:ORSTED) took a final investment decision (FID) on the projects earlier this year, with onshore construction set to begin in 2023, and both projects eyed for completion by the end of 2025.
The JV has been entrusted with the marshalling and lifting activities for 66 suction bucket jackets.
Under the award, Mammoet-Giant will deliver a turnkey service for the project, from initial planning to execution – a strategy which it says will help ensure jackets "get into the water faster."
This includes management of the complete quayside scope, where Mammoet will use its 5,000 tonne capacity SK 350 ring crane.
Operating from a single location, the SK350 will lift the 2,500 tonne suction bucket jackets directly from deck carriers to the quayside and after temporary storage on site, onto deck carriers for transport and installation.
This eliminates the need for vessel repositioning during offloading and loading operations, reducing turnaround times at the port driving and cost and time reductions, the firm said.
Mammoet's PTC200-DS ring crane was also deployed to Taiwan several years ago for work on the Greater Changhua 1 and 2a Offshore Wind Farms.
The SK crane range can also be powered electrically, and the world's largest such equipment – the SK 6000 – currently under construction.
Mammoet Taiwan managing director Chris Schraa said: "We are thrilled and honored to have been awarded the contract to help construct Greater Changhua 2b and 4 offshore wind farms. Mammoet-Giant remains steadfast in our mission to deliver exceptional performance and contribute to the sustainable growth of Taiwan's renewable energy sector.
"Projects like these showcase the strength of our setup in Taiwan as well as the value of early engagement in engineering. This enables us to offer smarter and safer solutions, optimising schedules and processes through direct communication with the developer."
Taiwan's plan for offshore wind development includes a three-stage strategy and it targets 5.7GW of cumulative installed capacity by 2025 during the first two stages.
It aims to build 1GW of resources per year from 2026 to 2035, which will be considered the third stage of development.
Recommended for you

Wind growth requires new thinking on supply chain challenges