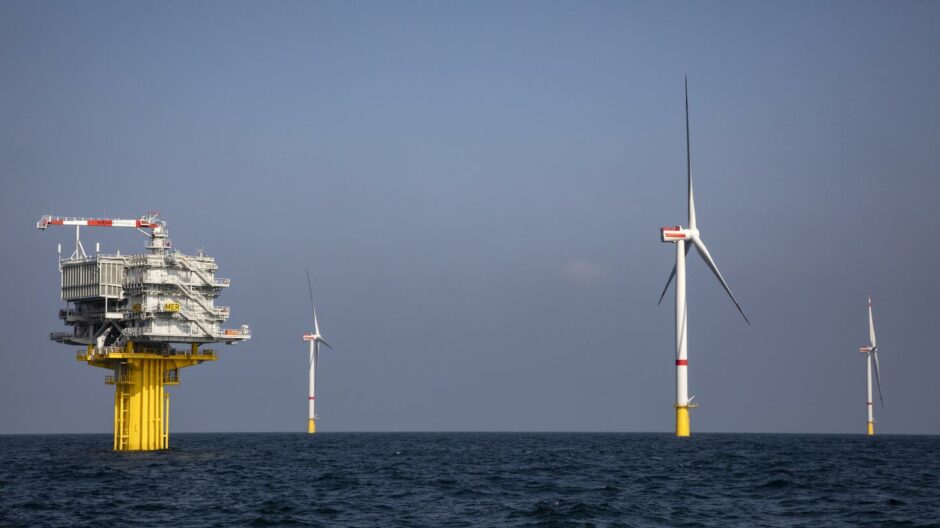 Energy ministers from Denmark, Germany, Belgium and the Netherlands have pledged to install at least 150 gigawatts of offshore wind by 2050, in a bid to support the EU's drive to reduce its use of Russian oil and gas.
In a joint declaration signed on Wednesday, the ministers said this would see the countries more than double their combined 2030 targets of some 65GW, creating the "Green Power Plant of Europe".
The 150GW total would deliver more than half of the capacity needed to reach EU climate neutrality, according to the European Commission's Strategy on Offshore Renewable Energy, the parties added.
Belgium will target 8GW by 2040, Denmark will aim for up to 35GW by 2050 and Germany targets 70GW by 2045, while the Netherlands remained more short term with a goal of 21GW by 2030.
The pledge was signed by Danish Minister for Climate, Energy and Utilities, Dan Jørgensen; Belgian Energy Minister Tinne Van der Straeten; the Netherlands Minister for Climate and Energy Policy Rob Jetten; and German Minister for Economic Affairs and Climate Action, Robert Habeck.
The offshore build out will also support "large-scale onshore and offshore production of green hydrogen" the statement added.
Combined targets across the four states amount to around 20 GW of production capacity by 2030, with ministers vowing to look at expand production further for 2050.
❗️The North Sea to generate half of the offshore wind needed to reach EU #climateneutrality in 2050.🌊🌊🌊

Today, 🇩🇰🇩🇪🇧🇪🇳🇱🇪🇺 at #NorthSeaSummit will announce the common aim of increasing the capacity 4-fold by 2030 (65 GW) and 10-fold by 2050 (150 GW).🌱#eudk #GreenTogether pic.twitter.com/X7brlp0KXV

— Denmark in the EU (@DKinEU) May 18, 2022
In addition to boosting installation targets, the plans tie together ongoing work, including Denmark's intention to build the world's first and largest multi-phased energy island in the North Sea.
This would see an initial 3 GW of offshore wind built by 2033 with connections to Belgium and Denmark, and eventually up to 10GW by 2040 "at the latest".
Work on preparing the ground for further connections to Germany and the Netherlands has now been made a priority, the states said.
The four said they would look to build "multiple energy hubs and islands" and will now undertake a screening of both offshore wind and green hydrogen sites across their entire North Sea territories.
On the regulatory side, the minister said they would existing regulation at national and EU-level would be reviewed, as envisaged in the European Commission's REPowerEU plan.
"To this end, renewable energy should be considered as being in the overriding public interest and serving public safety and regulatory sandboxes should be explored in dialogue with industry and relevant governmental and non-governmental organisations," they affirmed.
"The expansion of offshore wind and the realisation of large-scale energy hubs should fit in a broader vision on the use of the North Sea, making sure the North Sea can be used effectively and efficiently for multi-use purposes. We will work together with our relevant fellow Ministers to integrate offshore energy efficiently," the statemented added.
Recommended for you

'Very poor quality' decommissioning plans for UK offshore wind