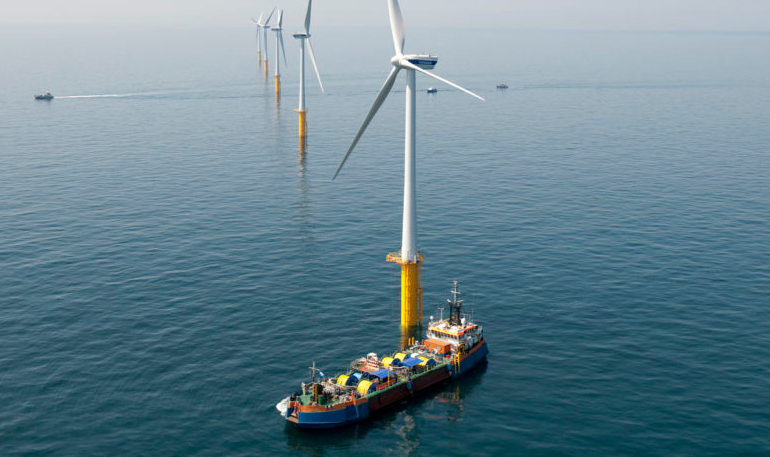 Energy services firm Van Oord has secured a contract for work at RWE's Sofia Offshore Wind Farm.
The Rotterdam headquartered-firm will carry out the engineering, procurement, construction and installation of the monopile foundations and array cables for the North Sea project.
Through its UK branch MPI Offshore, Van Oord will create a logistics hub to deliver the comprehensive scope of work.
Offshore installation vessel Aeolus will be deployed to install the 100 extended monopile foundations.
The 217 miles of array cables will be installed by cable-laying vessel Nexus, while fabrication of the foundations and array cables will be sub-contracted out.
Arnoud Kuis, managing director Van Oord Offshore Wind, said: "Our project team is busy preparing for this great offshore wind project. Now that the contract is signed, the design phase will be started and the project team will commence its activities from our Stokesley office.
"The recent announcement of Freeport status for the Tees Valley will further stimulate the regional development of the offshore wind sector in this area. In the coming period, we will be actively marketing our supply chain opportunities and vacancies with a focus on sourcing well-trained staff."
Sofia, which is 100% owned by RWE, is being constructed on Dogger Bank in the Central North Sea, around 121 miles off the North East coast of England.
Last week, the German firm took a £3 billion Final Investment Decision (FID) on the 1.4 gigawatt project, which will be one of the largest in the world.
Onshore enabling works are due to get underway in the coming months, followed by offshore construction in 2023 – final project completion is expected by the end of 2026.
RWE was awarded a Contract for Difference (CfD) for Sofia in 2019, achieving a strike price of £39.65 per megawatt hour.
Sven Utermöhlen, COO wind offshore global of RWE Renewables, said: "RWE and Van Oord know each other well having worked together on four UK projects prior to the signing of this most recent EPCI contract for foundations and array cables.
"At 1.4GW, Sofia is our largest and most ambitious offshore wind development to date. We look forward to leveraging our vast experience and learnings as we progress into the construction of this flagship project, and to realising its potential in terms of contributing to the UK's net zero energy ambitions."
Recommended for you

50 jobs created as Global Energy Group lands Moray West contract