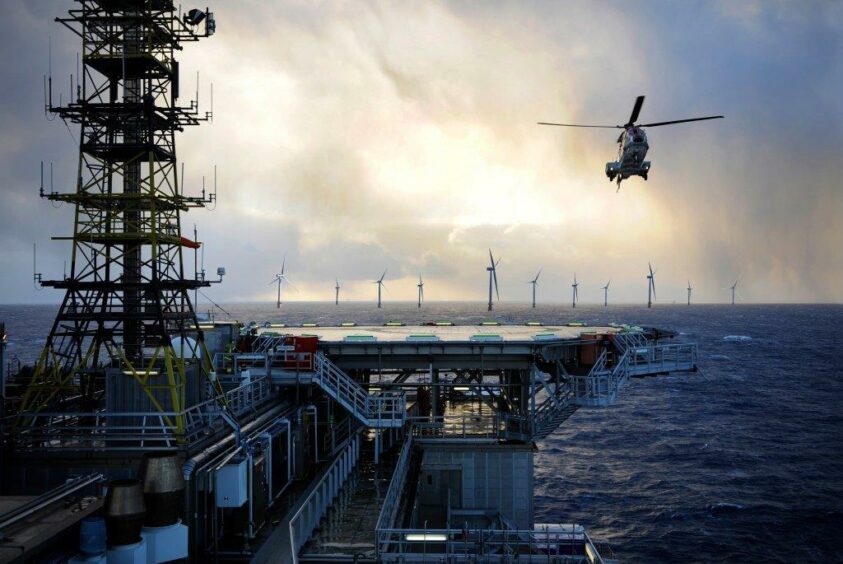 A ScotWind-style auction will be launched this year for offshore wind projects to power oil and gas platforms in the North Sea.
Coming off the back of the hotly-contested ScotWind awards last month, which raised £700m for government coffers, Crown Estate Scotland has unveiled details of the Innovation and Targeted Oil and Gas (INTOG) offshore wind leasing process.
The bidding window is expected to open in June this year for developers to apply for the rights to build a mix of small-scale wind projects, of less than 100 megawatts (MW), to power oil and gas platforms as well as larger projects.
Crown Estate Scotland said initial award, known as Exclusivity Agreements, are planned in Autumn 2022 then Option Agreements can be signed once a Marine Scotland Planning Process has concluded – expected in Autumn 2023.
The burgeoning floating wind market, which will play a huge role in the massive ScotWind projects, is expected to be key in efforts to power oil and gas infrastructure, which sits in deeper water, with green electricity.
While the industry continues to work on regulatory challenges linked to the process, electrification largely relates to using renewable sources to power platforms, replacing traditional gas or diesel generators.
In its planning document, Crown Estate Scotland said it expects to grant option agreements by Autumn 2023.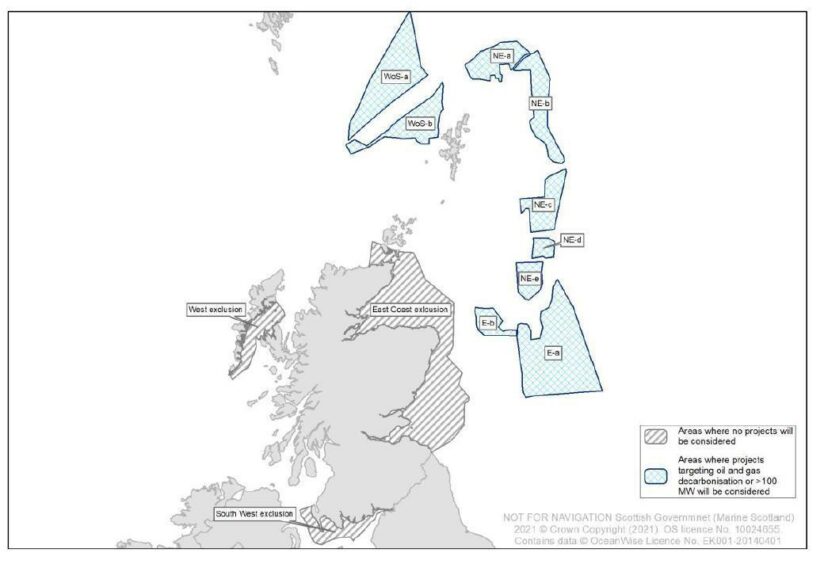 The papers have also revealed the swathes of offshore seabed areas which could be granted leases, with exclusions such as the areas around the north-east Scotland coast.
Colin Palmer, Director of Marine for Crown Estate Scotland, said: "Following our initial announcement last year, we're now engaging with industry on how the next stage of the INTOG leasing process will work and what it can achieve.
"This leasing is about creating an opportunity for enhanced roll out of offshore wind technology in Scottish waters. Whilst we recognise it will be for industry and government to take the key steps needed on oil and gas transition, we believe this will provide a step towards progressing that transition to net zero."
INTOG awards will be determined on a largely open auction basis and will be split in to two pots – one for smaller scale innovation projects, and one for larger projects linked to oil and gas infrastructure.
Speaking at Subsea Expo today, Sian Lloyd Rees, managing director of Aker Offshore Wind said work from INTOG, rather than ScotWind, will be useful in helping the oil and gas supply chain to move into offshore wind.
"If you're looking for where to transition, where you think your technology might apply, look to INTOG, not ScotWind. ScotWind is going to take a number of years to come to fruition.
"INTOG, which was released today with an accelerated consent process. These projects will be in the water in two years' time, so if you're looking for a quick fix in wind, this is the one I would look at carefully."
The process, which is separate to ScotWind, was initially unveiled last year.
ScotWind itself saw more than 70 applications, with a mix of Big Oil and wind developers winning seabed space for multi-billion pound projects.
Responding to the INTOG round, Ben Miller, senior policy manager at Scottish Renewables, said: "This announcement adds further momentum to the offshore wind sector in Scotland, and increases again the size of the supply chain opportunity ahead."
Jean Morrison, chair of Aberdeen Renewable Energy Group (AREG), said: "The Innovation and Targeted Oil and Gas (INTOG) details published by Crown Estate Scotland are encouraging for the energy industry as we continue to strive towards a net zero goal.
"Offering opportunities to develop offshore wind farms designed to help with decarbonisation of oil and gas installations as well as small scale wind projects, will significantly improve investment and supply chain opportunities in Scottish waters.
"The round also promises to boost installed capacity in a way that delivers best value for Scotland and support the just transition, two causes which AREG is passionate about.
"We look forward to seeing the outcome of the process and wish prospective applicants the best of luck with their submissions in June."
Recommended for you

ScottishPower appoints first head of Scottish offshore wind