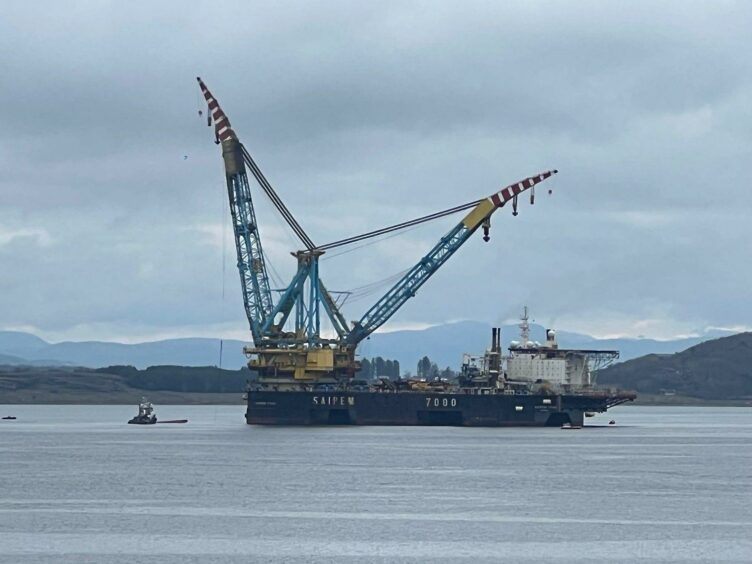 The Saipem 7000 vessel is to return to Scotland following a crane incident last month.
In a notice to mariners, developers of the Seagreen offshore windfarm said the heavy lift vessel is expected back in Scottish waters around July 1.
Dramatic footage emerged last month of the Saipem 7000 enduring a major lifting malfunction during a load test in Norway.
It dropped two cargo barges into the sea and caused the 198-metre vessel to tilt in the water.
However contractor Saipem confirmed no one was injured and that no "significant structural damage" had been caused.
The vessel will be heading to Nigg in the Cromarty Firth to install three-legged suction caissons onto wind turbine generator foundation structures.
Rescue at sea. Ongoing situation
One of the biggest Crane vessels in the world, tilting after a sudden explosion 20 min's ago. 275 ppl on board #Stavanger #Åmøyfjorden #Norway #Saipem7000 #MaritimeSecurity pic.twitter.com/dM8LePv8Dd

— Sea & son (@OnDeepWater) April 14, 2022
"Weather conditions permitting the tugs and barges are expected to arrive in the vicinity of the site from the 29th of May onwards, The Saipem 7000 and support vessels are expected to arrive on or around the 1st of June," the notice states.
Prior to the crane incident last month, the Saipem 7000 had been working on installation of turbines at Seagreen, Scotland's largest offshore wind farm, off the coast of Angus.
The impact of the recent delay to installation has not been made clear by developers.
When the vessel departed for Norway, 21 of Seagreen's 114 wind turbines had been fitted on foundation structures.
Recommended for you

SSE hits 100th turbine milestone at Seagreen