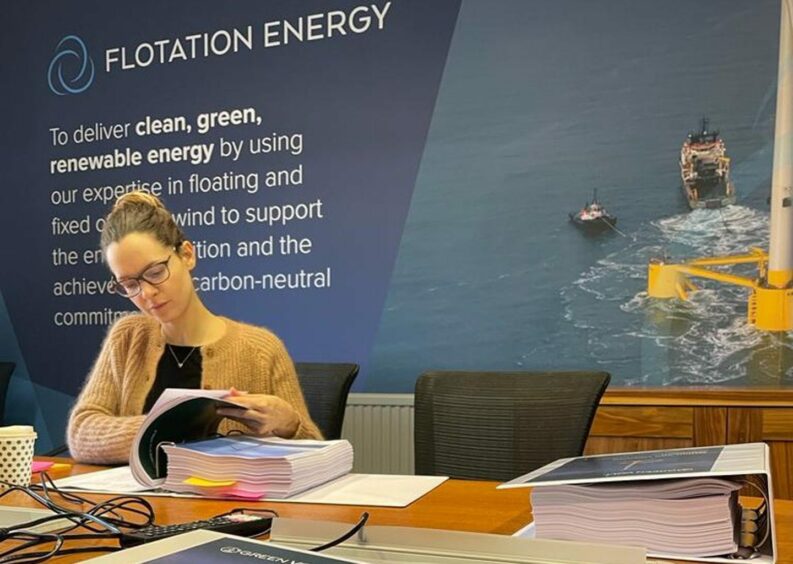 The backers of the Green Volt floating wind farm off Peterhead have submitted a key marine application ahead of a licensing award, as they look to deliver the project by the middle of the decade.
Joint venture partners Flotation Energy and Vårgrønn said on Thursday they had submitted a Marine Licence application for the Green Volt floating wind scheme to Marine Scotland.
The developers are also awaiting the results of the Crown Estate Scotland's Innovation and Targeted Oil and Gas (INTOG) round which would provide offshore acreage for the project, but said an early consent application would ensure the scheme remains on track to generate power "as quickly as possible" in the mid-2020s.
Plans outlined last year would see up 30-35 floating turbines anchored at a brownfield site, previously host to the Ettrick and Blackbird oil field, 46 miles off the Aberdeenshire coast.
Power from the 500MW wind farm would then be used to help decarbonise offshore oil and gas operations. The developers say output should be enough to electrify all major oil and gas platforms in the Outer Moray Firth area.
This could potentially include the UK's highest-producing oil field, Buzzard. The field is operated by CNOOC Petroleum Europe, which supported early development of the decarbonisation scheme.
Cables linking the site with onshore infrastructure would mean power could also be sent to consumers on the UK grid. The developers held public meetings last month to discuss two potential export cable routes mooted either north or south of Peterhead.
Flotation chief executive Nicol Stephen said: "We have been actively developing the project since 2020 and this consent application is a major milestone. It keeps us on track to deliver renewable power to the oil and gas sector by 2026.
"If these projects are not delivering green electricity to offshore facilities by the mid-2020s there is a real risk they will never happen. The prize is a very big one. The reduction in offshore carbon emissions will be enormous. As well as tackling climate change, the project will lead to billions of pounds of new investment and thousands of skilled jobs."
Olav Hetland, CEO of Vårgrønn, added: "The combination of our companies' experience across floating offshore wind, large-scale renewable energy projects and working with the oil and gas industry is what lends unique strength to our Green Volt project.
"If awarded the opportunity, we will bring green energy to the market swiftly while investing in building a local supply chain. To ensure we stand ready to deliver as quickly as possible if we succeed with our INTOG bid, we are applying for the Marine Licence for the project already now."
A final investment decision on Green Volt is eyed for the end of 2024, with full operations commencing in 2027.
Recommended for you

Cerulean Winds signs exclusivity agreements for three INTOG floating wind sites