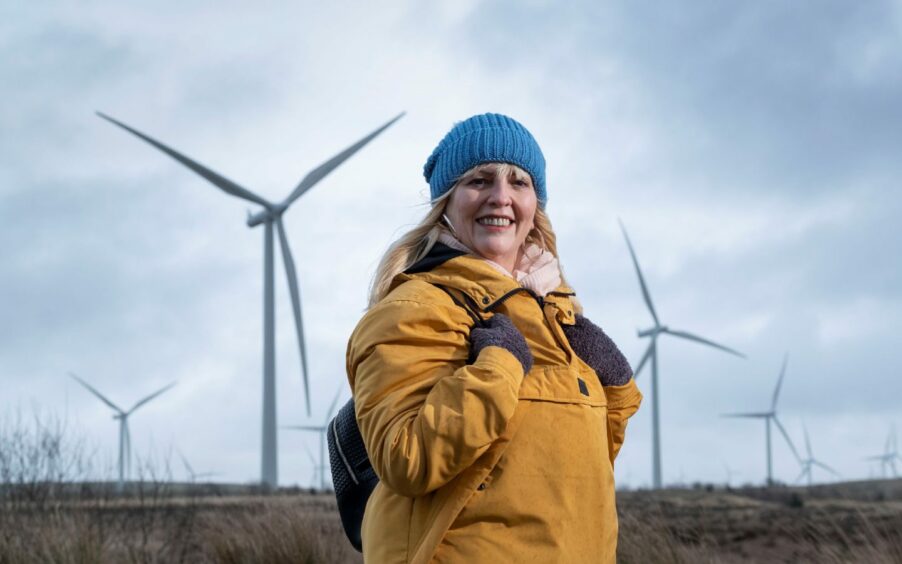 An ovarian cancer survivor has become the world's first "turbine bagger" after walking thousands of steps to tick off all the turbines at one of the UK's largest windfarms.
Michele Lennox, 55, from Giffnock in East Renfrewshire, set herself the challenge of walking to all 215 turbines at Whitelee Windfarm in Eaglesham after she was diagnosed in January 2020.
The mother of one underwent a full hysterectomy, which left her extremely weak and unwell, and she was unable to get around properly.
Ms Lennox began to walk during her recovery and on New Year's Day 2021, she had the idea to walk at Whitelee Windfarm.
Noticing the turbines were all numbered, she decided to walk to them all, and the Whitelee Windmill Baggers group and turbine challenge was born.
Ms Lennox said the challenge gave her the "will to live" throughout her cancer fight.
"I would never have thought that this challenge – for which I had to buy my first-ever pair of walking boots – would be what helped give me the will to live," she said.
"Cancer is a secret and silent disease – and I had seen what having stomach cancer did to my dad, who died just three months after his diagnosis. That was all I could think about at the start, and it took me two years to get out of that mindset.
"It was only after I had bagged all 215 turbines at Whitelee that I could actually convince myself that maybe I wasn't going to die."
Taking on the challenge was not quite as simple as it sounds, with 130 kilometres of tracks and 215 turbines to cover.
Extensive planning and research was required to identify the best starting point and clothing that was needed.
Ms Lennox and her friends braved all weathers to complete the challenge. She finished on December 27 2021 after setting up a Facebook group and recording every turbine bagged on a spreadsheet.
She added: "Whitelee was the perfect place and really gave me the motivation, drive and determination to keep going – and I'll be forever grateful for what it did for me, my recovery and my mental health.
"It was an absolutely brilliant experience and I couldn't have done it with a better group of people, who made it so fun and memorable.
"That support – at one of the most difficult times in my life – was incredible and really brought everyone together. I wouldn't be where I am today – an avid walker with three pairs of walking boots – if it wasn't for my family, friends and Whitelee."
Friend Iain MacMillan accompanied Ms Lennox on her challenge. He added: "We motivated each other and worked as a team.
"On some days it was nightfall by the time we got back, and I was worried whether Michele was physically capable of the task or was over-extending herself, but she just kept going.
"On occasions, it was like four seasons in one day, but the view was always inspirational and we kept the end in sight."
Whitelee Windfarm is operated by ScottishPower Renewables, who said it was "blown away" by Ms Lennox's achievement.
Speaking for the company, Barry Carruthers said: "Whitelee is obviously a great source of homegrown green electricity, but as showcased by Michele's efforts, it's not just the UK's biggest onshore windfarm – it's a fantastic and much-loved outdoor location visited by around a quarter of a million people a year.
"This was definitely not a challenge for the faint-hearted and Michele is a real inspiration and an absolute legend. To hear what Whitelee meant to her and how it supported her recovery is just so humbling and we're blown away by what she has achieved and incredibly proud to play a part in her story."