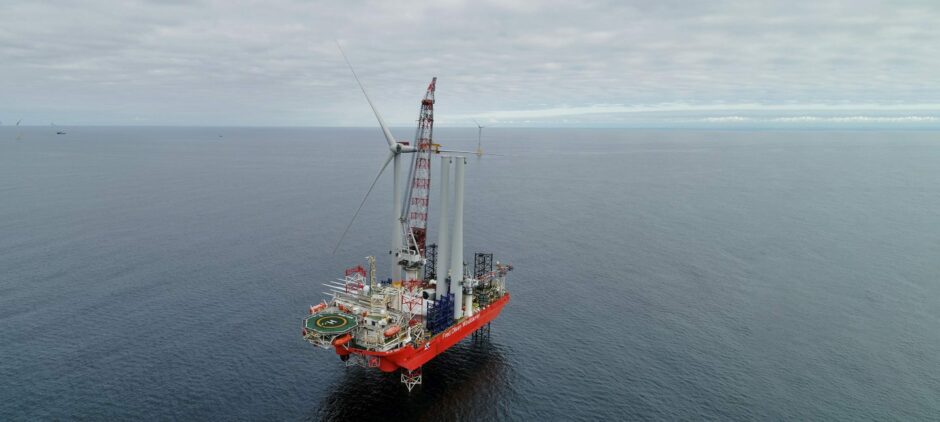 More than 100 vessels working in offshore wind have now passed into the Port of Aberdeen so far this year.
The port, which is undergoing a £400m south harbour expansion project, marked the milestone with the arrival of the Blue Tern jackup installation vessel.
Sitting at 151 metres long, with an 800-tonne crane, the vessel is the latest arrival, currently making its way into the Port.
Chief commercial officer Roddy James, said: "Offshore wind is our most significant opportunity for growth over the next decade.
"The sector currently accounts for 10% of our overall vessel traffic and with ScotWind, INTOG and other developments on the horizon, we expect that figure to increase significantly in the coming years."
Port of Aberdeen's north harbour is already used as an operations and maintenance base for the Aberdeen Offshore Wind Farm and Kincardine Offshore Floating Wind Farm.
Vessels have also regularly visited the port ahead of working on projects including Seagreen, Moray East and Moray West.
The new south harbour offers laydown space, heavy lift zones and berths for vessels up to 300 metres long as work grows for projects including ScotWind and INTOG.
Mr James added: "Our £400 million investment in Aberdeen South Harbour positions the expanded port, and wider north east supply chain, to play a pivotal role in Scotland's next generation of offshore wind.
"We're engaging across industry and government to understand what's required from ports to support these projects and discuss how the expanded Port of Aberdeen can unlock value across the offshore wind lifecycle."
The milestone comes as the Port of Aberdeen welcomed its largest ever vessel last month – a 200 metre jackup rig, which has formed a new landmark on the city's skyline.
The Noble Innovator is expected to begin a £40m contract with BP in the central North Sea in May.
Recommended for you

Flotation Energy looks to the next set of giant UK floating wind farms