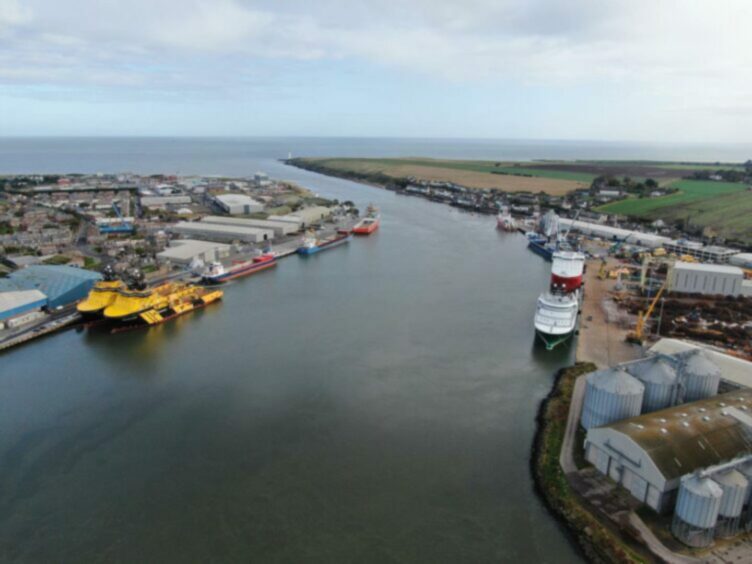 Montrose Port welcomed a record number of vessels last year as it contributed a £25 million impact to the Angus economy, a new report has found.
In the 2022/23 financial year, 576 vessels docked at Montrose, a 10% increase from 2021/22.
The gross tonnage was 2,943,029 compared to 2,240,939 the previous year.
Montrose Port Authority chief executive Captain Tom Hutchison, said: "Our exceptional growth and achievements over the past year are a testament to our dedication and strategic vision.
"We have not only surpassed our forecasts but also solidified our position as a key player in the offshore wind sector.
"We have been able to create valuable job opportunities for our region.
"We're not just expanding as a port. We're expanding as a source of livelihood for our community.
"Our commitment to investing in both our infrastructure and community remains unwavering, ensuring that Montrose continues to thrive as a hub of economic activity, growth and innovation."
The port said its turnover figure, which as a trust port it does not have to disclose, increased by 34%.
The Seagreen and Inch Cape offshore wind projects have both set up operations and maintenance bases at Montrose.
More than a fifth of the port's total revenue can now be attributed to the offshore wind sector.
Montrose Port economic impact
Meanwhile an economic impact study showed the port's contribution to Montrose and Angus.
The port directly and indirectly sustains 384 permanent, full-time employees, generating £13.6m in annual salaries and £25.7m net gross value added (GVA) to the regional economy.
Neil MacCallum, managing director of Beaver Economics, which conducted the study, said he is confident the impact will increase further as more companies arrive at the port.
Angus Council leader Beth Whiteside said: "Its impressive economic contribution further showcases Montrose's pivotal role as a catalyst for prosperity and innovation.
"We look forward to the continued benefit they bring to our region."
Montrose Port contributes £36.4m net GVA to Scotland, the report found.
Investments at Montrose Port
Montrose Port reinvests all its profits back into its infrastructure and local community in accordance with its trust port status.
Over the past year, the port invested £800,000 into its new purpose-built pilot boat and more than £350,000 into its new decommissioning base.
The port has also invested a six-figure sum into an advanced composites facility on-site, developed by Balmoral Comtec.
This facility is geared towards the production of large-scale components for the offshore energy sector.
Balmoral Comtec chose Montrose for its quayside facility to service the offshore industries more effectively as it strengthens its commitment to the wind, wave and tidal energy sectors.
Montrose Port Authority contributed £92,000 in donations and sponsorships to local causes and charities through its community fund
Recommended for you

Highlands cable factory: Sumitomo won't build without £24.5m government grant