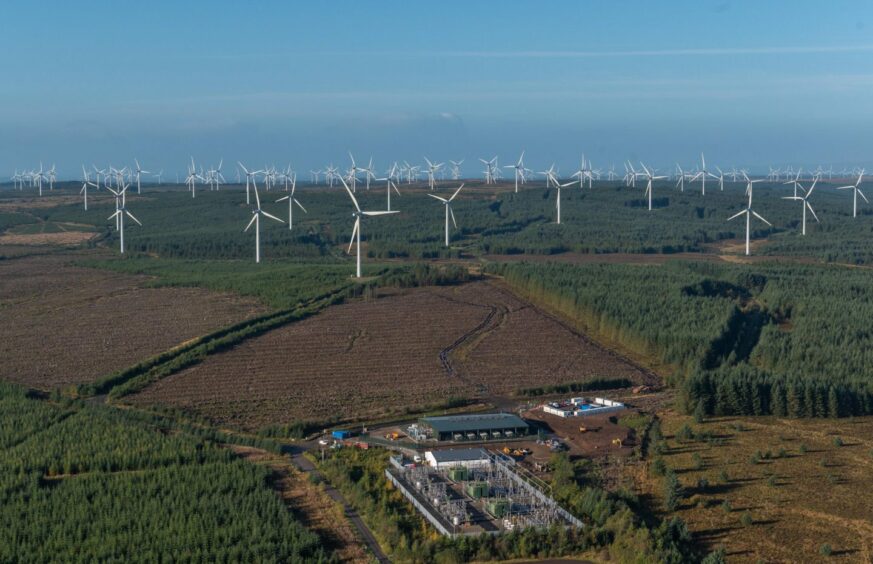 Planning permission for onshore wind is to be relaxed, the Government has announced.
Ministers set out changes on Tuesday, agreed during passage of the Levelling Up and Regeneration Bill.
Here the PA news agency takes a closer look at the changes and answers some key questions.
What was the de facto ban?
The rules introduced under David Cameron in 2015 required councils to draw up detailed plans showing all the areas suitable for onshore wind development before new wind farms can go ahead.
But proposals could also be blocked even if just a single person objected to them.
This means very few onshore turbines have been built in the last eight years.
Why are some opposed to onshore wind farms?
Reasons often cited for opposing onshore wind farms include noise, threat to migratory birds, the danger of detached blades and their visual dominance in the UK landscape.
Others argue that wind farms on their own are not going to provide energy security as the country transitions to clean energy unless the infrastructure for storing massive amounts of energy is built.
What changes has the Government made?
The Department for Levelling Up, Housing and Communities said in a statement on Tuesday that planning rules will be "streamlined" to allow onshore wind projects to be approved more quickly.
Communities can now apply to their local council to have onshore wind built instead of projects only being available through councils' local plans.
They can use local development orders and community right to build orders, which are typically used to build new community centres, shops or playgrounds.
The final decision will still be taken by elected councillors but plans should be taken forward where they can demonstrate local support.
Ministers said the new procedures will mean the "whole community has a say, not just a small number of objectors".
How will communities benefit?
Those communities that choose to host turbines will benefit from cheaper electricity, the Government said.
People may see discounts on their energy bills as the Government considers a consultation on proposed rewards and benefits for communities that back onshore wind farms.
Why have the changes been made?
Housing Secretary Michael Gove said relaxing the planning rules will help the drive to net zero by paving the way for more onshore wind projects to come online where they have community support.
It comes as Rishi Sunak, who pledged to keep the onshore wind farm ban in place last October, bowed to party pressure.
Former Cop26 president Sir Alok Sharma led the Tory backbench pressure over the issue and introduced an amendment to the Levelling Up and Regeneration Bill to end the de facto ban.
It had been signed by dozens of backbench Conservatives, including ex-prime minister Liz Truss and several other former ministers.
Conservative MP Chris Skidmore also said repeatedly that the UK needs onshore wind for its decarbonisation efforts.
Meanwhile, campaigners and Labour MPs have also been calling for some time for the planning rules to be changed.
What has the reaction been?
The announcement has landed with little fanfare as campaigners and MPs said it does not go far enough to galvanise the sector and that developers will continue to face uncertainty.
Alethea Warrington, senior campaigner at climate charity Possible, said: "The minor changes announced today are nowhere close to enough to unblock wind."
Greenpeace UK's policy director, Doug Parr, said: "These feeble tweaks are just more hot air from the Government that'll result in very little wind."
On X, formerly known as Twitter, shadow climate secretary Ed Miliband wrote: "It still remains easier to build an incinerator or a landfill site than onshore wind.
"The planning system remains stacked against onshore wind. This will mean higher bills and energy insecurity for Britain."
The Conservatives have bottled it AGAIN on onshore wind.

It still remains easier to build an incinerator or a landfill site than onshore wind.

The planning system remains stacked against onshore wind. This will mean higher bills and energy insecurity for Britain.

— Ed Miliband (@Ed_Miliband) September 5, 2023
Elsewhere, criticism has come from the other side of the debate with Conservative Sir John Hayes telling the BBC: "You either care about the landscape or you don't. I would object to wind turbines being imposed on communities and I don't look forward to a watering down of the rules."
How did the de facto ban affect the UK's onshore wind sector?
Between 2016 and 2022, there were 12 planning applications for new onshore wind farms in England approved, comprising a total of 21 turbines.
This came to just 2.7% of the number of turbines granted permission between 2009 and 2015.
While the Government said the changes will pave the way for more onshore wind, campaigners said the planning system is still stacked against onshore wind.
Renewable energy made up 42% of the UK's electricity generation in 2022, though much of this was from turbines offshore.
Energy experts say onshore wind must also be scaled up rapidly if the UK is to decarbonise fast enough to meet its net-zero goals.
Recommended for you

Businesses lambast 'historic mistake' as Sunak confirms net-zero policy slide