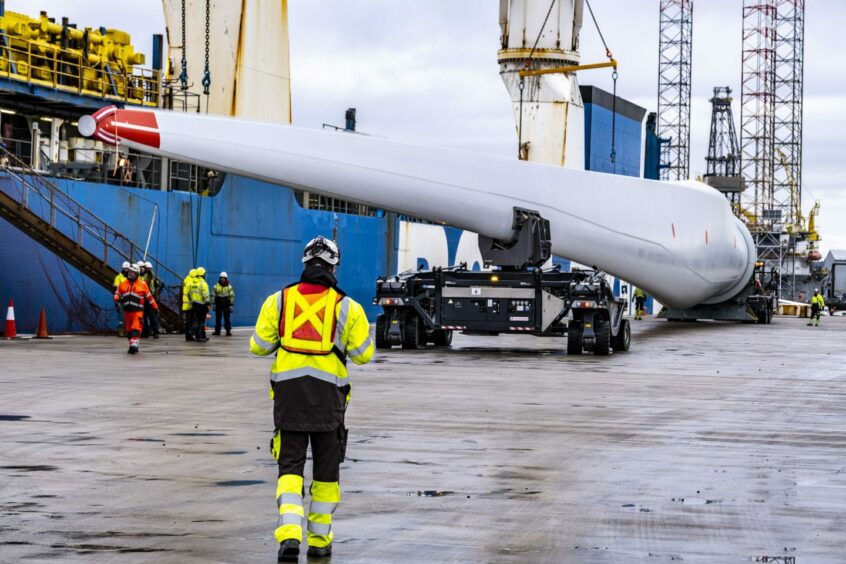 A £22bn bank, wholly owned by the UK Government, has said it will consider buying onwership stakes in ports to help tackle uncertainty linked with floating offshore wind investment.
The UK Infrastructure Bank, publishing a strategy update on Monday, said it will consider equity investments "where investment is required ahead of committed demand".
An estimated £3.45bn of port investment is required to meet the UK's ambition to deliver five gigawatts of floating wind by 2030.
However, ports face major challenges and uncertainties in making these upgrades.
Under the current system, wind developers typically won't commit to a port until they have a "Contract for Difference" from the government – a type of subsidy for power prices.
That means port owners need to make their investment years earlier, to be ready when the CfD comes through, with little certainty on when they will make a return.
The bank said investment in ports is "one of the most significant challenges" in meeting government deployment goals.
It said it "cannot fully address revenue risks on our own" but has levers available to help overcome barriers.
As part of that, the bank said "where investment is required ahead of committed demand, we will consider equity investments".
As an example, the bank said it is open to discussions around equity co-investment with port owners or project developers where they could be a "minority co-investor" in a special purpose vehicle or development company.
With certain governance caveats, the bank said this could work for both private and trust ports.
The UK Investment bank said it would also provide debt, most likely at later stages of a project where there are phased upgrades or a project which has wider use cases, provided there are "sufficiently firm commitments in place for use of a facility".
To help tackle the "revenue risk" facing ports, the UK Infrastructure Bank has said it wants to develop "bespoke structures for strategically positioned ports" to enable risk-sharing between "public and private finance".
"Without firm contracts in place, the lack of certainty over the return on investment makes it very challenging for ports to commit equity capital and access debt finance for these infrastructure upgrades.
"We want to work with developers of projects to understand what conditions would need to be in place to incentivise earlier investment into port infrastructure."
'UKIB are absolutely right to focus on this'
It comes months after the UK's former "Offshore Wind Champion" Tim Pick delivered a landmark report to government which highlighted the "key risk" of lack of revenue certainty for offshore wind ports.
The Government has announced a FLOWMIS (Floating Offshore Wind Manufacturing Investment Scheme) but that will only provide £160m of support across the UK; a fraction of the £3.45bn needed by 2030.
The revenue bank said the award of FLOWMIS funding is expected in the first half of 2024, and it has already indicated a willingness to consider investing in these, which it expects to do in 2025/26, or earlier if the opportunity arises.
Mr Pick welcomed the new report and said it does address and build on several of his points around revenue certainty.
"From my many conversations with ports across the country, it's clear that attracting the scale of anticipatory capital investment – equity and debt – required to build out infrastructure to support future FLOW deployments will require a greater level of comfort around long term revenue than is currently available.
"UKIB are absolutely right to focus on this, and also to clarify that they cannot fully address revenue risks on their own. Other existing schemes such as FLOWMIS, whilst obviously welcome, are also not designed to address that concern.
"I remain convinced of the need for government to explore a longer-term revenue floor instrument to underpin business cases, obviously building in incentives for ports to seek out substitute activity during periods of reduced offshore wind activity."
Launched in June 2021, the UK Investment Bank provides £22bn of "infrastructure finance and partnering with the private sector and local government to finance a green industrial revolution," according to its website.
Recommended for you

UAE's Masdar buys into £11bn UK wind farm