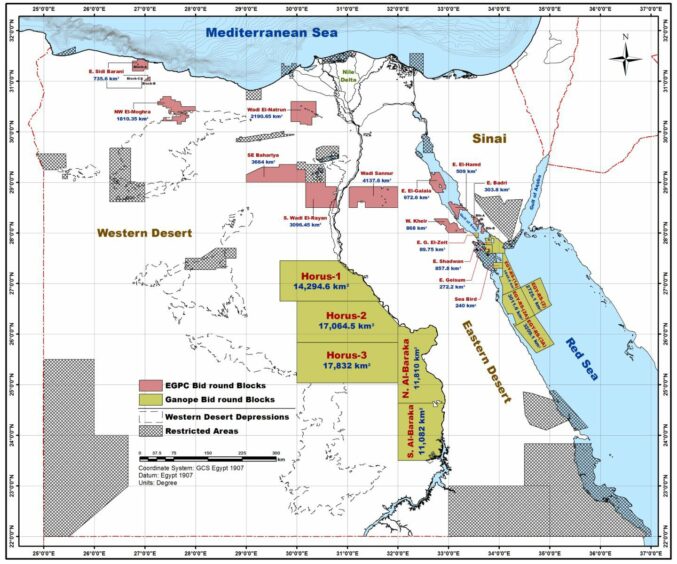 Two state-backed Egyptian companies have launched a bid round, covering 23 blocks in the Western Desert, Eastern Desert, Gulf of Suez and Red Sea.
The Egyptian General Petroleum Corp. (EGPC) and South Valley Egyptian Petroleum Holding Co. (Ganope) issued their invitation to potential bidders via the Egypt Upstream Gateway (EUG).
The EUG provides a range of information on the blocks available, in addition to terms and the model agreement. Companies must be members of EUG to participate.
The bid round closes on February 25, 2024.
EGPC is offering five blocks in the Western Desert, while Ganope offers five. According to EUG, companies have drilled 41 wells in the area, while there is 6,330 square km of 3D seismic and 17,915 line km. EGPC is also offering two blocks in the Eastern Desert.
Furthermore, TGS and Ganope have launched an enhanced full tensor gravity gradiometry (eFTG) multi-client survey in Upper Egypt.
Meanwhile, in the Gulf of Suez, EGPC is offering three blocks and Ganope four. Previous owners have drilled 139 wells, with 9,070 line km and 8,183 square km of seismic.
The last four blocks are in the Red Sea, from Ganope. Only seven wells have been drilled in the area, while there is 8,015 square km of 3D and 7,425 km of 2D.
The EUG update put the hydrocarbon potential in the Western Desert at 132 million barrels of oil equivalent, from 28 leads. In the Gulf of Suez, this increases to 540mn barrels of resources from 27 leads.
The exploration period runs for a maximum of seven years, although the offer notes say a shorter term is preferable. This period is divided into phases of not more than three years.
Recommended for you

Capricorn cuts production hopes, ups receivables in Egypt