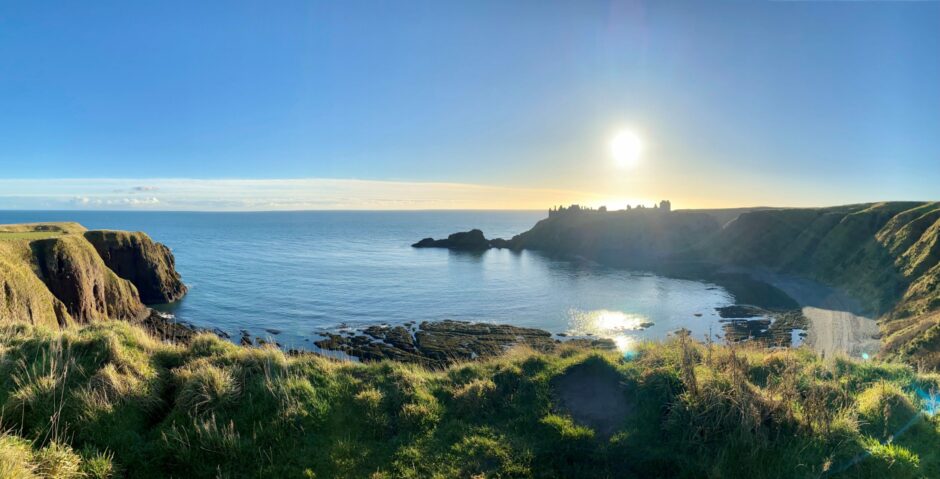 Developers of a massive offshore wind farm planned off the coast of Aberdeenshire have named it after Stonehaven's distinctive coastal landmark, Bowdun Head.
Thistle Wind Partners (TWP) will build the Bowdun Offshore Wind Farm 27 miles out to sea from the distinctive headland nearby Dunnottar Castle.
TWP is a consortium led by Belgian firm Deme Group. The group, alongside French renewable energy firm Qair and Belgium-based wind turbine company Aspiravi, plan to install 50 to 60 turbines in the area as part of a project to produce 1GW of energy – enough to power 1.2 million households.
The group said construction will start sometime between 2029 and 2032.
The wind farm is one of two TWP plan to build in waters off the Scottish coast.
TWP's other site, Ayre Offshore Wind Farm, is a floating wind farm project to the east of Orkney.
The consortium won the rights to build the wind farms as part of the recent ScotWind leasing round.
The partners paid fees worth £18.7 million and £20 million respectively to the Crown Estate to reserve the rights to develop the areas of seabed.
The Bowdun leasing zone – known as E3 – covers an area of 72 square miles.
It added it is "actively engaging" with local companies and north-east ports as work becomes available over the next ten years.
Under the ScotWind process, bidders were required to agree commitments to hire local companies when applying for leases.
In a statement, TWP said it is taking a "technology agnostic" stance to procurement and welcomes "offerings from Scottish SMEs, local businesses, and renewables market entrants".
It added bird and mammal surveys are already underway at both sites. It has enlisted Manchester-based environmental consultancy Apem to survey the sites using LiDAR technology, which can measure bird flight heights to within 10cm accuracy.
Bowdun Offshore Wind Farm will be 'meaningful for people in Aberdeenshire'
TWP said surveying work will continue, alongside vessel surveys of the seabed and engagement with local fisheries, for the next two years.
TWP project director Ian Taylor said: "When choosing the wind farm's name, we wanted something that would be meaningful for people in Aberdeenshire.
"With the wind farm expected to have a ten-year development period and then be in the water for a further 25 years or more, we hope to build long-term relationships with businesses and communities in the region.
"Many of today's schoolchildren could one day join us and the wider renewables industry as engineers, technology developers, marine scientists, and in many other roles.
"We hope that we can help to promote the renewables industry, and STEM subjects more widely, through our presence here."
TWP said it will launch its formal public consultations for the Bowdun Offshore Wind Farm next year but it will have a stand at this year's Feein Market on 3rd June in Stonehaven with follow-up events planned.
Recommended for you

Flotation Energy looks to the next set of giant UK floating wind farms