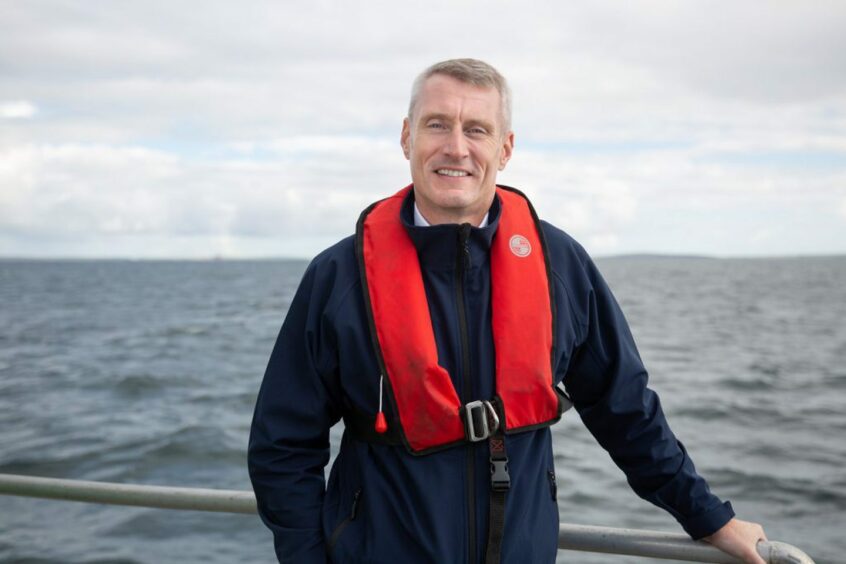 The developers of the Muir Mhòr floating wind project have opened a new supply chain portal, inviting potential suppliers to bid for over £12m in contracts.
Partners behind the proposed Muir Mhòr scheme, around 40 miles off Aberdeen, said the launch of a new supplier portal marked a "major milestone" for the project.
Prospective suppliers, technical innovators, skills providers and development partners are being invited to engage with the project team via a new supplier registration page, with the work on offer representing more than £12 million of supply chain opportunities, they said.
Joint venture partners Fred. Olsen Seawind and Vattenfall secured the rights to lease area E2 as part of the ScotWind round in early 2022.
If built, the project would be one of the UK's first and largest floating offshore wind farms, comprised of up to 40 turbines across the 200 sq km site.
"The development marks a formalisation of the project's commitment to open, transparent and inclusive engagement with the supply chain from an early stage – with a key ambition being to stimulate growth within the domestic supply chain and realise local opportunities as far as possible," they said in a statement.
All told the developers' supply chain commitments infer a spend of around £273m in Scotland alone, and roughly the same again across the rest of the UK.
Interested parties are being encouraged to register in advance of specific 'Meet the Buyer' events which will take place in the coming months.
David Hinshelwood, Project Director for Muir Mhòr Offshore Wind Farm, said: "ScotWind represents a major investment in Scotland's green energy future, and it is key that this once-in-a-generation opportunity also stimulates sustainable growth of a world-class Scottish supply chain.
"Collaborative supply chain engagement has been a key project focus since launching in 2022. We are committed to exploring local opportunities and actively investigating what is feasible in Scotland, and have undertaken positive, early discussions with supply chain partners over the last 12 months.
"The launch of our supply chain portal formalises this engagement and marks an important next step for the project. We look forward to meeting many potential suppliers at upcoming conferences and industry events, and encourage prospective suppliers, innovators and partners to contact us through the portal to realise opportunities."
Procurement and commercial manager Stephen Kennedy, added: "From the outset of the Muir Mhòr Offshore Wind Farm project, we have actively investigated what supply chain opportunities are feasible in Scotland and explored local supplier options first.
"This has seen us award over £3.87 million to Scottish suppliers in development contracts, with further contracting opportunities, and unlock key STEM skills opportunities locally through Xodus' X-Academy, UHI Future Leaders Fund and other community initiatives.
"Whilst there are well-known capacity challenges in the domestic supply chain, market growth in the Scottish and UK offshore wind supply chain is hugely positive. Our transparent, collaborative approach to supply chain development will ensure that we provide feedback to potential suppliers on development plans, work with others to realise opportunities and deliver value through the supply chain where possible."
The Muir Mhòr team have committed to an "accelerated programme", targeting consent determination by December 2025, and a final investment decision (FID) in 2027, in support of the UK government's ambition to reach 5GW of floating capacity by 2030.
Prospective suppliers and partners can contact the team by visiting muirmhor.co.uk/our-supply-chain.
Recommended for you

'We need more projects like Rosebank': Industry reacts to oil field approval