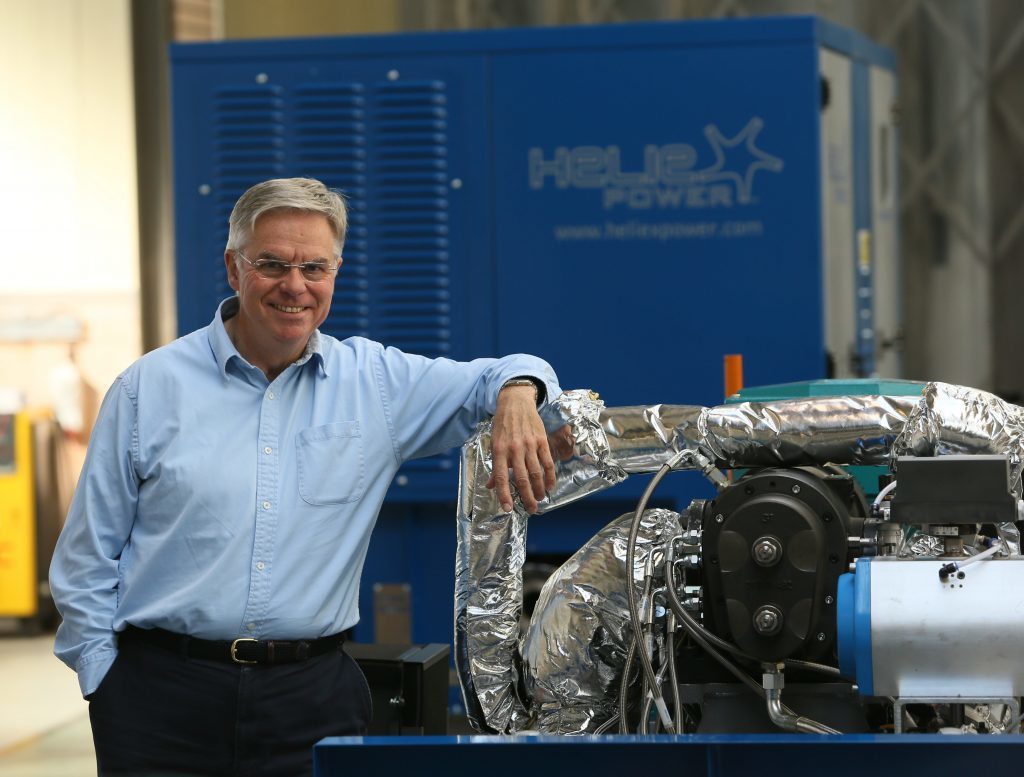 A Scottish company has harnessed the power of wet steam to stake a claim in a market that could be worth as much as $70billion.
Heliex Power, which is based in East Kilbride, has solved an energy problem that has stumped academic and engineering minds for centuries by devising an efficient way of harnessing the power of "wet" steam.
Heliex recently a £4.2million investment boost from BP Ventures (the energy giant's venture capital arm), Greencoat Capital, while also taking on its first financial support from Scottish Enterprise's investment arm, the Scottish Investment Bank, through the Scottish Venture Fund.
Wet steam – the type of vapour seen when a kettle boils, has previously been too low pressure, too low temperature and simply too "wet" to power steam turbines which have been a staple of engineering for generations. Instead, huge amounts of energy has been lost as waste heat in millions of industrial facilities around the world because its moisture content causes irreparable damage to turbines.
The technology has the potential to make a real impact on reducing both energy consumption and emissions.
Developed in conjunction with researchers at City University, London, Heliex's technology uses screw compressors, working in reverse, to recapture lost energy and generate electricity in an economically viable way.
More than 40,000 gigawatt hours (GWh) of energy is lost globally every year through waste steam and it's estimated that up to 50% of industrial energy usage is eventually released as waste heat – enough to power 28 billion homes. The potential market for the system is in excess of £70 billion.
Dan Wright MBE, founder of Heliex Power, said: "It's the Holy Grail of energy recovery for manufacturers and it's hugely environmentally friendly. The wet steam conundrum has been an enduring problem in the industry for many years and we have 100% proven that our answer to it works, with massive cost and energy savings. When we show engineers what we've achieved they say: 'At last! Someone's finally done it.'"
Developed in conjunction with a researchers team at City University, London, Heliex's technology uses screw compressors, working in reverse, to recapture lost energy and generate electricity in an economically viable way.
"Theoretically, a screw compressor works exactly the same as a piston engine, you have a suction process, compression process and discharge process. Suddenly we realised with a screw expander we could actually expand wet water and do a better with that than we could with more organic fluids," said Professor Ian Smith, of University of London, who headed the research team.
That was in 2010: "BP got involved and they estimated the market could be in excess of $5billion a year, at that point we realised we were on to something," added Prof. Smith.
Heliex Power was formed in 2010 to take the technology to market. Headquartered in East Kilbride, Scotland, Heliex Power employs 29 staff and designs, manufactures and supplies patented Steam Expander Systems, capable of both waste heat recovery and cogeneration in a wide variety of industries including distilling, chemicals, steel, paper, food and drink and glass.
Heliex chief executive Chris Armitage, said: "Sales are growing rapidly. To date, we sold the system to 38 customers across a variety of industries, so we have proven its capability.
"This is important because slow adoption has held us back in terms of speed of growth", explained Armitage. It's the old "race to be second" – no-one wants to take an untried piece of technology.
"The new investment will enable us to accelerate the expansion of the business, bringing our proven technology to new sectors and geographies."
Recommended for you

Low-carbon solutions stem from 'blue sky' work