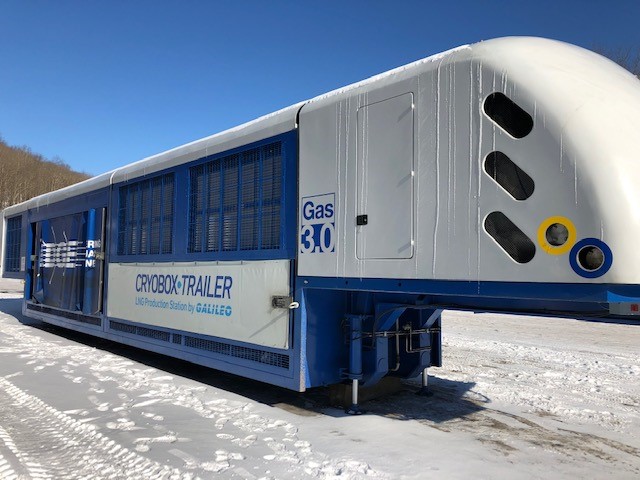 A business which has pioneered technology for producing LNG without the need for pipelines has delivered its first shipment in the US.
Edge LNG took on board Marcellus gas in Pennsylvania in May and has now delivered more than 30,000 gallons of LNG to a New England gas utility 300 miles away.
The process deploys Galileo Global Technologies' transportable Cryobox LNG production and liquefaction equipment at the well itself.
It then delivers the LNG directly to customers' doorsteps.
With no need for pipelines, Edge LNG has provided a viable route to market for stranded gas reserves.
The Cryobox units fit on a standard 40 ft tractor trailer and are designed to be quickly and easily connected, and disconnected, from feedstock gas wells.
Units are also self-powered using produced gas, removing the need for a grid connection.
Edge chief executive Mark Casaday said: "It is estimated that stranded wells account for up to 60% of global reserves, and up to 20% of those drilled in Marcellus, showing the scale of this untapped resource.
"The virtual pipeline model has already been deployed in Mendoza, Argentina, where the first LNG-fuelled power plant running entirely on previously stranded gas, is now well established.
"Now we're bringing this innovation to the US and rest of the world.
"With Edge, well-owners can monetise these assets for the first time, and the market benefits from the lowest cost and highest quality LNG available."
Edge is owned by three core shareholders: Argentina-based Galileo Technologies, UK-headquartered private equity firm Blue Water Energy, and NextEra Energy Marketing, which is a wholly-owned subsidiary of US utility giant NextEra Energy.
Mark Dickinson, managing director of Blue Water Energy, said: "Edge is a truly rare thing: a company solving a global issue that has the industry wringing its hands, with a solution at once both truly innovative and brilliantly simple.
"LNG is a fuel of the future and Edge can take it anywhere."
Recommended for you

Current pipeline of UK blue hydrogen projects expected to top 2030 targets