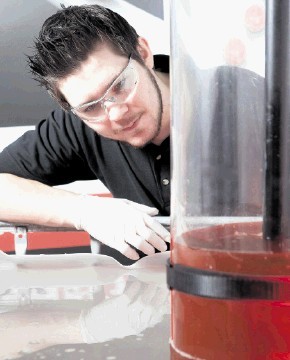 Graduates are part of the life-blood of the energy industry, not least in the subsea sector, be it in renewables or oil and gas.
Here, in the first of a bi-monthly look at some of the graduates working in the industry today, Kevin McDonald, from Aberdeen, tells us his thoughts about the industry.
The 24-year-old, runner-up for the 2011 Oil & Gas UK Young Technician of the Year award, hopes to specialise in flexible riser integrity – while he's not surfing or snowboarding.
Why did you choose a career in the oil and gas industry?
Throughout school I always had a strong interest in maths, physics and design & technology and went on to excel in these topics. During a careers advice interview at secondary school, engineering came up as the most obvious choice. With Aberdeen being the Oil Capital of Europe, I knew it was the career path I wanted to follow. I was always aware of the great opportunities and challenges working in the oil and gas industry would bring particularly being able to travel the world and work.
Who has influenced you most in your career and why?
I work with some very experienced and inspirational people at Flexlife. However, John Marsden, Flexlife's COO, has been a particularly strong influence on me. Not only is John a great role model – having achieved huge success at a young age, he has also taught me a great deal in my brief time in the industry and has given me lots of guidance and opportunities to progress.
What do you want to achieve in your career?
I would like to challenge myself to find my strengths as well as my own opportunities for personal development. I would like to eventually become an expert in the field of flexible riser integrity which would hopefully allow me to become a key player in the subsea engineering industry.
What is the best piece of advice you have received?
Show initiative, make the most of every opportunity you are given and work hard.
What motivates you to get up every morning to go to work?
I'm fortunate to be in a job that I really enjoy; I have been given a lot of responsibility and work on some really interesting projects so it is easy to be motivated to go into work. I think given you spend half your life in a career you have to enjoy it, I like the challenges and job satisfaction I get at Flexlife.
Where in the world would you most like to work and why?
I love living and working in Aberdeen. There are not many places in the world where I can work in the Oil and Gas industry and get to surf and snowboard in my spare time! If I did have the opportunity to work elsewhere it would be either California, New Zealand or Australia.
Recommended for you

Decom North Sea plotting rebrand as it seeks to rekindle 'mojo'