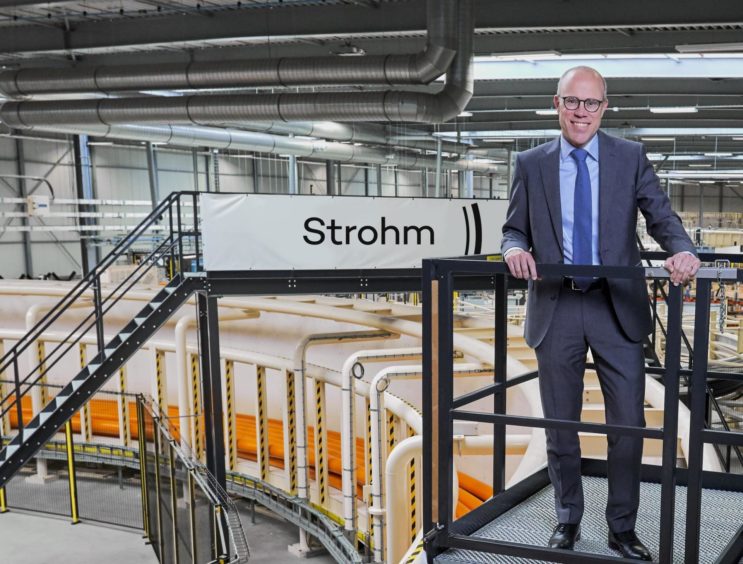 Oil and gas companies across the globe are facing something of a balancing act currently.
On one hand, the need to decarbonise operations is escalating as the rhetoric around a green recovery from Covid-19 intensifies.
While on the other, operators are attempting to get their balance sheets in order in an effort to mitigate the devastating economic impacts of the pandemic.
At the heart of the solution is technological development, something that bosses at Strohm, the world's first manufacturer of thermoplastic composite pipe (TCP), claim plays into their hands.
The Netherlands-headquartered firm offers lightweight and corrosion resistant pipes for use in the subsea sector, providing firms with an alternative to conventional steel tubing.
It was set up under the umbrella of Airborne International 13 years ago by current chief commercial officer Martin van Onna – at that point it was called Airborne Composite Tubulars.
The firm, which has offices in Houston, Rio De Janeiro and Kuala Lumpa, then became Airborne Oil and Gas before rebranding as Strohm, which translates to "flow" in English, last year.
On the change of name, van Onna said: "It represents what we do, in terms of supporting our clients to reduce their carbon footprints, as well as where we want to go with a movement into the renewables sector."
TCP was primarily used in the aerospace industry but is being increasingly adapted to meet the needs of oil and gas.
However, despite Strohm's drive to bring the "technologies and expertise to others", it hasn't always been easy trying to convince the sector to deviate from the norm.
Van Onna said: "We were the first company in the world to develop this technology and that sounds nice but in a conservative market it can be a pain because nobody wants to be the first to implement it."
In order to convince operators that TCP is the way to go, Strohm sought support from existing players in the market, a process that was aided by the firm becoming independent in 2013.
It now boasts an impressive list of shareholders including Aker Solutions, Chevron Technology Ventures, Saudi Aramco Energy Ventures, Shell Ventures, Subsea 7 and private equity investor HPE Growth.
Van Onna said: "Right from the start we had to focus on working with a couple of the big companies that we knew had an interest in our product, the ability to roll it out and a vision to be a leader in their field.
"We quickly went to majors such as Shell and Chevron because it was attractive for us to have them on our team of shareholders. It helped us to gain entry into the market. Today, we have a track record with Total, Petronas and Eni amongst others.
"By being able to show that we have projects with large oil and gas firms, it makes it easier to convince smaller operators to buy our product.
"There are not many operators that have knowledge around composites so it's on us to lay out our track record to build trust and to communicate the benefits of our new technology. Our shareholders act as a sort of endorsement for new opportunities."
This strategy has paid dividends for Strohm and last year it closed several business deals, including three with companies it had not worked with before.
And despite the general desire in the industry to tighten the purse strings, in October, the firm, which employs around 130 people, secured a 25 million euro (£22.6m) convertible loan from its shareholders.
The money will allow Strohm to more than double its manufacturing capacity west of Amsterdam, which currently stands at about 30 kilometres of pipe per annum, as well as to expand its product portfolio.
One area van Onna is keen to target is subsea risers, which connect wellheads or flow lines to floating production facilities.
He said: "In the oil and gas industry, and in the future carbon capture and storage, this is the Holy Grail and, for us as engineers, it is the most challenging application out there.
"Today, they are either made of steel or conventional flexible pipes which weigh around 400 tonnes each. They also corrode because of the fluid and one after the other is at risk of failing.
"These vessels lay there for 20 or 30 years and those risers are suspended, constantly being strained by the loads and the movement."
Van Onna said Strohm's unique composite design, which isn't susceptible to corrosion or fatigue and is around 50% lighter than conventional risers, presents operators with an ideal alternative to steel.
He added: "When we make our pipes they have around three times more carbon fibre than a Dreamliner 787 aeroplane.
"In the past few years we have qualified and put into the field many flow lines and jumpers all around the globe. But we haven't rolled out any risers yet and I think that's the next and final step in that area.
"It's a huge market globally but especially in Brazil which is at the forefront of deep water developments. The national oil company Petrobras like to use flexible lines, which suffer from corrosion – our technology takes that out of the equation."
As well as branching out into other markets, it's also hoped the 25m euro deal will allow Strohm to adapt to the changing needs of the energy industry.
Van Onna said: "What we found, and we've really started to look in earnest at this space, is that with the materials at our disposal we're in a really good position to handle gas.
"That led us to start exploring hydrogen and carbon capture and storage. Although they are very different gases, they are both corrosive and present many challenges for steel. It makes the metal brittle and leads to failures, especially when there are impurities such as water.
"When we came to product development, we found that the risers we created for use in Brazil can also be used to inject carbon dioxide into subsea reservoirs.
"We believe that our product can help companies in the CCS space reduce their costs – they can use our pipes without the need to purify the carbon dioxide.
"Hydrogen is also a very interesting opportunity. We don't have the issue of pipes cracking but we also need to develop our product further in order to be able to deliver a solution."
After a tumultuous year, it's only natural that firms would treat 2021 with a strong degree of trepidation.
But van Onna said the focus is on making inroads into emerging markets, especially those which are likely to dominate the energy sector in the coming years.
He added: "Moving into 2021, the biggest challenge for us is ensuring the expansion in our factory's capability is implemented as quickly as possible. It's our first big expansion since 2012 when we moved into our current premises.
"Next year, we hope to see the first pilots of our product in the renewables space. There's a lot of ideas and a lot of people working on it but it's yet to translate into tangible projects, especially offshore."
Recommended for you
X

Integrated energy approach needed to tackle challenges ahead