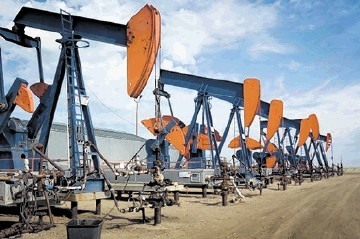 Champion Technologies is among the specialist supply chain companies making a significant input to the World Heavy Oil Congress in Aberdeen later this month.
The oilfield chemicals group, headquartered in Houston but with a global footprint including in Aberdeen, has a significant involvement in providing product and services to oil companies engaged in the production of heavy crudes and is presenting a set of papers at the event.
The topics are:
o A new class of biodegradable demulsifiers for heavy oil emulsions
o A novel way of hydroxide alkalinity management
o Better treatment of steam assisted gravity drainage phase separation; SAGD being an enhanced oil recovery technology for producing heavy crude oil and bitumen.
o The effect of temperature on selection of phase separation aids
o Monitoring of utterly minute (parts per billion) levels of dissolved oxygen in SAGD facilities
Zooming in on emulsifiers, the chemical application of demulsifiers is a widely adopted practice in production and processing operations in the oil and gas industry.
However, according to Champion, particularly challenging is the development of new chemistries, which maintain good separation in low API gravity crudes whilst being environmentally acceptable.
The company plans to use WHOC to provide details of what it describes as "unique, novel, biodegradable chemistry (patent filed)" that can be applied as demulsifiers.
This new chemistry is said to demonstrate good separation in a number of different heavy oil emulsions, delivering good water quality.
And picking out monitoring of minute tracesof oxygen, Champion says that many SAGD facilities recycle the produced water for use in steam generation.
But, high opacity, coloured boiler feed water from recycled produced water make dissolved oxygen measurement difficult.
However, new sensing technology using fluorescence decay now permits dissolved oxygen measurement that is unaffected by the conditions.
Champion says that membrane-based dissolved oxygen meter frequently fail in those conditions.
The company says the new approach enabled dissolved oxygen of 2 ppb was monitored for 6 weeks continuously where it was not previously possible.
A membrane based instrument was rendered useless after two days.
In another facility, 103 ppb oxygen loss across a heat exchanger from active corrosion was detected.
In this presentation numerous case studies will be used to outline where dissolved oxygen measurement assisted in facility operations, preventing costly maintenance and loss of equipment.