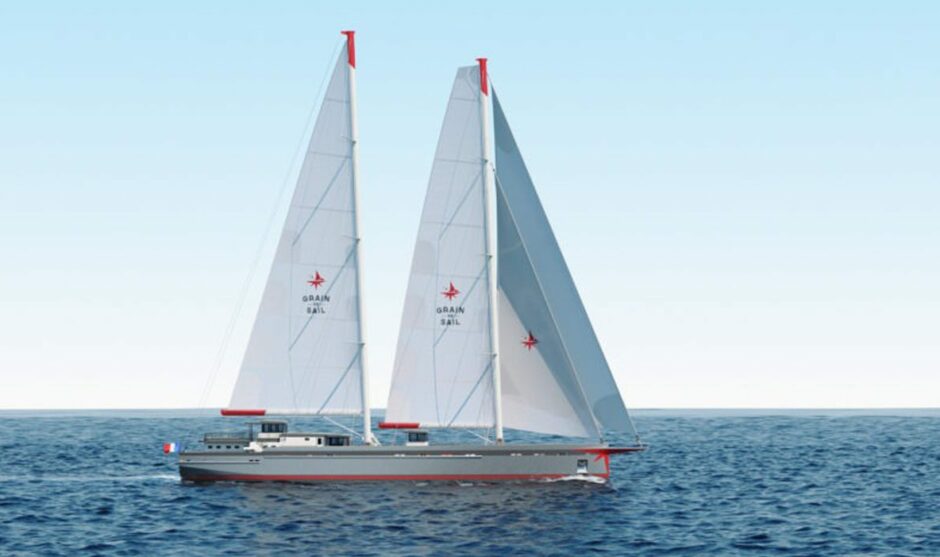 This month's Shipping Line clearly shows just how diverse the thinking is becoming in the maritime world as companies strive to slash the carbon footprint of new ships.
We've selected three dramatically different examples:
P&O Ferries with a pair of the world's largest double-ended hybrid shuttles for its premium Dover-Calais route
Grain de Sail of France with a super-modern sailing ship for the growing high value Trans-Atlantic products market
Ulstein Design & Solutions of Norway has signed a contract with Tersan Shipyard (Turkey) for two methanol-fuelled Ulstein  SX216 construction service operating vessels (CSOVs) ordered by Dutch company Acta Marine for the offshore wind market.
P&O Pioneer
Delivery of the 230m P&O Pioneer, the first of the company's Fusion-class ro-pax vessels should be a game changer for the UK-EU passenger, especially once she has been joined late year by sister Liberte.
Ordered in 2019, Chinese-built but with considerable European design and supply chain inputs, they promise to raise the bar in cost efficiency, service dependability and long-run sustainability on the high-pressure Dover-Calais route.
The £111 million Pioneer began operating on June 19 and P&O calculates that carbon emissions on this route will be slashed by 40%.
Heart of the Fusion Class' propulsion system is a power station comprising a set of large Wartsila engines arranged to drive four "Azipod" propeller units, one at each corner of the hull, and charge 8.8MWh of battery capacity, enabling emissions-free departures and arrivals
The sisters are designed to also be converted to fully battery-electric propulsion once shoreside charging infrastructure has been installed at Calais and Dover. But that won't happen before 2030, it seems.
Acta CSOVs
Turning to the CSOV sisters for Acta Marine, the hybrid power solution in these vessels, with green methanol intended as the main energy source, has dual-fuel engines supported by a battery pack.
According to Ulstein, this set-up will enable the most fuel-efficient modes of operation. The intention is that, by combining the proven fuel-efficient cruiser-sterned (Twin-X) SX216 design with dual-fuel methanol/diesel power generators, this will help reduce the emissions in offshore wind farm operations.
Acta Marine already has a pair of SX216 vessels and so knows what to expect from sisters three and four, both of which will go on 12-year contracts with windfarm operator RWE from early 2025 and 2026.
The SX216 class has a length of 89.9m, a beam of 19.2m and accommodates up to 135 personnel and crew.
Each vessel is fitted with a walk-to-work (W2W) motion-compensated gangway system as standard to enable the safe transfer of personnel to and from transfer to the turbines, a 3D-motion-compensated crane for cargo transfer, and has provision for a daughter craft for in-farm transfers too.
Grain de Sail II
And now for the piece de resistance.
Boutique French shipping company (and chocolate maker!) Grain de Sail has reported the successful launch of a radical 52m sailing cargo vessel with a designed hold cargo capacity of 350 tonnes.
Basically it has two cargo holds capable of handling up to 238 standard pallets, plus there is tank capacity of 18 cubic metres for bulk liquids and provision for deck cargoes in barrels.
Grain de Sail II is intended to have a very small carbon footprint indeed and, aside from its efficient sailing rig, it will incorporate solar panels and hydrogenerators.
A contract was placed with France's famous Piriou shipyard early last year, with construction of the aluminium hull to be handled by the company's yard in Ho Chi Minh City, Vietnam; then transported to Lorient in France for rigging and final outfitting. Designer is L20Naval.
Grain de Sail I was completed in 2020 and is trading successfully.
Grain de Sal II's hull has just been launched, will shortly be en-route for France, and completion is scheduled for the end of this year.
The new ship will ply the North Atlantic from its homeport of St Malo to the US, transporting wines and other high value products.
For each return trip, it will sail from Latin America to France with cargo consisting of raw ingredients such as cacao mass, green coffees, and rums.
Grain de Sail was founded in 2010 in Brittany by twin brothers Olivier et Jacques Barreau.
Their new ship will dwarf the company's first purpose-built cargo vessel, a 24m schooner with a 50-tonne payload capacity. Grain de Sal I will be repurposed for coastal shipments within Europe once the new vessel is operation.