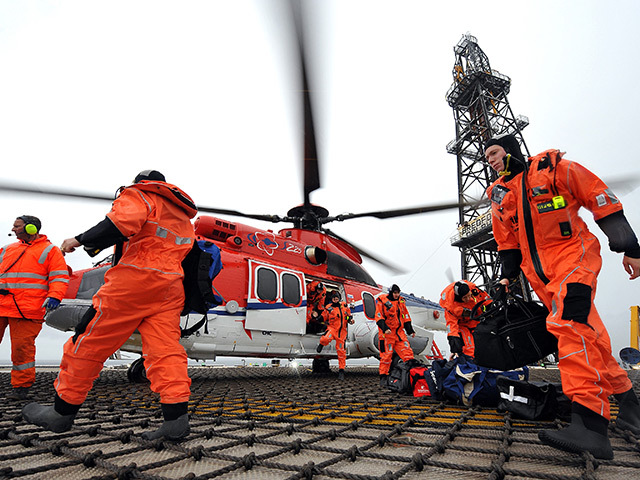 The Health and Safety Executive (HSE) has reported that four workers have contracted Covid-19 as a result of occupational exposure offshore, with more expected to follow.
Figures have been reported to the UK safety watchdog under legislation requiring employers to disclose any illnesses contracted at work, known as RIDDOR (Reporting of Injuries, Diseases and Dangerous Occurrences Regulations).
A spokesperson for the HSE said they "anticipate" the number "could change over time".
The names of the platforms or the companies who operate them have not been revealed.
Meanwhile, more than 200 people with mild symptoms of the virus – Category C workers – were evacuated from North Sea installations in the last two months, according to latest industry figures.
The number of workers taken ashore in medivac flights by "coronacopters" contracted by the industry is one of the main measurements being used to judge the effectiveness of tackling the virus offshore.
According to trade body Oil and Gas UK (OGUK), 226 Category C workers were taken ashore during 125 flights between March 23 and May 24.
Earlier this month, Energy Voice reported that around 200 workers were evacuated between the end of March and the beginning of May, meaning only about 26 have been evacuated in the last month.
OGUK HSE manager Trevor Stapleton said: "We continue to work with all stakeholders to ensure the industry can safely meet the UK's energy needs and keep businesses and homes running throughout the pandemic. OGUK has worked across industry to help introduce a range of measures to protect against the spread of COVID-19 in an offshore environment.
"Reporting through RIDDOR is an information source which can be used to help us assess the effectiveness of these measures and it complements our existing data sets on passenger movements, which continue to show a downward trend in suspected cases offshore."
Recommended for you

CNR scolded by HSE after delaying 36,000 hours of North Sea safety work