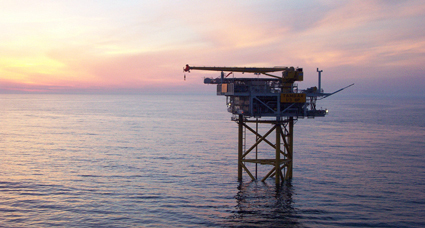 The crude price collapse has got oil and gas companies talking seriously about using large unmanned platforms more widely, an industry chief said today.
But forward thinkers are still having to fight against the industry's pervading "inertia".
Unmanned platforms are stripped right back and use only the simplest and most robust equipment, which cuts down on maintenance.
Most of those currently in use tend to be relatively small, but the same approach could be applied to rigs that are normally manned by large numbers of people.
If done correctly, this approach can cut costs and open up small pools in the process.
It also improves health and safety by reducing the number of trips workers have to make.
Speaking at the SPE Intelligent Energy conference in Aberdeen, Judson Jacobs, a senior director at IHS Energy, said large-scale unmanned platforms are still not used enough.
He cited an example of an unspecified company which set up an "extreme minimum-manned" platform on a shallow-water gas condensate field eight years ago.
He said the project showed capital expenditure could be reduced by removing manpower, without leading to increases in downtime.
But Mr Jacobs said the company did not stick to the new approach.
Instead, it went straight back to building platforms in the traditional manner.
Mr Jacobs said: "There are not a lot of examples of this (using large-scale unmanned platforms) being done. There are only about five examples in the whole of industry that qualify."
That could be about to change, however.
"When oil is at $100 not a lot of people are asking for it, but that's changing," Mr Jacobs said.
"Now lots of conversations are taking place out there. People are asking how can we bring down our costs? And that is coming from project groups, that is, the people who have to delay the projects."
Mr Jacobs said large unmanned platforms could reduce capital expenditure by up to 15% and operating costs by up to 70%.
The key, he said, was to simplify by taking equipment off the platform, or not putting it there in the first place.
He said he knew of a company which had run a cable offshore instead of putting generators on the platform to reduce maintenance.
"Every time someone wants to put something on the platform, you need to have an argument about it," Mr Jacobs added.
Recommended for you

Labour's North Sea plan poses 'clear and present danger' to energy security