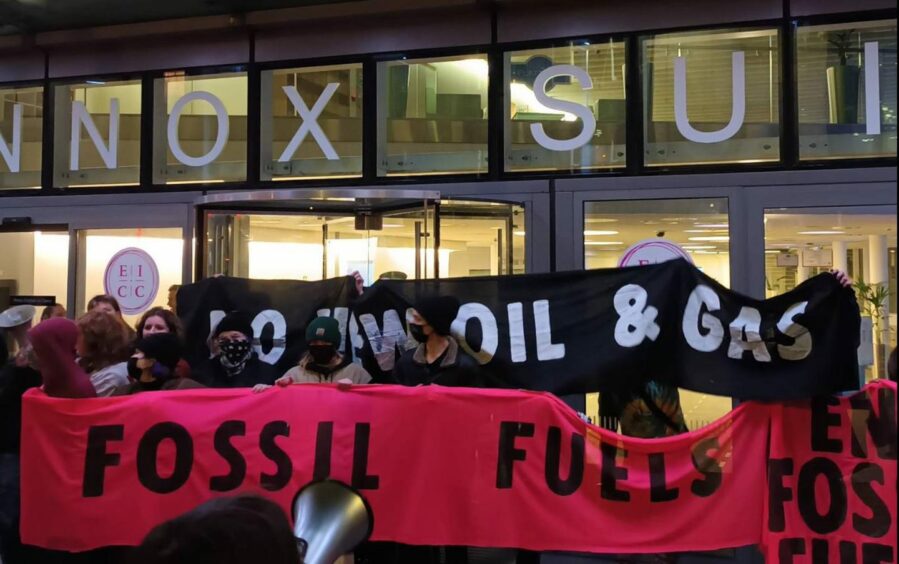 Climate activists targeted an energy event in Edinburgh on Friday night to call for an end to oil and gas expansion.
Members of Extinction Rebellion gathered outside the Edinburgh International Conference Centre, which hosted the Scottish Energy Forum annual dinner.
In addition to the customary banners, which read "Fossil Fuels End Here" and "Burn Borders not Oil", the protestors engaged in traditional Scottish country dancing.
When the dinner began, about twenty activists occupied the entrance of the building chanting "no dinner for killers", amongst other things.
They then attempted to get past security at the front and back entrance but were prevented by venue security.
Eilidh McFadden from West Lothian said: "No longer will we suffer in silence. No longer will we stand back and watch oil giants, like ones at this dinner tonight, profit from our poverty. Last winter, the excess deaths were double that of usual figures. People are freezing to death in their homes whilst companies like Shell and BP make record-breaking profits and our climate reaches record-breaking heats. This ends here. This ends with ordinary people, like those protesting today, standing up and saying enough is enough. Rapid change never has, and never will, come from anybody but the people. All we have is each other, but that's the most powerful thing anybody could ever have."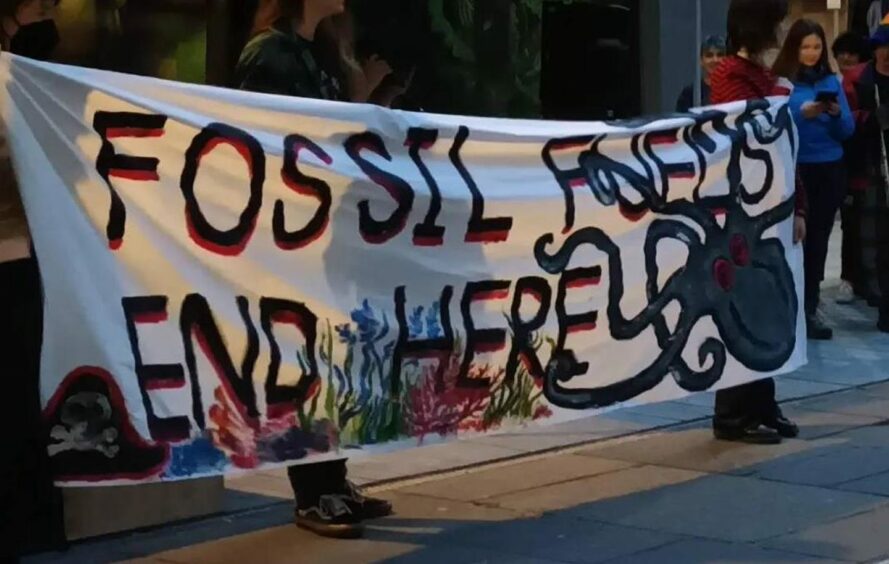 Friday's action was a repeat of last year, when Extinction Rebellion and Stop Cambo targeted the event, and prevented guests from entering the EICC.
They are calling on the conference space to no longer host events which platform the fossil fuel industry.
Lauren Waterman, 42, Mum of two, said: "The Scottish Oil Club's rebrand is an egregious attempt at greenwashing when they are still trying to expand oil and gas production in the North Sea. It's absolutely disgusting that these people are getting together for a fancy dinner to celebrate an industry that is essentially a death sentence for us all, locking us into an energy system that is incompatible with life on our planet."
Recommended for you

Minister offers APPEA "pathway to the future", while activists arrested