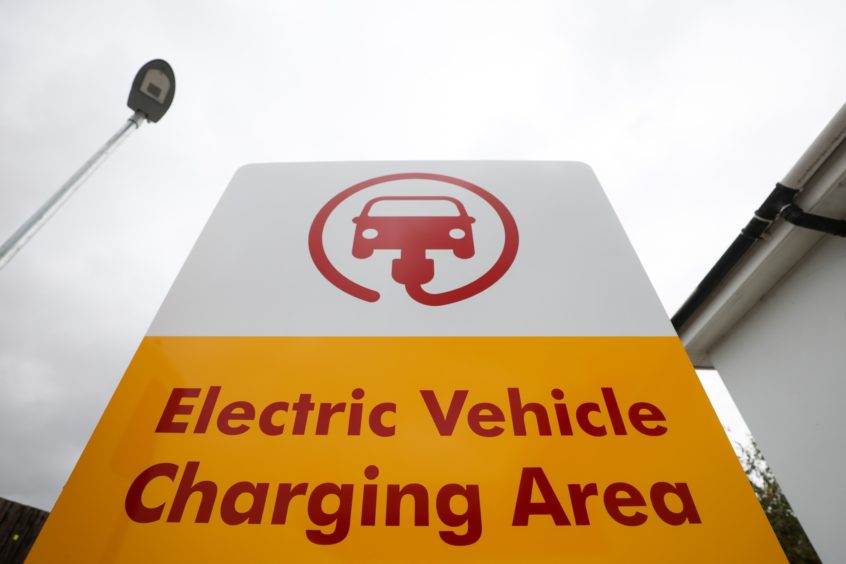 Shell has set out plans to put a rapid charger within a 10-minute journey for 90% of drivers in the UK.
UK country chair David Bunch will deliver a speech at the All-Energy Conference in Glasgow on Wednesday, detailing the energy giant's electric vehicle plans.
By 2030, Shell intends to deliver 100,000 public charge points across the UK.
The firm said 11,000 of these will be "rapid", allowing many cars to reach 80% within 30 minutes, subject to the battery.
By placing these at locations including charging hubs, forecourts and supermarkets, Shell said 90% of all UK drivers will be within a 10-minute drive from one of the stations.
The remaining new chargers in the updated target will be on-street charge points integrated into street infrastructure such as lampposts, which charge vehicles over longer periods.
It comes after competition watchdogs warned last year there is a "postcode lottery" for electric vehicle charger points.
The findings set out a huge disparity between the number of charge points in London compared to regions like Yorkshire and the Humber.
Concerns around range anxiety also remain a major barrier to uptake as the UK prepares to ban the sale of new petrol and diesel cars in 2030.
Shell's ambitions form part of recently-announced plans to spend up to £25bn in the UK energy system over the next decade, with 75% to be in low or zero-carbon projects.
Mr Bunch said: "Whether at home, at work or on the go, we want to give drivers charging options so that more can switch to an EV.
"Access to public charging needs to be made available to everyone, no matter where you live."
In addition to the public charge points, Shell's installation of EV chargers at private locations, such as homes and workplaces, will also continue to grow at pace, it said.  Shell estimates that by the end of 2030 it could have installed 500,000 such chargers.
Globally, the firm aims to grow its electric vehicle charging network to 2.5 million by 2030 as part of a broader target to be a net zero emissions energy business by 2050.
Recent figures from MSPs campaigning for chargers in Scotland showed there only 45 chargers per 100,000 people in Aberdeenshire in January, compared to 91 per 100,000 people in the Highlands.
Meanwhile, it is predicted that, by 2050, the number of battery electric vehicles in Aberdeen could accelerate from around 350 today to 124,500.
UK transport secretary Grant Shapps said: "The UK's network of electric vehicle chargepoints is rapidly growing and we're making it easier than ever for drivers to join the green transport revolution.
"It's crucial that Government and industry join forces on this transition and Shell's announcement today will provide a huge boost for drivers, making charging quick and convenient no matter where they are in the UK."
Recommended for you

Northeast EV charging firm energised by £9m SNIB investment