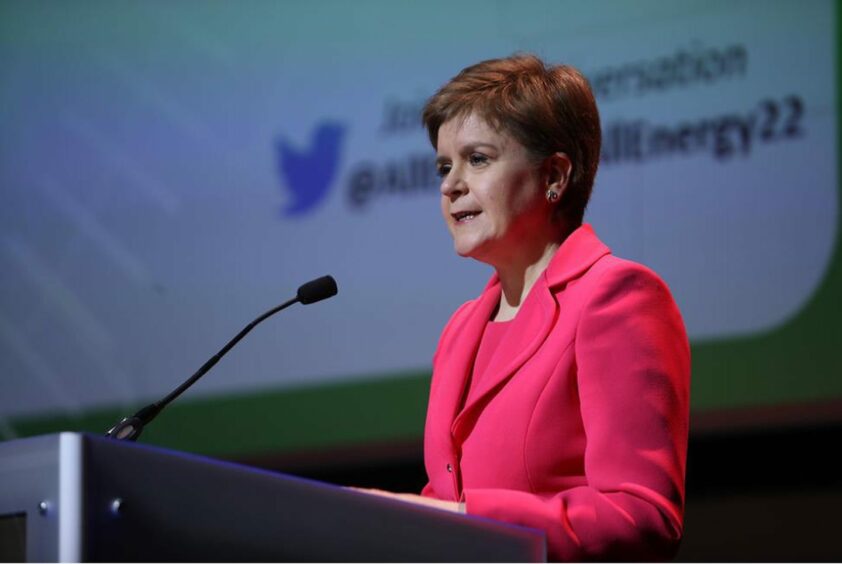 First Minister Nicola Sturgeon has warned that Scotland faces a "tsunami of fuel poverty" as energy bills are set to increase again in October.
The next price cap increase will take effect and could add another £629 a year to average bills, according to Cornwall Insight, on top of the £700 increase seen in April.
Speaking at the All-Energy Conference in Glasgow, Ms Sturgeon set out the need for "immediate action" to address the crisis.
She was joined by Scottish Power CEO Keith Anderson, who this week suggested taking £1,000 off bills for the most vulnerable, to be repaid over a 10-year period, to mitigate the worst effects.
Jonathan Brearley, CEO, of regulator Ofgem, was also on the panel and said he "cannot find a situation similar to the gas crisis in our post-war energy history".
Ms Sturgeon said: "We are facing in this country, and indeed many parts of the world, a tsunami of fuel poverty because of rising energy costs. I take very seriously the responsibility on my shoulders and the shoulders of my government to do everything we can to help.
"The cost of living crisis requires immediate action, we simply cannot have a situation where more families have to choose between heating their homes and feeding themselves and their children."
The First Minister said energy firms have a role to play, though they have not caused the crisis, and the key action must come from government.
She set out calls to the UK Government to cut VAT on energy bills to zero and to direct more support to low-income households, as well as the Scottish Government's £1.8bn spending plans for its warmer homes initiative.
In a video message at the conference, UK energy minister Greg Hands outlined Westminster's £9.1bn energy bill support package, which includes a £150 council tax cut in England with Barnett consequentials for the devolved administrations, as well as a £200 energy bill reduction in October for all UK homes, to be repaid from 2023-onwards.
The opening plenary of All-Energy, hosted at the SEC in Glasgow, reflected on the dramatic changes globally since the COP26 climate summit, including Russia's invasion of Ukraine and the effects that has had on the gas crisis.
Mr Anderson of Scottish Power said the industry, government and other parties need to tackle the issue "head on" in order to remain on-track with the country, and the world's, net zero goals.
"We have a critical issue facing us today and there are projections that, by October, 40% of households in the UK could be in fuel poverty. We need to deal with that and find ways of dealing with that incredibly quickly.
"I've put forward one suggestion of taking £1000 off the energy bills of those most badly-affected and most vulnerable in our society. That's one possible solution, I'm quite happy to find better solutions and debate other solutions.
"The most important thing right now is we have that debate incredibly quickly and we work out what we're going to do and have it implemented in time for October to avoid the worst effects of these price rises.
"We cannot allow this crisis to knock us off-track. But we need to deal with this crisis, and deal with it head-on and deal with it quickly."