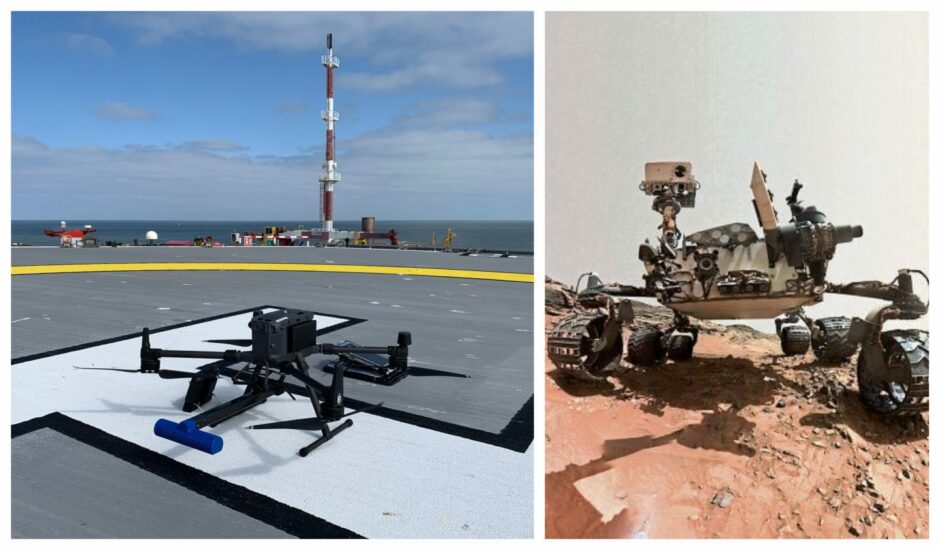 Technology initially developed by the NASA Jet Propulsion Lab for use on the Mars Curiosity Rover is set to be showcased at SPE Offshore Europe this year.
The US sensor company, SeekOps, is using the kit to gauge methane emissions across the North Sea and is ready to show its drone-agnostic SeekIR solution to attendees at the annual event in Aberdeen next month.
The Society of Petroleum Engineers (SPE) has explained that gauging methane emissions is "particularly difficult in offshore environments."
Some solutions involve using satellites and aircraft, however, they have had "ow success rates due to backscatter from water, clouds being in the field of view and a lack of resolution required to quantify one asset in a region where there are multiple in proximity," SPE writes.
SeekIR looks to address these issues by cutting costs and providing "safe and accurate methane emissions quantification."
SeekOps looks to show delegates at Aberdeens P&J Live findings from surveys of five offshore assets, presenting methane concentration and atmospheric conditions data, such as temperature, pressure and wind vector data.
The US firm uses an in-situ tunable diode laser absorption spectrometer (TDLAS) which is attached to a drone to gather readings.
This TDLAS technology was initially developed by the NASA Jet Propulsion Lab to scan for evidence of microbial life.
SeekOps chief technology officer and co-founder, Brendan Smith, said: "With political, environmental and social pressures building, oil and gas operators are searching for ways to effectively reduce methane emissions.
"This forward-thinking solution combines two cutting-edge pieces of technology to provide companies with a modern and effective means of measuring their offshore methane emissions."
Kamel Ben-Naceur, SPE Offshore Europe conference chairman for 2023, added: "As the energy transition ramps up pace, the development and adaptation of technologies to aid in the process will be key.
"This technical session will highlight a system that could have a potentially revolutionary impact on how methane emissions are measured offshore and forms part of a session which brings together the best minds in the field of offshore energy production to contribute to the development of effective strategies and solutions to reduce carbon emissions in the offshore sector."
Offshore Europe will take place in Aberdeen's P&J Live from September 5 to 8 as the event marks its 50th anniversary. 
Recommended for you

Offshore Europe in the 90s: Unsettled times as Brown plans North Sea tax raid