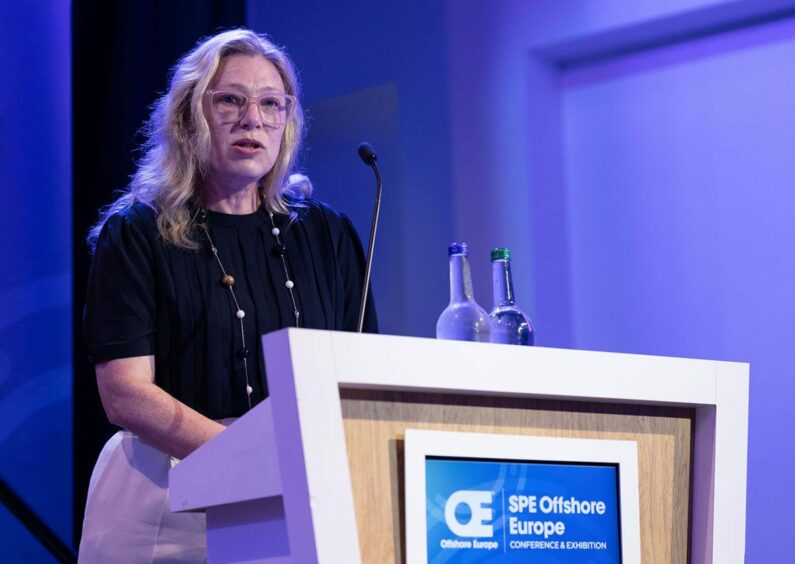 Addressing a session on skills and the energy transition, Scottish energy minister Gillian Martin said she would listen to the industry to ensure a supportive policy landscape.
Speaking at Offshore Europe in Aberdeen on Wednesday morning, Ms Martin said government "has to be prepared to listen to the people in the sector so that we're doing the right thing in the policy landscape."
"I hope I have demonstrated in the time since I was made Minister in March that I have a commitment to listening to industry and businesses", she added.
It follows an energy strategy unveiled by her predecessor earlier this year which sought to curb North Sea exploration – a move branded as a "breathtaking betrayal" of the industry.
Ms Martin made the comments ahead of a "short whistle stop tour" of the conference – despite a busy schedule in Holyrood as the administration unveils its Programme for Government this week.
She told conference delegates that it "cannot lose sight of the opportunity" presented by the energy transition, given the expertise and workforce available in Scotland to help power a "second energy wave" – advantages she said neighbouring countries were "envious" of.
Reflecting on the anniversary year for the conference she added: "We owe it to the people who delivered on our energy security for the last 50 years in this area, we owe it to their children and we owe to the people that are working in the industry right now, to make sure that we've got at least another 50 years."
"Maybe a different type of energy, but the same people with the same skills, transferring seamlessly from one sector to another."
Skills passport is 'game changer'
She pointed to the party's £500m Just Transition Fund as a vital component to supporting that transition, though added it was "deeply disappointing" that politicians at Westminster had not answered calls to match the fund up to £1bn. That is, she said, despite a more than £400bn tax take from the North Sea since oil began flowing.
However, she said progress had been made on the much-anticipated skills passport – an alignment between wind and oil certifications that would allow workers to move between sectors more easily.
Training body OPITO, who oversees the scheme, has previously said the passport will be fully operational in Q4 of this year.
Ms Martin said she had seen a prototype for the system, describing it as "an absolute game changer".
Case by case
Despite that commitment to listening, the SNP's draft energy strategy alarmed the sector in setting out the party's position of a presumption against new oil and gas licences.
Ms Martin said recently that further licences awards should be made on a "case by case" basis.
"We have consistently said that we feel that the UK Government should be awarding licences on a case-by-case basis, and that there has to be a justification for the awarding of those licences based on a climate compatibility checkpoint," she told Holyrood magazine.
It's a position echoed by First Minister Humza Yousaf, who recently made clear that "unlimited oil and gas extraction is not Scotland's future."
He also demurred on the potential future of the controversial Rosebank field – adding that he was "not convinced" it should go ahead.
Speaking on the sidelines of the oil conference on Tuesday, UK Minister of State for Energy Security and Net Zero Graham Stuart said the government was "committed to licensing rounds" in UK waters, but wouldn't be drawn on whether there are plans to dish out further exploration permits ahead of the next general election.
Recommended for you

Over half of Scottish fishing space could be lost as green energy ramps up