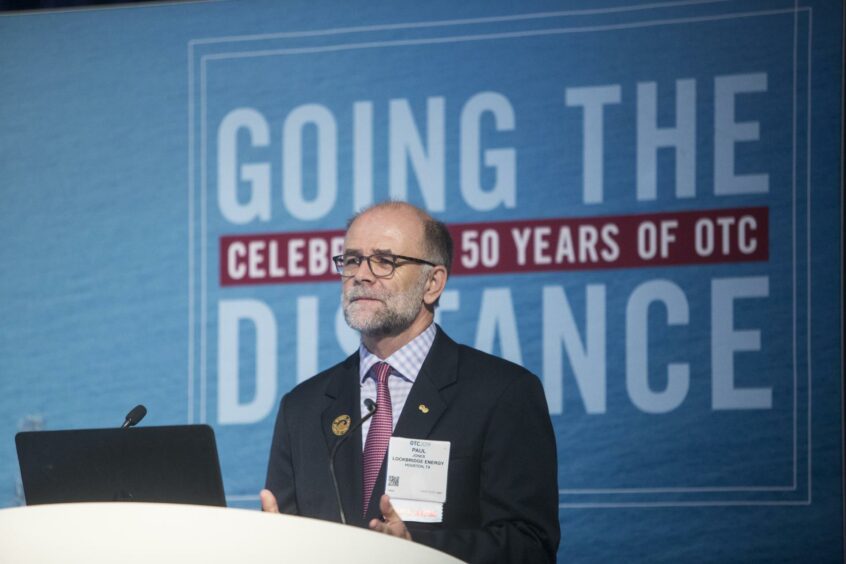 Back in its traditional early May fixture after two topsy-turvy years, Houston's Offshore Technology Conference (OTC) is making up for lost time.
While last year saw a slightly muted reception to a socially distanced, hybrid event, OTC 2022 is keen to reassert its position as the largest business convention in the US' energy capital.
And although attendance is unlikely to top the roughly 60,000 attendees recorded pre-pandemic, there is clear appetite from delegates and organisers alike for the so-called "Super Bowl of Oil" to make full return to its home at the NRG Park in south Houston.
For Paul Jones, chairman of the OTC board of directors, the return to physical staging is welcome. "You can do a lot remotely and you can do a lot online and a lot in the virtual environment, but you cant replace the interaction of people and the idea generation and the camaraderie that we see at OTC," he said.
"OTC has been a forum for technology development for over 50 years now, and the expectation is that every May everybody is going to gather in Houston and bring their challenges, new technologies, some sort of interesting ideas and just talk about them."
Yet as with the rest of society, the energy industry too is embracing a "new normal" – in this case a renewed focus on the challenges and opportunities presented by the global energy transition and charting a route to net zero emissions by mid-century. That journey has become both more pressing and more complex of late, as skyrocketing oil and gas prices and Russia's war in Ukraine have prompted policy shifts across the political and geographic spectrum.
This new focus on all forms of offshore energy is evident in the first day's technical programme, which sees a full morning session devoted to US offshore wind.
Dubbed 'Implementing Goals for Rapid Growth', the panel session will focus on addressing the fundamental obstacles in offshore wind energy and how offshore experience can be applied to meet the US' ambitious target of 30GW by 2030.
For Mr Jones, the prominence of these sessions marks the culmination of a purposeful journey that began during the last decade and has now grown to incorporate diverse areas of interest, from marine hydrokinetics, to solar, wind and green hydrogen.
"About seven years ago we began to realise there was a demand that we needed to meet for new and emerging technologies in the renewable space, and so we purposely built and curated sessions within the program to try and bring those into the world of offshore oil and gas production," he explained.
"That was highly successful and not only were we getting renewable folks in the room, we were getting traditional oil and gas folks in there, and we just saw these two diverse populations come together with a common goal, and that essentially is the way OTC has been curated over the last seven years."
He added: "We still get new technologies in oil and gas production, and that's obviously a big part of OTC itself, but we have a really broad tent and I think the focus truly now is on offshore technology as opposed to offshore hydrocarbon technology."
As ever, OTC's Spotlight on New Technology Award also returns for 2022, this year recognising innovations from some 14 companies, seven of which are SMEs. Notable winners include autonomous systems for both drilling and well intervention, vacuum-assisted oil recovery technology, and a subsea chemical injection system.
"Often it's now technology in the renewable space, or technology which takes the experience of oil and gas applies it to renewables or the lens of a lower carbon future," Mr Jones added. "We're seeing those sort of technologies emerge, so that's going to be very exciting this year as well."
And of course, alongside the 22 sessions covering energy transition topics, there remain technical presentations and panel sessions spanning all aspects of offshore working, from diversity and inclusion efforts to geothermal energy and marine mining.
Emerging frontiers for OTC 2022
The organisers too, remain a broad church. OTC is still co-ordinated and sponsored by 13 industry organisations and societies, who work cooperatively to develop the technical program.
Looking to future of the event, Mr Jones is also cognisant of emerging technology and energy trends that will increasingly be reflected in its programming.
"I think there are certain aspects that will grow," he said. "Decommissioning is one. We're also beginning to see emerging in the US now the potential for depleted oil and gas reservoirs to be repositories for carbon, so more carbon capture and underground storage aspects are coming."
This extends not only on fixed structures, but to floating structures and pipelines – again reflecting the new diversity of offshore energy production.
He also pointed to the "rehabilitation" of brownfield oil and gas infrastructure, a topic that is already growing in prominence in the North Sea as ageing assets are put forward as hosts for energy transition projects such as carbon capture storage, or linked to electrification efforts.
"And in the US, we're beginning to talk in the Gulf of Mexico about very long tiebacks, so the utilisation of existing production facility [is promising]."
"It's about asking: is there a way to tie those together using a cluster of subsea developments to extend the life and maximise the existing infrastructure without developing new infrastructure?"
Asked whether the new event will preserve some of the virtual elements brought in under pandemic restrictions, Mr Jones said it was possible, but that the focus would remain on in-person networking and collaboration.
"Our immediate goal is to deliver a quality event in Houston," he added. "If we need to go back to hybrid, we've had the experience to do it and we could do it again, but our preference is to stay in person.
The outlook is promising – even prior to the lifting of all restrictions in Malaysia he said OTC Asia, held in in Kuala Lumpur in late March, saw 8-10,000 attendees, and despite hosting some virtual elements, was primarily a physical event.
Certainly Houston will hope to welcome more delegates to the NRG Park, and so far the signs are good.
"We'll be happy with any number based on what we've seen, but our aspirations are certainly to get back to north of 15-20,000 – that would be fantastic," he said.
Recommended for you

Green for growth: how the energy transition can fuel Aberdeen's future