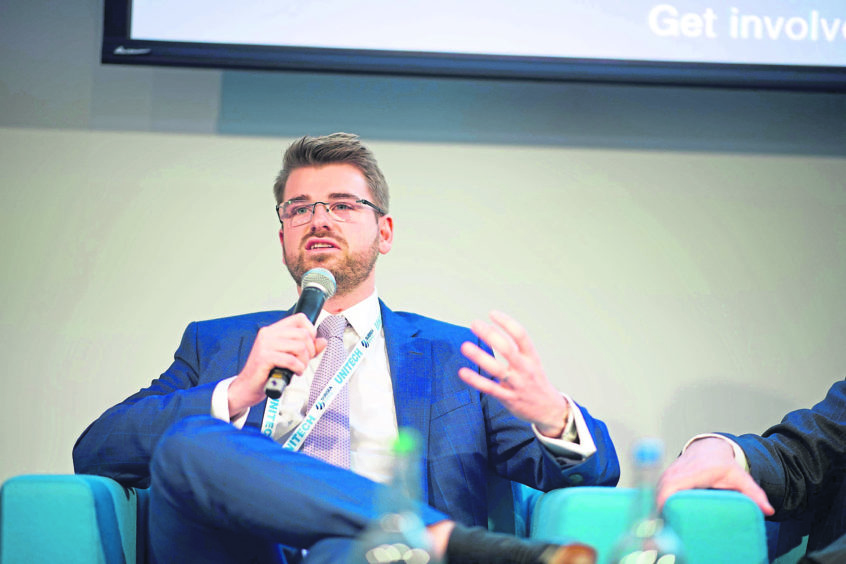 A North Sea minnow outlined plans to put its Greater Buchan Area (GBA) development project at the heart of the energy transition at Subsea Expo yesterday
Jersey Oil and Gas is looking at ways of producing around 140 million barrels of oil from the GBA.
A new platform will be required and Jersey wants to power it with electricity supplied from shore.
Jersey said it was in early-stage talks with other operators about using the platform as a "regional power hub" for distributing electricity to other installations in the area.
A power cable from Peterhead would have to stretch 96 miles across the North Sea.
David Larcombe, engineering and commercial manager at Jersey, said: "At the moment there is no infrastructure on Buchan and we want to power our facilities.
"What we're offering with our shiny new development is that we could essentially distribute that (power) to whoever might need it.
"We're trying to work with others in the area to see if they have a requirement for this.
"The idea behind the collaboration is that if everyone involved works together then there'd be an element of cost-sharing, so we'd all collectively own the infrastructure, which makes it more attractive for everyone."
Mr Larcombe said the plan could also increase the lifespan of assets offshore, with a lot off operators currently using carbon emitting gas turbines on assets.
He said: "What this offers is an alternative, you no longer need to import gas and there could be an economic benefit there for some.
"It could well keep fields going for longer."
The Buchan field came on stream in 1981, but production halted in 2017 because the Buchan Alpha platform was unsafe and had to be removed by then-operator Repsol Sinopec.
Jersey, which now operates Buchan, reckons that field alone could produce a further 80 million barrels of oil.
Last month, Jersey struck a deal to repurchase 70% of the licence containing the Verbier discovery, located near its other assets, from Equinor.
Equinor farmed into the licence in 2016, buying a majority stake, but subsequent appraisal drilling showed the discovery was at the lower end of the estimated resource range.
Also speaking at Subsea Expo, Laurent Parra, strategy and business director at Total E&P UK, confirmed the French oil giant would be looking for electrification potential from the upcoming Scottish offshore wind leasing round.
He said Total "definitely will compete" in the next ScotWind auction, which has a number of North Sea areas up for grabs.
Recommended for you

Flotation outlines onshore plans for North Sea electrification scheme