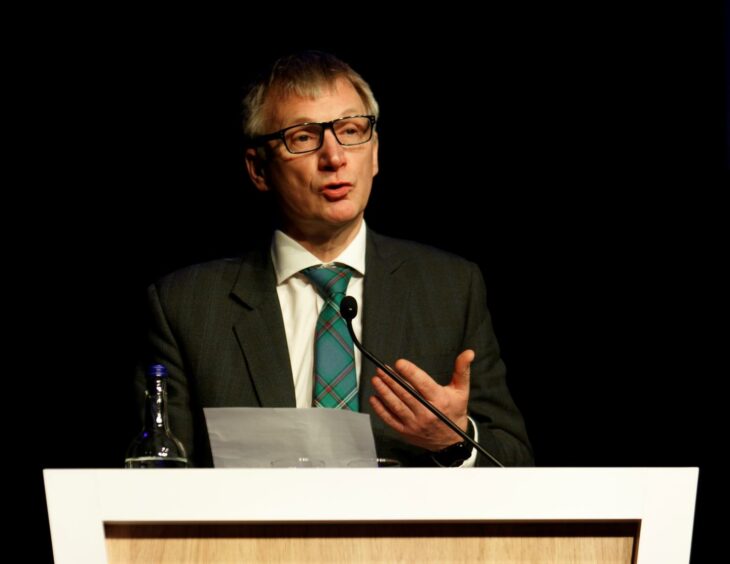 Scotland will take "more than its fair share" of a surging Blue Economy opportunity, which is expected to be worth $3 trillion globally by 2030, the Scottish trade minister has said.
Speaking at the opening of Subsea Expo in Aberdeen, Ivan McKee discussed the importance of capturing the opportunity for Scottish underwater industry.
"Those opportunities are really quite substantial, not least in supporting the growth and job creation, but also capitalising on Scotland's opportunity to lead the energy transition.
"Unlocking this underwater opportunity, which of course ranges from offshore energy to aquaculture, defence, telecoms and a whole range of those verticals, is crucial to ensuring Scotland increases its leading position and share in this global market. The numbers are quite astounding."
The $3 trillion looks across all sectors of the "Blue Economy" save for defence, said Global Underwater Hub (GUH) chief executive Neil Gordon at the plenary session.
Around a third of the opportunity is in areas that the Global Underwater Hub (GUH) operates in, Mr Gordon said.
This is all the more important as forecasts for those segments are due to nearly triple in the coming years, from £50bn today to £140bn by 2035, the conference heard, which is where Mr McKee sees Scotland capturing a major share.
However there is a risk that the UK, currently leading the way on the subsea industry, could fall behind international competition.
Mr Gordon last led the conference in 2020, before Subsea UK rebranded, just before the UK went into a Covid lockdown.
He said: "Are we set up in the UK to really get after that growth in the Blue Economy? Nope, not really I think.
"Other countries are working hard and doing quite well to catch us up. Places such as Norway, Canada, Japan, Brazil and the US have national incentives and initiatives and they're getting after the Blue Economy and we really have to step our game up and we need to be supporting our industrial capability in those areas and we need to ensure we maintain our world-leading position and maintain our market share
"Hence, now we have the Global Underwater Hub."
Mr Gordon highlighted that the newly-launched GUH is here to help companies to identify opportunities across various sectors across the Blue Economy, such as defence and aquaculture.
"The hub sits in an underwater space, helping those companies move and identify across those different sectors.
"Because as those Oceans of Opportunity arise, looking out there saying 'where do we go, what do we do, how do we get into those sectors?' That's the real help the Global Underwater Hub is positioned to deliver."