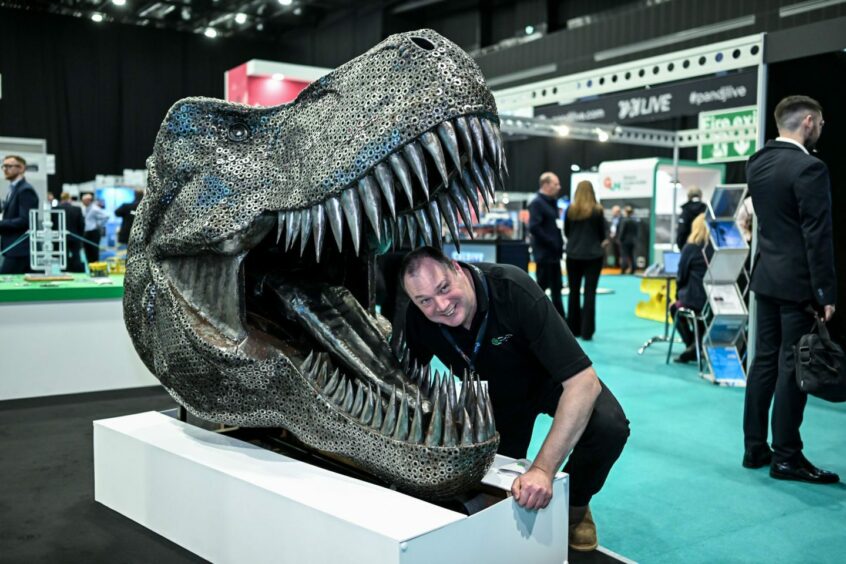 For those attending Subsea Expo today, the first thing you may see when entering the hall is a T-Rex head mode out of hundreds of washers that have been fused together.
Taking pride of place on Subsea Tooling Services' stand, the firm's director and owner,  Carmen Anderson, says that the craftsmanship displayed on this Jurassic sculpture "absolutely" reflects the high-quality service the company provides.
Mr Anderson's wife and co-owner of the Aberdeen-based Subsea Tooling Services, Emily Anderson, bought the upcycled dino for her husband's 40th birthday and this year it makes its Subsea Expo return.
The prehistoric display has influenced the Old Meldrum firm with a trencher excavator subsea tool being named after the extinct giant lizard.
"This T-Rex head comes to us every year at the shows now to promote the new trencher excavator subsea tool," Mr Anderson told Energy Voice.
The cost of bringing the massive sculpture to P&J Live is a small one to pay as it attracts people to the stall and has proved to be a conversation starter.
"It brings people in, it attracts interest and then you get people coming in asking about the head which leads on to asking about the other things that Subsea Services has to offer."
The Aberdeen-based business has high hopes for this year's subsea event, expecting "new clients, new contacts and obviously work."
T-Rex is not the only display turning heads
The T-Rex display, although possibly the most eye-catching display at any of the stalls at P&J Live, is not the only thing that brings potential clients to Subsea Tooling Services' stand.
"Last year we had a dredger very similar to that on the show," Mr Anderson said pointing at one of the tools on his company's stand, "and we had clients come to see it and as soon as they saw it, they were like, 'yeah, we'll take that on a job'.
"You need to show the clients new products and what the company can actually offer their projects."
Mr Anderson recommends other companies displaying at events such as Subsea Expo also invest in unusual attractions to draw people to a stand.
"I mean, if you look around, there's a lot of oil and gas-related tools on the stands but to have something completely different and completely out of place brings the crowd."
Who is Subsea Tooling Services?
The co-founder and director said that his business is "dynamic" and that "basically anything that can be used by an ROV is something we can supply, or if it doesn't exist, we can design and build it."
The Aberdeen business landed its first contract soon after attending Subsea Expo for the first time and looks to continue its success at the event.
The firm has been based in Old Meldrum since it first opened its doors in 2015 and this year marks its eighth Subsea Expo.
Recommended for you

Award-winning firm completes tools for fast & safe subsea testing