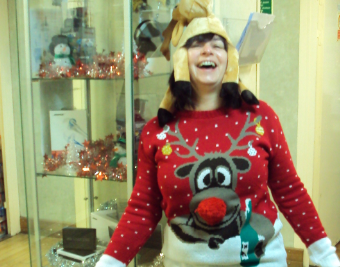 Families across the UK are preparing for a Christmas like no other. With the announcement earlier this month of a 'Christmas bubble' –the forming of up to three households, who can stay together from 23 to 27 December, as agreed by all four UK nations, families up and down the country are deciding who to include.
For many, this will mean that it simply isn't possible to celebrate Christmas in the way you normally would. However, for around two thirds of Brits who work during the festivities, Covid-19 or not, Christmas is quite often, just another working day.
One example of this is Lorraine Poore, an offshore medic for leading occupational health provider, International SOS. Having been working on rigs, vessels and assets for 15 years, this will mark Lorraine's 9th Christmas offshore.
After starting her festive three-week rotation on the 8th December on the Noble Lloyd Noble Jack-Up drilling rig in the Mariner Field, North Sea, Lorraine is now on the countdown to Christmas.
Having previously been part of the entertainment on another platform, organising events and competitions for around 250 people on the rig, Lorraine has seen some very jovial and lively Christmases in the middle of the North Sea. However, now on board the slightly smaller Noble Lloyd Noble, with POB of 140 and drilling operations ongoing all year round, these past few years have seen a quieter December 25th.
We caught up with Lorraine to see how she finds Christmas offshore, and how this year's festivities, still in the shadows of the pandemic, may be a little different.
How busy are you over festivities?
Christmas traditionally can be a quieter time offshore, as some installations try to reduce the people on board (POB).
For me, as the offshore medic, there isn't usually a particular spike in illnesses associated with winter at this time of the year. I have however had some of my busiest trips over Christmas – as part of the onboard entertainment committee.
It's always hard work and time consuming, but on the whole enjoyable and very worthwhile. This kind of morale-building team effort is just as important as looking after the aches and pains that can be reported offshore. As well having the responsibility of the physical wellbeing of our personnel, we also need to consider the mental health of the crews and these events can be hugely beneficial for this, especially at this time of year.
What type of ailments or health concerns do you usually treat during these winter rotations?
Typically, the winter months are always an active time for cold and flu type illnesses. This year, of course, Covid-19 has changed the situation quite a bit and as you can imagine it is high on our radar in the offshore environment.
We are expending a massive amount of effort in preventative measures for Covid-19, with a series of robust procedures and services including risk assessments, infection control procedures and testing, and the provision of an entry screening service.
This has, in turn, had a slightly positive knock-on effect on the prevalence of other illnesses you would normally expect to see at this time of year, including colds and flus, diarrhoea and vomiting etc. I would say that we have seen a substantial reduction in these types of cases overall on the NLN.
How can offshore workers prevent sickness at this time of year? What type of preventative actions do you encourage?
Prevention of illness is important all year round but especially at Christmas when diets may differ greatly due to an increase in the consumption of large amounts of calorific food, which seems to become the norm.
In order to mitigate against this, and promote good health choices, we normally undertake health and wellbeing promotional activities. One example is the effort we put in to highlight the need to be mindful of alcohol consumption at this time of year. Although it is not allowed in the offshore environment, our health promotions have to include the environment outside of the workplace as well as on the rigs and platforms.
In addition, with Covid-19 still on everyone's mind, we are continuing to encourage regular hand washing, no handshaking and to practice social distancing wherever possible, in addition to mandatory wearing of face coverings when walking around the accommodation and office areas.
How has Covid-19 impacted Christmas this year?
As you can imagine, Covid-19 has turned life offshore on its head as much as it has in daily life. All domestic activities are now planned around Covid-19 precautions. As mentioned before, we follow best practice in the prevention of the infection – handwashing and hand sanitising, coupled with mandatory wearing of face coverings, along with constant cleaning of touch points such as door handles, light switches and handrails.
As a consequence, we have had to reduce numbers of people in offices, rec rooms, gyms and the one that will impact Christmas the most, the reduction in seating capacity in the galley.
In previous years we have managed to make Christmas lunch feel extra special with table service by the catering staff and then Boxing Day and New Year's Day has always traditionally involved a buffet. But due to having to reduce the communal aspect of serving the food, we have had to change these plans. As a result, we can now only seat approx. 25 people at a time so there will be more servings and less communal food. Even the chocolate fountain has had to be put on hold this year!
Are you able to keep the festivities alive when working offshore?
There's no doubt that with Covid precautions in mind, this will feel like a very different Christmas for everyone. At this time of year, you normally get a real sense of camaraderie and people tend to be upbeat on the day. In my 15 years of working offshore, I have experienced some very lively and sociable Christmases and New Years!
The biggest change for everyone is trying to stop hand shaking, especially at Christmas and New Year. Physical contact is, after all, one of the basic human needs – even in the male-dominated offshore world!
However, we'll do our best to keep spirits high! Although activities on installations and rigs differ depending on work scopes, a lot of workers do try to get all major projects out of the way ahead of December 25. Some down-time is usually given to personnel during the day to enjoy the delicious Christmas food that is produced by our catering teams.
After the traditional festive lunch which can include seafood spreads, ice sculptures and mouth-watering cakes, a lot of effort then goes in to planning events for afterwards, including quizzes, sports competitions (such as pool, darts snooker etc) bingo and horse racing evenings – which are especially popular.
In the past we have also run Christmas Jumper competitions (the more flamboyant, the better!) and Secret Santa is always popular, although it's important in these environments to have a good sense of humour. . .!
It's really important to ensure a positive morale offshore at this time of the year. Distractions like this are key to promoting good mental health and stopping people from feeling lonely or isolated when away from family and friends.
Believe it or not, a Christmas in the middle of the volatile North Sea – around 93 miles away from dry land and family, isn't always the worse way you could spend it!
For anyone interested in finding out more about International SOS' healthcare solutions and how they can support your organisation's health and wellbeing please contact Claire Westbrook-Keir, International SOS client relationships director: claire.westbrook@internationalsos.com.
Recommended for you

CIP proposes building North Sea 'hydrogen island' by 2030