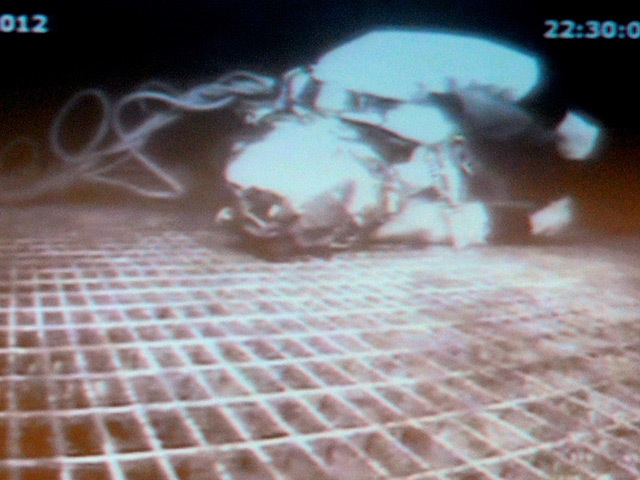 A North Sea diver has described the dramatic moment he almost died on the ocean floor.
Deep-sea diver Chris Lemmons was stranded nearly 300ft underwater with no air line after the connection which had been supplying him with oxygen was severed.
But thanks to a heroic effort by the vessel's master and fellow divers, the 33-year-old was rescued and resuscitated – more than 30 minutes after getting into trouble.
Yesterday, Mr Lemmons, who lives in the west coast port of Mallaig, relived the horrendous moment he thought his life was over as he realised he was completely alone, and that his gas supply had run out.
"I'm often asked what went through my mind, but it has become increasingly difficult to remember with any sort of precision," he said.
"But I can tell you that I felt disbelief – disbelief that my time had come in such a dark and lonely and frightening place, and disbelief that my time on this planet was about to come to an end in the most astonishing of circumstances."
Mr Lemons told delegates at Offshore Europe in Aberdeen that the day of the accident – September 18, 2011 – had started out like "any normal" day.
Mr Lemmons and his colleague, Dave Yuasa, got into trouble while they worked 262ft below the water's surface on a structure at the Huntington oil field, 115 miles off the coast of Peterhead.
The pair had been connected by umbilical air lines to the Bibby Topaz – a diver support vessel – when the boat changed position suddenly, dragging the men with them.
The crew onboard had initially received a warning that there was a problem with the dynamic positioning system, which controls where the vessel goes. They instructed the divers – who were on the seabed – to return to the diving bell.
"Hearing alarms is not an unusual occurrence, but the urgency I heard in our dive supervisor's voice was unmistakable," he said.
Shortly after, Mr Lemmons umbilical line snapped, forcing him to revert to his standby breathing gas supply, which would only last for 10 minutes.
Meanwhile, his colleague had managed to make his way back to the bell safely as those onboard the vessel battled to correct the boat's position.
Mr Lemmons said: "I was plunged from a world of comfort, hot water, light and an endless supply of breathing gas, to a world of total alienation in the most absolute darkness, with the most absolute silence and near freezing temperatures."
As the seconds and minutes went past, Mr Lemmons said that any hope he had that he might be saved was crushed.
"I thought of Morag, my fiancee, and the devastation I was about to inflict on her and all the others that I'm lucky enough to have love me," he said.
"I also felt a tremendous amount of guilt as I had put myself in harm's way in pursuit of my own ambitions and my own dreams.
"I'm not proud to tell you, but there was more than one cry of 'I'm so sorry' at the top of my voice into the darkness.
"Eventually I started to struggle to breath as the gas ran out, after which I don't remember anything."
The team onboard finally managed to regain control of the Bibby Topaz, having drifted 790ft from the original spot.
Steering the vessel manually, the master took the boat back to the structure and used his locator beacon to locate their missing diver, who by this time was unconscious.
The bell was then moved as close to him as possible before the other diver – who had managed to get to safety – rescued him.
"Dave managed through sheer determination and will power to drag my lifeless corpse back to safety – an effort I will never be able to thank him enough for," said Mr Lemmons.
After he regained consciousness, both divers were lifted to the surface of the water.
"There was a bit of tearful hand-holding. But I was completely oblivious to what had happened," he said.
Apart from bruising to his leg, Mr Lemmons escaped unscathed.
And three weeks later, once the equipment had been given a clean bill of health, Mr Lemmons and his colleagues went back into the water to finish the job they left behind.
"Some people asked if I was considering other career choices, but for us there was no option but to go back to work. Life goes on," he said. "As soon as we were back in the water, we put what happened behind us. But we have never forgotten about it.
"We were safe, well, and better for the experience."
READ MORE: 
Coverage from this year's Offshore Europe 2013 event
Offshore health and safety news
Meanwhile the chief executive of Aberdeen-based Bibby Offshore said Mr Lemmons would have not made it out of the water alive if it had not been for the "incredible" actions of his diving team.
Howard Woodcock said he would be in debt forever to the people who battled to make sure his employee survived.
He also described the moment the crew on board the Bibby Topaz watched a computer screen go blank as they lost communication with Mr Lemmons – and then saw their colleague on the screen after he lost consciousness.
"I can't even begin to imagine what was going through their heads, apart from thinking that their colleague was going to die," he said.
"They were watching it live, but they couldn't do anything to help."
Mr Woodcock praised his colleagues for taking the correct action in the most stressful of situations, and commended Dave Yuasa for ultimately saving Mr Lemmons's life.
"It took Dave an almost superhuman effort and an enormous amount of sheer physical strength to recover him," he said.
Both Mr Lemmons and Mr Yuasa were put in decompression chambers on the Bibby Topaz.
The vessel arrived back in port the day after the accident.
Mr Woodcock said: "I met the team when they came back and I don't usually make a habit of grabbing our divers, but I must admit I gave Chris a big hug.
"It took three weeks to satisfy ourselves and the regulatory authorities that the vessel was safe to go back to work – and she went right back to finish the job, with the original dive team on board.
"Had it not been for the incredible response of the team on board Bibby Topaz, their courage and their downright refusal to give up, Chris Lemmons would not be with us today.
"But he also played a vital role in his own rescue.
"His behaviour, his bravery and his own determination meant he gave himself the best possible chance of survival.
"I could never try to attempt to describe what it must have been like for Chris alone in the blackness."