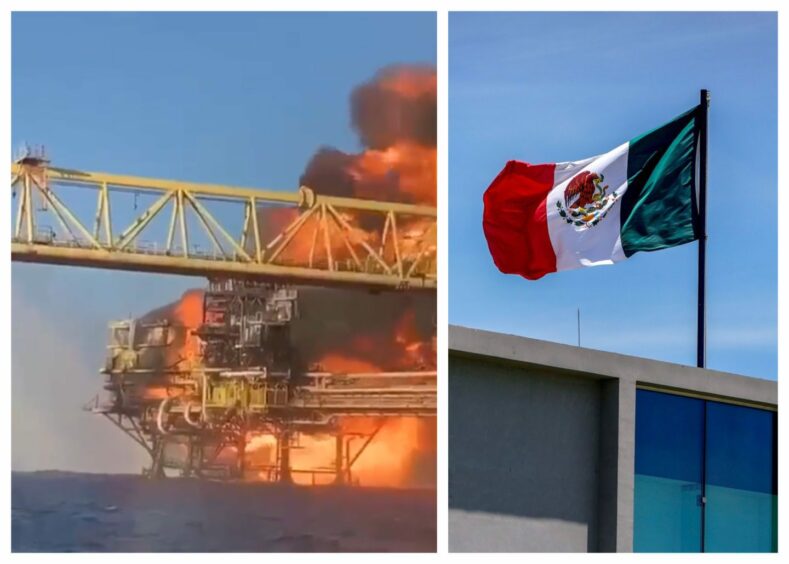 Two people died and one remains missing after an explosion and fire at a Petroleos Mexicanos (Pemex) natural gas platform in the Gulf of Mexico early Friday, the company said.
Pemex CEO Octavio Romero said in a video that the two people who died and the one missing worked for a different company he didn't name. He added in a separate video that eight workers were injured, three from Pemex and five from the other company, but their lives are no longer in danger.
A fire broke out at 5:25 a.m. local time Friday at the Nohoch Alfa platform processing center in the Cantarell oil and gas field, Pemex said earlier. The state-owned company said 321 workers were evacuated.
🔴 Momento exacto de la explosión en la plataforma de Pemex en Campeche; hasta el momento se reportan seis heridos

🎥 #VIDEO Especial pic.twitter.com/KKaY4a9KoC

— El Universal (@El_Universal_Mx) July 7, 2023
Romero added Friday evening that the platform's connection module was destroyed, but that firefighting efforts helped stop the fire from spreading to other modules.
"There are five processing centers," Romero said, confirming the fire was totally extinguished. "One of them was the one that caught fire, unfortunately we lost it, and the other four maintained their integrity."
Petroleos Mexicanos later it lost production capacity for about 700,000 barrels of oil, more than a third of its daily output.
The company is working to recover production, Pemex Chief Executive Officer Octavio Romero confirmed in a video late Saturday, adding that output has already recovered to 600,000 barrels.
#Actualización || #Video ⏯️ del momento exacto de la #Explosión e #Incendio en la plataforma Nohoch Alfa, de @Pemex, en #Campeche.#AgenciaMxNoticias pic.twitter.com/VoUU0BURg1

— Agencia Mexiquense de Noticias (@AMXNoticias) July 7, 2023
Bloomberg News reported earlier that some 450,000 barrels of oil and more than 560 million cubic feet of gas, roughly 11% of Pemex's total natural gas output, were lost on Saturday only at the Ku Maloob Zaap production asset as the company shut production as a contingency measure, according to a person with knowledge of the situation.
While the one-day loss is significant, it's likely to be temporary as Pemex resumes some of its operations following the deadly blaze, the person said, asking not to be identified as the information isn't public. A Pemex representative didn't immediately respond to requests for comment on the loss or its current production capacity outside of normal office hours.
Mexico's Cotemar, which provides oil field services, confirmed in a statement Saturday that the two workers who died in the blast were its employees and that another one is still missing.
Pemex has come under scrutiny from analysts for its environmental and safety record after frequent accidents and explosions at its facilities. The company is shouldering $107.4 billion in debt, the most of any oil major, and is struggling under a liquidity crunch.
Pemex scrutiny
"Under the austerity plans of this government, rigorous safety has been bypassed, and they are moving into areas that are much more complex" for oil and gas production, said John Padilla, a managing director at energy consultant IPD Latin America.
The blast comes as Pemex has "their revolver fully drawn and banks don't want to extend credit because of a lack of a credible ESG plan, and this puts their funding plans further in jeopardy."
Fires hit half of its refineries in the second half of May, while the company also reported a spate of accidents in a single day at three separate facilities in February, including at its Deer Park plant in Texas. In 2021, a huge gas explosion near its offshore oil platform — an incident dubbed the "eye of fire" — sparked criticism from famed environmental activist Greta Thunberg and US Senator Bernie Sanders. Another offshore platform accident that year resulted in five deaths and Pemex was forced to cut output by a quarter.
Natural gas from the Nohoch Alfa platform is sent to the CPG Ciudad Pemex power station in the state of Tabasco. The platform also receives nitrogen to inject into the Cantarell field cluster, which had crude production of 171,326 barrels a day in May, according to Energy Ministry data.
Recommended for you

Large oil spill reported near site of Pemex platform blast in Gulf of Mexico