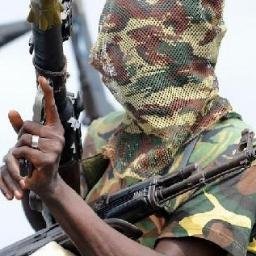 Militant group the Niger Delta Avengers (NDA) has vowed to start attacking personnel as it continues its fight for oil assets in the West African country.
Since President Muhammadu Buhari won the Nigerian election last year on an anti-corruption platform, multi-million dollar contracts awarded by leaders before him to militant commanders to
protect pipelines, have been slashed.
Nigeria's wealth comes mostly from its oil economy but now the Niger Delta Avengers have sought to reap the benefits from this income.
The media-savvy group claim both oil companies and government have failed to apply profits "towards any development in the region" and have made lists of threats, grievances and targets they've destroyed.
The Nigerian government has attempted to negotiate with the Avengers as revenue is hit by the sub $50 oil price.
But most ceasefire talks have been rejected by the militant group.
Companies including ExxonMobil, Shell, Total and Eni have all been affected by the dispute.
Four terminal's that ship Nigeria's benchmark crudes have all been subject to force majeure, a legal clause which allows producers to miss shipments because of circumstances beyond their control.
Earlier this month, Niger militants disguised themselves as maintenance staff.
The Avengers have warned they will threaten to target ExxonMobil staff if it tries to repair its Que lboe 48-inch crude oil export pipeline in Akwa Ibom.
The warning came after the firm's most recent force majeure in response to attacks by the militant group.
The NDA said: "If ExxonMobil fails to listen to us, your personnel are going to be our next casualties, not pipelines."
At the beginning of July, Eni was the latest firm to fall victim to the militant attacks in Nigeria.
The pipeline which was attacked was located in the country's southern Bayelsa State.
The day before, the NDA had claimed responsibility for an attack on one of Chevron's oil facilties in Nigeria.
Both attacks came just after the NDA had claimed responsibility for five attacks.
At least two people were killed previously when gunmen in Nigeria opened fire on a boat transporting Eni workers in the oil-rich Niger River delta.
Last month Nigeria had managed to agree a one-month ceasefire with militants.