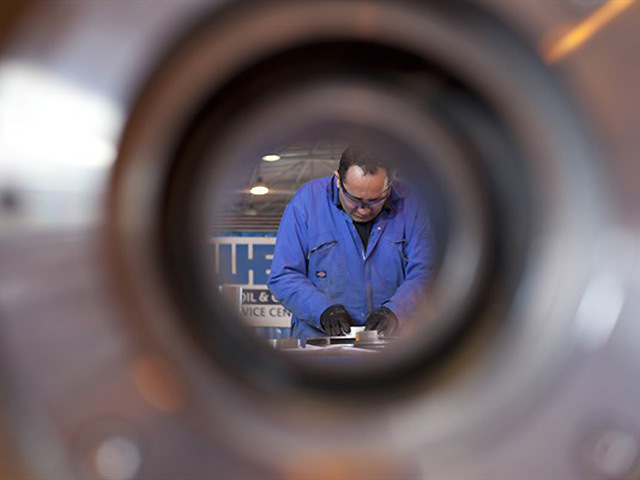 Scottish engineering firm Weir Group PLC on Thursday said trading in the first quarter was slightly ahead of its expectations, boosted by cost cutting and a resilient performance from its minerals arm.
The industrial valve and pumps maker has been hit hard by the oil and gas and mining slump markets and said its like-for-like order input in the first three months of 2016 was down 22% year-on-year, with revenue declining by a broadly similar amount.
In February, the engineering company, which serves the natural resources and power sectors, reported a £199.8 million loss before tax from continuing operations in the year ended January 1, swinging from a £149.1 million profit in 2014.
Chief executive Keith Cochrane, described market challenges as "unprecendented".
Its minerals revenue was stable with input falling 5% but original equipment input had been better than anticipated.
Oil and gas order input for the first quarter was down 47% on the prior year period, which was the highest quarterly input in 2015, and slightly below prior expectations.
In North America, the division's biggest end market, US land rig count has declined by nearly 20% in the past two months and market expectations are for a 46% reduction in wells drilled in 2016.
This further reduced demand for pressure pumping and pressure control equipment, with approximately 70% of the North American frack fleet now idle.
Cochrane said: "Mining customers continue to prioritise preserving cash, although there was a slight pickup in orders through the quarter and Minerals divisional revenues on a like for like basis were flat year on year.
"Trading conditions in oil and gas markets reflected further reductions in activity levels in all regions despite the limited improvement in oil prices in 2016.
"The group remains focused on cost reduction measures which have helped to deliver first quarter profits slightly ahead of our expectations.
Cochrane said Weir said first profit should be slightly ahead of market expectations as a result of the better-than-anticipated outcome for the first quarter,
"Our full-year expectations remain unchanged, reflecting the slower recovery now anticipated in oil and gas markets," Cochrane added.
Recommended for you

Norway reports 'record-high' oil and gas revenues