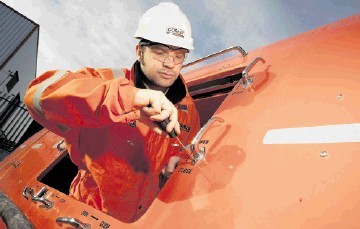 The chairman of engineering firm Cosalt, David Ross, is poised to table a £340,000-plus offer for the company to take it off the Stock Exchange.
Mr Ross said yesterday he believed the business would be better able to fulfil its potential if it was delisted and became a private company again.
He added that the move would be good news for the 250-strong workforce at the Aberdeen-based Cosalt Offshore division, which he hoped would grow and "become increasingly important to the business".
He said he was prepared to pay 0.1p a share for the 85% of the company he does not already own, valuing the firm at £404,000.
Cosalt's shares closed about 39% lower yesterday at 0.48p, giving the firm, which has debts of £12.3million, a market value of around £1.9million.
Mr Ross, who co-founded mobile-phone retailer Carphone Warehouse, said taking Cosalt private again "could be great news for our employees, our customers and our suppliers".
He added: "We have a fantastic customer list and customer loyalty, but we want to serve them as best we can. The best way to do that is having better access to capital.
"The aspiration here is to grow this business and I see significant opportunities to do that, but it needs access to capital to make that happen. Hopefully, that is what this will unlock.
"The company needs the opportunity to reinvent itself and that is probably best done as a private business without the pressure of quarterly reporting deadlines."
Mr Ross, the third generation of his family to be involved with Grimsby-based Cosalt, has already provided the company with debt funding.
He said if the deal went through he would invest even more money to expand the business.
"I am very committed to the company," he said, adding: "It is close to my heart and goes back a long way with my family."
Earlier this week, Mr Ross gave a personal guarantee of £300,000 to cover the legal costs of Cosalt's opponents in a court battle should it lose the case.
He said he would cover the legal expenses of Calum and Stuart Melville plus two firms owned by the brothers if his company's action against them was unsuccessful.
The case centres on claims made by Cosalt that almost £2million went missing from Cosalt Offshore.
Last month, Cosalt said full-year trading would be significantly lower-than-expected but reported rising turnover in the first half of the year.
In the six months to the end of June, the company turned over £20.9million – up from £20.1million a year earlier.
Of the latest total, £16.4million was through the offshore division, compared with £14.6million last time.
Recommended for you

READ, HydraWell merge in bid to capture late-life wells market