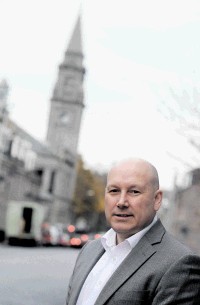 Scottish businessman Dave Bruce has two burning ambitions.
One is to be able to take his sons to watch Scotland in a major football tournament. The other is to help Amor Group's Aberdeen-based energy arm to double in size over the next few years.
The first of these is looking more improbable with each passing year, but the second seems a decent bet after strong growth at Amor's Granite City operation in recent years.
Mr Bruce, 44, is energy-sector director for Amor, which was established in 2009 through a £27.8million management buyout (MBO) of two businesses – Pragma and Real Time – from Sword Group.
He was part of an MBO team led by John Innes, Scott Leiper and David Blyth and backed by Close Growth Capital and Scottish Enterprise, with debt funding from Clydesdale Bank.
The aim was for Amor to become a leading global provider of business technology services to the energy, transport and public sectors. At the time, the energy arm had 130 staff and annual turnover of £7.2million. Now there are nearly 300 people working in the Aberdeen division and turnover is £23million.
It recently completed an office move upstairs to bigger premises in Johnstone House, Rose Street, in the Granite City.
The overall group is also expanding fast. In April, it announced a fourth year of strong growth, with turnover up 32% to £45million and staff levels 25% higher at 569.
During 2011, the firm opened a new office in the Middle East and grew sales in the US, Scandinavia and mainland Europe. It is forecasting 2012 revenue of £65million and 600 staff across its Glasgow, Aberdeen, Coventry, Edinburgh, Manchester, London, Dubai and Houston offices.
Amor expects turnover to smash through the £100million barrier in 2014.
The energy arm has contracts worth tens of millions of pounds in its forward order book, covering projects until 2016. It was helped by around £3million of new business and contract extensions secured in the first half of this year alone.
Mr Bruce, who is from Oban but grew up in the north-east, said the operation was well on track to match the overall group's expansion over the next two years.
"I would expect to see the same level of growth in Aberdeen," he said, adding this would likely mean a doubling of staff numbers in the Granite City.
He lives in Aberdeen with wife Careen and two sons, Michael and Steven, aged 15 and 12 respectively. The football fan spends most of his weekends coaching, and also plays squash and badminton.
Amor's energy boss also has considerable experience in the oil and gas industry, having worked as an independent management consultant for operators including Shell Expro, Mobil and Amoco.
Electronic and electrical engineering qualifications initially took him into computing jobs, working for oil and gas operators and energy service companies.
He went on to manage major IT projects in the North Sea.
After joining Aberdeen-based IT specialist Pragma as a project manager in 2003 he worked his way up to become technical director, sales director and then business-unit director of managed services. He became managed services director of Amor in December 2009 and energy-sector director last November.
His focus now is on simplifying Amor's energy business to "concentrate on what we are good at, internationalising the business and building career paths and prospects for its staff".