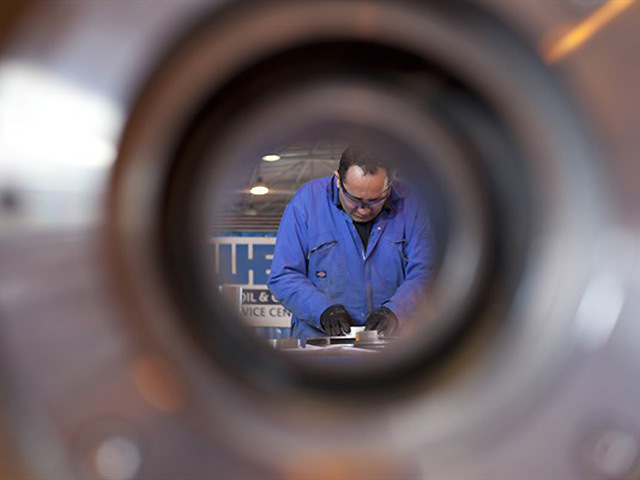 Scottish engineer Weir Group said yesterday it was readying itself for a significant fall in revenue and lower operating margins because of the plunge in oil prices.
The gloomy outlook accompanying full-year results sent the Glasgow-based company's shares tumbling nearly 10%.
Weir, which makes valves and pumps for the energy and mining industries, has been hit by a slowdown in North American oilfield activity as crude oil prices remain depressed and explorers and producers slash capital spending.
The number of rigs drilling for oil in North America last week was the lowest since July 2011.
Cost-cutting by FTSE 100 Index-listed Weir to date includes the firm reducing its workforce by around 1,200 people, with most of the job losses hitting operations across the Atlantic.
Finance director Jon Stanton said there were 11 job losses in Scotland, where North Sea activity accounts for only a small part of Weir's business.
Asked to predict the likely impact of the weaker trading climate on Weir's financial performance this year, he said: "We are giving no firm guidance for 2015.
"We just don't feel it is appropriate to do that at this moment in time, given the lack of visibility in the market."
Mr Stanton said there would be no change of strategy for North American-focused Weir, whose pressure pumps have been at the heart of the US shale oil and gas boom.
"All of our business is driven by global demand for energy," he said, adding the world's growing population and increasing affluence in developing countries meant the long-term prospects were good.
Chief executive Keith Cochrane said Weir was planning for a 50% reduction in the number of North American rigs drilling for oil, and expected no meaningful pickup in activity until 2017.
He added: "We will continue to make progress in delivering our strategy, while responding to market conditions as they evolve. The group has already acted following steep price declines in key commodities, particularly oil, taking additional measures to reduce operating costs."
"While visibility in oil and gas remains limited, it is clear that the group's strategic progress and cost initiatives will only partly offset the impact of a substantial reduction in demand and the associated pricing pressure.
"As a result we are planning for a significant reduction in constant currency group revenues and lower operating margins in 2015.
Weir's pre-tax profits fell by 2% to £409million in the year to January 2, while revenue was nearly flat at £2.44billion.
Recommended for you

Schlumberger storms to $2.4bn profit in 2021